February 17, 2015
Lifting Up Latham Street
By Kelly Saavedra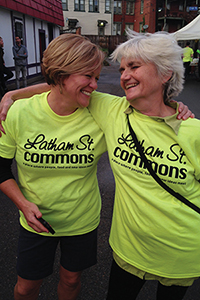 To some, the abandoned garages on Latham Street in the nearby Pittsburgh community of Friendship are an eyesore, a physical barrier between two neighborhoods already divided by race and 
social and economic factors.
But to CMU Design Professor 
Kristin Hughes, the empty structures 
are filled with possibilities.
Hughes envisions transforming the garages into a shared space where people could come together to grow food, take cooking lessons, even tinker with old electronics to learn new skills.
The space provides many opportunities for urban innovation, as Latham Street recently has become a magnet for like-minded thinkers interested in building and expanding the community.
Last fall, Hughes and her interdisciplinary team — comprised of CMU students and faculty members Mary-Lou Arscott of the School of Architecture and Tim Zak of the Heinz College — worked with the community to identify what residents wanted and needed most. This spring, they will get to work on bringing residents' top request to 
fruition: access to healthy food.
"We're going to test the idea of an integrated vertical and roof-top gardening system and see how much food we can grow and distribute," Hughes said.
Their program includes plans to provide produce to the daycare facility across the street. Eventually, Hughes would like to see the inside of one of the garages used as 'maker' spaces for young adults, where they could take apart old things and invent new ones.
They've even considered turning one garage into a kind of "flex" space that could serve as a café by day, and then in the evening, a space where people could learn to cook and then share those meals with neighbors in the common space.
As the project moves forward, the team will continue to work at better understanding the needs of the community and the feasibility of adapting abandoned structures into learning laboratories that bring entrepreneurs, innovators, policymakers and members of the community together.
Hughes is no stranger to taking on complex problems in the community. She co-created the Fitwits program, designed to get pre-adolescents and their parents talking about the health effects of obesity, nutrition and exercise.
Fitwits uses games, active engagement and the power of kids' imaginations to reduce childhood obesity. The games feature fun characters with names like Rita Rollup, Elvis Pretzley and Deep Dish Don, and are the product of a five-year collaboration between CMU's School of Design and UPMC's St. Margaret Family Health Center. Having successfully been tested with children in Allegheny County and in doctors' offices, Fitwits games are now being sold to caregivers, schools and pediatricians.
Hughes believes the secret to her success is in her approach, which involves directly engaging community members in each step of the design 
process.
"I'm really passionate about working with people," she said. "I think design affords us the kind of opportunity where we can bring people together in creative ways, endowing people of all ages with agency, with skills and experience to re-imagine their life's possibilities."
CMU Design Professor Kristin Hughes (above, left) shares a light-hearted moment with Mary-Lou Arscott of the School of Architecture.