February 17, 2015
Internet of Things
FTC Commissioner Looks to CMU 
for Privacy Solutions
By Kelly Saavedra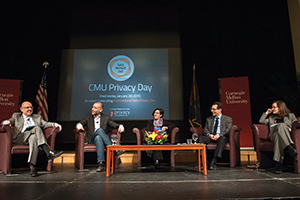 From Swarovski pendants that double as health monitors to outdoor grills that text you when it's time to turn the meat, the number of 'things' connected to the Internet has long surpassed the number of people.
And while connected devices make our lives easier and more entertaining, they also provide companies with tremendous — often, deeply personal — insights through the data they collect, said Julie Brill, commissioner of the Federal Trade Commission (FTC), in a recent talk on CMU's Pittsburgh campus.
Brill, who has been called one of Washington's most important voices on Internet privacy and data security, visited CMU on Privacy Day last month to discuss privacy and security challenges 
related to data collection and why 
addressing these challenges is an urgent priority.
In her keynote address, she recognized the many potential benefits that our information systems bring us. Data collected from sensors in our homes, in our cars and on our wrists, for example, could help us to use energy more efficiently, avoid traffic jams and stay healthier longer. Public health emergencies, like the flu, will be predicted and managed with the help of algorithms that crunch big data.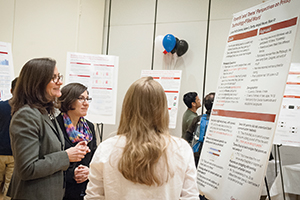 But unlocking the full potential of the so-called Internet of Things will hinge on having the public's trust, she said, and CMU could play a critical role in securing that trust as the number of interconnected devices continues to grow.
"You have the skills to find out when systems are unreasonably vulnerable to security breaches. You have the ability to think about whether algorithms might be treating some consumers in an unfair or exclusionary manner. And, you have the ability to design privacy, security and fairness into the Internet of Things from the very beginning," Brill said to the faculty, researchers and students in the audience.
Following her talk, Brill took part in a panel discussion that included CMU Vice President of Research Farnam Jahanian and privacy experts Alessandro Acquisti, associate professor in the Heinz College; Lorrie Cranor, professor of computer science and engineering and public policy; and Norman Sadeh, professor in the School of Computer Science and director of the Mobile 
Commerce Laboratory.
Sadeh is working to develop personalized privacy assistants that will inform, teach and motivate consumers to keep privacy top of mind. A"nudge" from a command center, for example, might motivate a user to revisit her privacy settings when it informs her that her location has been shared by an app 5,398 times over the last two weeks.
"We often blame artificial intelligence data mining for putting our privacy at risk," Sadeh said. "What we are trying to do in our group is see to what extent those very same technologies can be put to good use and help us overcome, or mitigate at least, many of these privacy risks."
Cranor discussed her search for a better way to deliver website privacy information to consumers. "We all know that nobody really likes to read privacy policies, and very few people actually do it," she said.
She and her students are working on a solution along the lines of how standardized nutrition labels deliver information on food products.
Acquisti, who studies the costs and benefits of revealing personal information online as well as how people make decisions in that regard, encouraged the audience to reframe how they think about privacy.
"The argument is that Facebook, Twitter and Google Plus are successful, therefore people don't care about 
privacy, but that is not the case," 
Acquisti said.
"Privacy is a universal need of humans across cultures. In certain situations, individuals will care for privacy quite a lot and act to protect it, but advances in technology and the acceleration of data collection challenge our ability to make self-interested decisions in the face of increasingly complex tradeoffs."

The Privacy Day panelists (top, L-R): Farnam Jahanian, Alessandro 
Acquisti, Lorrie Cranor, Norman Sadeh and Julie Brill. Brill (above, left) and Cranor took a tour of students' posters on data privacy.