February 05, 2015
Personal Mention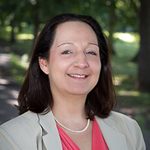 Civil and Environmental Engineering Professor
Jeanne VanBriesen
has received the 2015 Margaret Petersen Award from the American Society of Civil Engineers in recognition of her exemplary service to the environmental and water resources community. The award, which was established last year, is named for Margaret Petersen, who became a prominent figure in the world of hydraulic engineering at a time when few women were involved in the industry. VanBriesen's research is in environmental systems, with an emphasis on the role water plays in energy production. She is an expert in detecting biological agents in drinking water and natural water systems, and her research has been funded by organizations such as the National Science Foundation, the Department of Defense and the Heinz Endowments. She currently serves as director of CMU's Center for Water Quality in Urban Environmental Systems (WaterQuest), and is a member of the U.S. EPA Science Advisory Board.
Learn more
. 

Michael Trick
, senior associate dean for faculty and research at the Tepper School of Business, has been elected to serve as president of the International Federation of Operational Research Societies (IFORS). His three-year term will begin in January 2016. IFORS' mission is to promote operations research as an academic discipline and profession. The organization endorses this mission by sponsoring international conferences and meetings, providing means for the exchange of information on operational research, establishing national operational research societies, maintaining standards of competence in operational research and more. Since its creation in 1955, IFORS has grown to include nearly 50 operations research societies, representing over 45 countries spread throughout the world. Membership in IFORS societies totals over 30,000 people.
Learn more.
Susanne Slavick
, the Andrew W. Mellon Professor of Art, has organized a show, titled "UNLOADED," opening Feb. 13 at SPACE, 812 Liberty Avenue in Pittsburgh's Cultural District. The show, which includes 19 artists and nine CMU faculty, alumni and staff, is a multimedia exhibition that explores historical and social issues surrounding the availability, use and impact of guns in our culture. It runs through April 26. "For over a decade, my work as an artist, and more recently as a curator, has dealt with violence, primarily the violence of war and its aftermath," Slavick said. "UNLOADED shifts the focus to violence on the home front where guns play an enormous role in wounding the well-being of society, whether through the tragedies of domestic violence, suicide, or homicide." Gallery hours are: 11 a.m. - 6 p.m., Wednesday and Thursday; 11 a.m. - 8 p.m., Friday and Saturday; and 11 a.m.–5 p.m. Sunday. The gallery is free and open to the public.
Learn more
.
Stephen Fienberg
has been selected to give the R.A. Fisher Lecture at the 2015 Joint Statistical Meetings in North America. The lectureship was established in 1963 by the North American Committee of Presidents of Statistical Societies (COPSS) in recognition of the British statistician Ronald Aylmer Fisher. It is considered a very high recognition of achievement and scholarship in statistical sciences and recognizes the highly significant impact of statistician methods on scientific investigations. Fienberg is the Maurice Falk University Professor of Statistics and Social Sciences.
The literary journal "Ploughshares" has released "Villa Bohème" by assistant professor of English
Kevin A. González
in the latest of its digital-first series of individual long stories. Villa Bohème is a Puerto Rican motel where, in the words of one of the "strays" who have assembled there, "the people are biding their time." They drink, they play darts, they wait on the beach for something to happen. This washed-up place is run by a washed-up lawyer with one remaining client, and into it steps Tito, the lawyer's son, 14 years old, smart and surly, fleeing his mother and her annoying boyfriend. Among the various lost people who inhabit the motel, Tito begins to make his way into adulthood, serving drinks, reading Judy Blume books in secret, fantasizing about the sexy bartender, and navigating the heady atmosphere of Puerto Rican politics. Villa Bohème is available on pshares.org and Kindle for $1.99. Gonzalez is an alumnus of CMU, having received his bachelor's degree in creative writing and international relations in 2003.
Duane Seppi
, the BNY Mellon Professor of Finance and head of the master's degree program in computational finance, has joined the Qatar campus as part of its Distinguished Scholar in Residence program. Seppi delivered a Richard M. Cyert Distinguished Lecture in Business Management titled "Financial Markets: Algorithms and Humans in The Matrix." The lecture was open to members of Education City and the wider communities. In a second presentation directed to the CMU-Q community, Seppi addressed the causes and consequences of investors' attention to their portfolios in a talk titled "Financial Attention."
Martin Gaynor
, the E. J. Barone Professor of Economics and Health Policy at the Heinz College, has been elected to the National Academy of Social Insurance. The 45 individuals selected for membership this year have distinguished themselves by improving the quality of research, administration, or policymaking in Social Security, Medicare and health coverage, workers' compensation, unemployment insurance, and related social assistance and private employee benefits.
Learn more
.
Fatma Kilinç-Karzan,
assistant professor of operations research at the Tepper School of Business, has earned the Faculty Early Career Development (CAREER) Program grant from the National Science Foundation for her study, "Fundamentals of Low-complexity Relaxations for Nonconvex Optimization Problems with Conic Structure." The CAREER Program offers support to junior faculty who demonstrate the role of teacher-scholars through outstanding research and education, and fulfill the mission of their institution. Additionally, the activities of awardees create a firm foundation for integrating education and research.
Tepper School of Business doctoral student
Aleksandr Kazachkov
has been elected to the Institute for Operations Research and the Management Sciences (INFORMS) Subdivisions Council as a representative for student chapters. Kazachkov is the first student to be elected to this position, as all past representatives have been faculty advisers. INFORMS serves the scientific and professional needs of analytics professionals and operations researchers through the publication of journals, hosting of conferences and opportunities for continued education.