February 17, 2015
Big Changes on the Menu for Dining Services
By Mandi Semple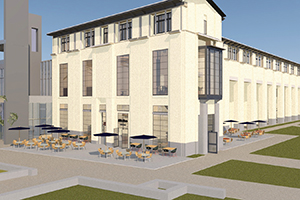 Concepts for a new ground floor café in the Cohon University Center (CUC) and renovations to Skibo Café and The Underground are part of Dining Services' five-year strategic plan that was rolled out to the university community at a town hall meeting in late January.
The plan, a work in progress created by Dining Services, Campus Design and Facilities Development and a design and consulting firm, comes after several campus studies and focus groups.
"Our planning was always guided by a few important principles: a student-first approach as it relates to convenience, accessibility, dining needs and preferences; the celebration of Carnegie 
Mellon and its unique culture and sense of community; and a commitment to health and wellness, sustainable practices, and to act responsibly with our 
resources today to ensure the best possible future of our program," Director 
of Dining Services Pascal Petter said.
Prior to last month's town hall meeting, Petter presented the concepts and designs to student groups, including Student Senate, the Graduate Student Assembly, the Student Dormitory 
Council and the Dining Services 
Advisory Council.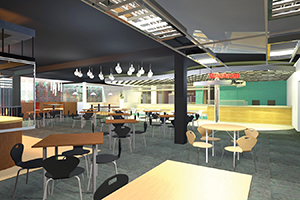 At the town hall, Petter shared highlights of the plan and renderings for the major renovations to be conducted over the next several years.
"We want to create distinctive 
dining destinations on our great campus," Petter said. "The ultimate goal for dining at Carnegie Mellon is not just to go from good to great; it's to become a best-in-class dining program in the country."
Here's a glance at what's possibly in store.
Ground Floor Café 
in the CUC
The ground floor of the CUC under Skibo Café will be converted into a full-service coffee bar and lounge with outdoor seating and a walk-up serving window.
The ground floor café will serve coffee and specialty drinks, as well as bakery and grab-and-go items.
Skibo Café in the CUC
Renovations to Skibo Café will 
create an improved traffic flow for 
ordering, paying and meal pick-up.
The new dining concept will focus on health and wellness, serving homemade soups, and fresh salads and sandwiches, complementing the CUC's fitness and exercise facilities.
The creation of the new ground floor café and renovation to Skibo Café will add more than 300 dining seats to the CUC, including those outdoors.
Timeline: The above construction is scheduled to begin this October. Completion is anticipated to coincide with the opening of the new CUC addition in March 2016.
The Underground in 
Morewood Gardens
Original plans included two cuisine concepts — Asian and American — but student feedback and the recent addition of the Tartan Express food truck may modify these plans.
The new design could celebrate Carnegie Mellon's annual Carnival weekend, incorporating booth seating and other fun aspects of the treasured 100-year old tradition.
One of the proposed concepts
 includes excavation near the entranceway of Morewood Gardens, allowing for an outdoor ramp from ground level to The Underground and an outdoor seating area.
Roll-up, garage-style doors would open to the outdoor seating area and provide natural light to the restaurant.
The outdoor area would be heated for easy snow removal.
Timeline: Construction is scheduled to begin in summer 2016, with completion set for fall 2016. Pascal also touched on plans for 
the new Scott Hall Café, slated to open in January 2016. The café will be located in an area labeled "crossroads," because it will connect two major wings of the new building and provide access to Porter, Roberts, Wean and Hamerschlag halls.