February 17, 2015
Jahanian Named CMU Provost
by Ken Walters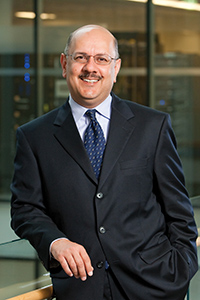 Vice President for Research Farnam Jahanian has been appointed CMU's 
provost and will begin his new role at 
the end of this academic year.
As the university's chief academic officer, Jahanian will have broad responsibility for leading CMU's schools, institutes and campuses, and will be in-strumental in long-range institutional and academic planning and implementation.
"Farnam is an accomplished computer scientist, successful entrepreneur and administrative leader with broad experience in higher education, government and the private sector," said President Subra Suresh. "In the short time that he has served the university as vice president for research, he has garnered uncommon praise internally and externally for his vision, work ethic and passion for what Carnegie Mellon is and what we aspire to be."
Jahanian brings to his new role extensive leadership experience in higher education administration, an impressive background in scholarly achievement and a strong commitment to teaching and learning.
"He understands the extraordinary opportunities and challenges that we face, and he has ultimate respect for our faculty, students, staff and alumni," Suresh said.
"His insights on the student experience, and his commitment to rigorous, experientially-based education and research at all levels make him ideally suited to serve as our provost. 
I am very pleased that Farnam has agreed to take on this new role, 
and I look forward to working with him."
Jahanian was appointed CMU's vice president for research in 
April 2014, leading the university's efforts to expand its world-class 
research and innovation ecosystem. Building on his role as vice 
president for research, Jahanian will now focus on supporting and advancing the teaching and scholarship of CMU's faculty with the 
support of the academic deans, as well as providing leadership for 
all other facets of the university's academic life.
"I am honored by this appointment and eagerly anticipate the 
opportunity to work closely with President Suresh and the CMU faculty, deans and the campus community to help shape the university's future," Jahanian said. "Carnegie Mellon is a remarkable institution with deep traditions in promoting excellence in education and research.
"The way in which science and technology are intertwined with social science, humanities and the arts at CMU creates a nurturing 
environment for learning and discovery that advance human 
knowledge and the human condition. I admire and personally 
share CMU's commitment to this mission."
Prior to CMU, Jahanian led the National Science Foundation Directorate for Computer and Information Science and Engineering (CISE) from 2011 to 2014. He was the Edward S. Davidson Collegiate Professor at the University of Michigan, where he served as chair for Computer Science and Engineering from 2007 to 2011 and director 
of the Software Systems Laboratory from 1997 to 2000.
His research on network routing and security formed the basis for the Internet security company Arbor Networks, which he co-founded 
in 2001 and where he served as chairman until its acquisition in 2010.
Jahanian has testified before Congress on a broad range of topics, including cybersecurity, next-generation computing and big data. He has received numerous honors for his scholarly research, commitment to education and technology commercialization impact.