February 17, 2015
Freewheeling
Build18 Is an Engineer's Playground
By Krista Burns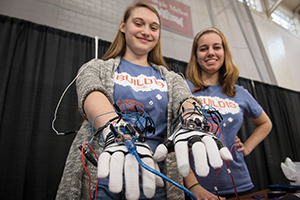 You learn best by doing, or in this case tinkering.
An intellectual playground for the brightest and most creative of CMU's engineers, Build18 — the 18 being a shout-out to the electrical and computer engineering (ECE) course prefix — draws over 200 tinkerers annually. For five straight days leading up to the event, engineering students work around the clock in teams to build intricate projects that range from desktop water fountains to puppets controlled by hand gestures.
When the big day finally arrives, they demo those projects for faculty, sponsors, staff, alumni and other students. The big winner this year was a product that would allow students to work on their lab projects without 
physically being in the lab.
"Build18 was created with the sole purpose of giving engineers an opportunity to exercise their creativity in engineering," said Build18 Chair Aaron Reyes, a senior majoring in electrical and computer engineering. "We welcome big ideas and trying new things, whether they work out or not, because they are an excellent way to learn something new. Build18 is even recommended by faculty."
While the main event kicks into gear at the beginning of "Build Week," the process leading up to it begins months earlier during the fall semester, with the Build18 Kickoff Event and Tutorial Series.
At the Kickoff Event, organizers distribute information about Build18, explain the project application process and get students thinking about potential project ideas. The Tutorial Series is a sequence of three sessions that are designed to introduce students to various aspects of electronics and project design through hands-on guided learning.
At the end of the fall semester, participants organize into teams and submit project applications. Build18 officers review the submitted applications and confirm that they meet criteria for safety, feasibility and engineering merit.
Once a total parts list is aggregated, orders are placed and the wait for Build Week begins.
Freestyle tinkering activities and events are funded each year by alumni and corporate sponsors. This year, the festival had 23 technology company sponsors, many of whom attended the Build Week activities.
In addition to supporting the festival, some sponsoring companies hosted evening Innovation Tech Talks exclusively for CMU students, including Stern, Kessler, Goldstein & Fox; AlphaLabs; and Amazon. These seminars allowed builders the opportunity to learn how their projects may be adapted into the real world.
For some students, Build18 is the highlight of the spring semester.
"I participate in Build18 because it's a great chance to take the things I've learned from my ECE classes and apply them to a project of my choosing," said ECE sophomore Robert Maratos. "It's also a lot of fun to see what other people are working on and go to tech talks about emerging technologies."
Maratos' team, called "FPGA on the Web!" won the faculty award for their project, which enabled ECE students to access the field-programmable gate 
array (FPGA) boards used for ECE digital logic classes online.
"This would allow students to work on their labs remotely, without going all the way to Hamerschlag Hall," Maratos explained. "This project wouldn't have been possible without the rest of my team: Jake Weiss, Edward Shin and 
Chia Dai. I'd also like to thank professors Bill Nace and Don Thomas for their contributions to the project, both through supplies and their teaching."
The intense week of building and tinkering concluded with the Build18 Banquet at Phipps Conservatory, where keynote speaker Mike Calcagno, 
Microsoft director of Engineering for Bing Experiences, inspired students by giving an energizing talk.
"Simply put, Build18 serves as an engineer's playground for students who love the art of engineering," says Reyes. "With $250 to spend on any idea you want to create, it's hard to find a reason not to participate."
Tinkering With the Ivories (top, l. to rt.): Samantha Speer (E'18) and Paula Zubiri (E'18) demonstrate a virtual piano that plays real notes when the user moves her fingers.