December 03, 2015
News Briefs
Building Better Models for Predicting Cancer Outcomes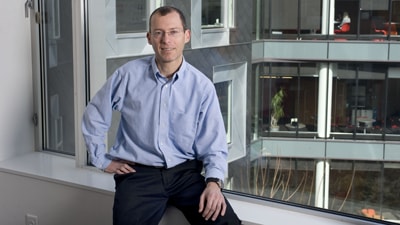 Big data researchers have received a three-year, $5 million state Commonwealth Universal Research Enhancement, or CURE, grant to develop better methods for integrating, analyzing and modeling large volumes of diverse data on cancer patients. The goal is to produce more accurate predictions of patient outcomes and to enable clinicians to tailor care for each patient.
Greg Cooper, professor and vice chair of biomedical informatics and director of the Center for Causal Discovery at the University of Pittsburgh, and Ziv Bar-Joseph (right), professor of computational biology at Carnegie Mellon, will lead the Big Data For Better Health (BD4BH) project, which also includes UPMC and the Pittsburgh Supercomputing Center.
"Carnegie Mellon's unique expertise in analyzing and modeling large-scale data, combined with the cutting-edge clinical and biomedical work of UPMC and Pitt, can leverage the large amounts of data being collected on cancer," Bar-Joseph said. "This will enable patients and clinicians to take full advantage of this data in ways not previously possible."
Brains With Autism Adapt Differently During Implicit Learning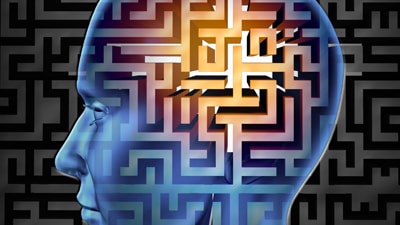 Carnegie Mellon scientists have discovered a crucial difference in the way learning occurs in the brains of adults with autism spectrum disorder (ASD).
Published in NeuroImage, Sarah Schipul and Marcel Just examined how the brains of typical and ASD individuals gradually became adapted to visual patterns they were learning, without awareness of the pattern, or during implicit learning.
Using functional magnetic resonance (fMRI) imaging, Schipul and Just found that the brain activation of ASD individuals was slower to become familiar with the pattern they repeatedly saw — meaning their brains failed to register the "oldness" of the patterns to the same degree that the control participants did. The brains of the control participants kept decreasing their level of activation with repeated exposures to the patterns being learned — showing adaptation — whereas the decreases in the brain of participants with ASD were significantly smaller.
They also found that the severity of an individual's autism symptoms correlated with the brain's degree of adaptation to the patterns. The findings provide insight into why many real-world implicit learning situations, such as learning to interpret facial expressions, pose challenges for those with ASD.
"This finding provides a tentative explanation for why people with ASD might have difficulty with everyday social interactions, if their learning of implicit social cues has been altered," said Just, the D.O. Hebb University Professor of Psychology in the Dietrich College of Humanities and Social Sciences.
WQED Mental Health Campaign Features Alumnus, Student Affairs Experts
Hip-hop artist and Active Minds speaker Kai Roberts (TPR'15) will share his personal journey with anxiety as part of "Bundle of Nerves: Our Anxiety Epidemic," a half-hour documentary premiering at 8 p.m. EST tonight (Thursday, Dec. 3) on WQED-TV. The documentary kicks off WQED's "Living with Mental Illness" multimedia campaign in partnership with Highmark Blue Cross Blue Shield.
The documentary and "Web extras" featuring Angie Lusk, assistant director of student life and housefellow, and Gina Casalegno, dean of Student Affairs, will be released over the next two months at http://wqed.org/tv/mentalillness/. Interviews with Lusk and Casalegno will focus on mental health issues in college student populations and initiatives CMU has launched to spur conversation, support individuals affected by mental illness and promote wellness across the university.
China Scholarship Council, CMU To Provide Funding for Grad Students
Chinese students who have been admitted to graduate programs at Carnegie Mellon will receive new fellowships from the China Scholarship Council (CSC), which, together with funding from the university, federal grants and other sources, will provide up to $32 million in financial support over the next five years.
CMU President Subra Suresh and CSC Secretary-General Jinghui Liu signed an agreement before Thanksgiving in Beijing to create this new program. Over the next five years, the program will create fellowships for up to 20 CMU doctoral students annually. The CSC will provide each fellow full tuition and a stipend for two years, with CMU offering its customary support for the students after that. The program also will create up to four master's degree fellowships annually; CSC will provide partial tuition and stipend for two years to each master's fellow.
Fellowship support for doctoral students will focus on science, technology, engineering and math (STEM) fields, the social sciences and humanities, as well as design and architecture. Financial support for students admitted to master's degree programs will focus on the arts, drama and music.
Guggenheim's "Toy Story" Turns 20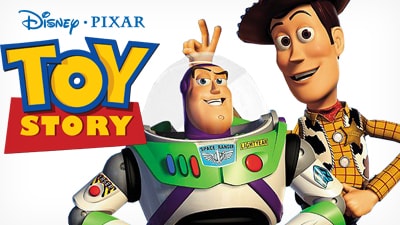 When Pixar's "Toy Story" premiered 20 years ago, it revolutionized an industry as the first computer-animated feature film.
The classic tale of the secret lives of toys has stood the test of time and has left an indelible mark on pop culture. It is highlighted in a Smithsonian exhibit, and its star Buzz Lightyear spent 450 days in space with the help of NASA.
"It still looks fresh, which is very gratifying," said Ralph Guggenheim (DC 1974, SCS 1979), a lead producer on the film and a two-time Carnegie Mellon alumnus. "Visually, we knew other feature films would surpass what we'd done. But we wanted to make it look as good as it could possibly look and set the bar high for anyone who followed us."
Find out more about Guggenheim.
What Makes Paris Look Like Paris?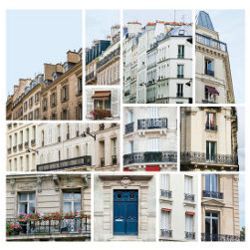 Carl Doersch, a Ph.D. student in machine learning, and his CMU colleagues developed visual data mining software that can detect sometimes subtle features, such as street signs, streetlamps and balcony railings, that give cities a distinctive look.
It was a hit at SIGGRAPH in 2012 and is on the cover of December's Communications of the ACM. Read the research article and watch the accompanying video. In a technical perspective, Noah Snavely of Cornell University describes automatically detecting a place's visual signature as "magical."
PSC Recognized for Sixth Year in a Row by HPCwire
The Pittsburgh Supercomputing Center (PSC) and its collaborators have once again been recognized for excellence in developing and applying high-performance technologies to problems of social importance. HPCwire, the leading trade publication for the high-performance computing (HPC) community, cited the center's work for "Best Use of HPC Applications in Life Sciences" and "Best Use of High Performance Data Analytics." This is the PSC's sixth year in a row of recognition from HPCwire.
Earning the Editor's Choice, Life Sciences Award was The HERMES Logistics Modeling Team. The team, consisting of researchers from the PSC and the Johns Hopkins Bloomberg School of Public Health and International Vaccine Access Center (IVAC), has used the public health product supply chain modeling software to help the Republic of Benin in West Africa determine how to bring more lifesaving vaccines to its children. The team reported its findings in the journal Vaccine. This marks a seminal achievement in HPC, as the computational modeling directly led the country to redesign its immunization supply chain to lower costs and ensure that illness and death due to vaccine-preventable diseases are averted.
Receiving the Reader's Choice, Data Analytics Award was The Pittsburgh Genome Resource Repository (PGRR). The PGRR is a leading-edge information technology resource for storing, accessing and analyzing large de-identified national datasets, including The Cancer Genome Atlas from the NIH, which are important for personalized medicine. The PGRR is funded by the Institute for Personalized Medicine (IPM) and University of Pittsburgh Cancer Institute (UPCI) and includes collaboration of faculty and staff from IPM, UPCI, the Department of Biomedical Informatics, the University of Pittsburgh Center for Simulation and Modeling, the PSC and the University of Pittsburgh Medical Center. The PGRR helps researchers meet information security and regulatory requirements, provides a single consistent view of all datasets, and helps users stay current on updates and modifications made to these datasets.
Attention Ph.D.s: Seeking Participants for Three Minute Thesis Competition
Three Minute Thesis (3MT®) challenges Ph.D. students to present a compelling oration on their thesis and its significance in just three minutes, in language appropriate for a general audience. 3MT is not an exercise in trivializing or "dumbing-down" research, but requires students to consolidate their ideas and crystallize their research discoveries.


Any currently enrolled CMU Ph.D. candidate may sign up to compete. Register online. Registration deadline is Jan. 24.

 Qualifying rounds will be held February through March and the championship round will be held in April. Heat winners will receive iPads or the equivalent value as a research/travel grant. Championship winners will receive $3,000, $2,000 and $1,000 research/travel grants.
Learn more about Three Minute Thesis at CMU.
CMU's United Way Campaign is Underway

Carnegie Mellon's 2015 United Way Campaign has started and will run through Tuesday, Dec. 29. This year's theme is "Together, We Are Stronger." Employees are encouraged to join the campaign by advocating for or volunteering with the United Way and by pledging or donating. Please make your pledge online today. 
Register for Gelfand Outreach Center's Spring Saturday Series
CMU community members can register their children for the Gelfand Center for Service Learning and Outreach's Spring Saturday Series for K-9 students. Classes fill fast so please register now to guarantee your child a spot in class!
Classes are developed by CMU faculty and staff to be fun, engaging, rigorous and hands-on. Available classes are listed in a primary division (grades K-2) and an upper division (grades 3-9). Classes are STEM focused and highlight the research and work of faculty, staff and students. Don't delay, register today!
Toys for Tots Campaign Is Underway
The College of Engineering's First-Year Advisory Board and the Carnegie Mellon Police Department are celebrating the 11th Anniversary of their Toys for Tots Campaign. The program is modeled after the national U.S. Marine Corps program that has been collecting toys for needy children since the early 1950s. This year's campaign runs through Dec. 8. Donated toys must be new and unwrapped.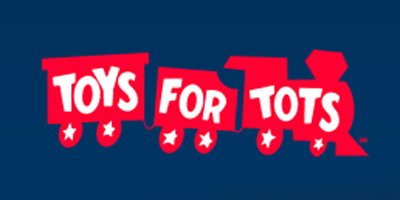 Here are the drop-off locations:
Carnegie Mellon University Police, 300 South Craig Street, Main lobby;
Software Engineering Institute, Main Lobby;
Mellon Institute, 3rd floor Security Desk;
UTDC, Main Lobby;
Morewood Gardens, Student Life Office;
Warner Hall, Enrollment Services;
Cohon University Center, Student Activities Office;
College of Fine Arts, Room 104;
Pittsburgh Technology Center, Technology Drive, Main Lobby;
NREC, 40th Street, Main Lobby;
Hunt Library, 1st Floor Lobby;
Tepper School of Business, 1st Floor Main Lobby;
Scaife Hall, Room 110;
Wean Hall 5121; and
FMS Service Response Desk.
If anyone has toys that need to be picked up, has questions or would like to participate further, contact CMU Police Officer Donald Campbell at dktb@andrew.cmu.edu.
Children's School Open House, Dec. 7
Are you or a family member seeking a unique and rewarding pre-school or kindergarten experience for your child? The Children's School offers ½ day programs for 3-year-olds and 4-year olds and a full day program for 5-year-olds. The school will be holding an informational Open House for CMU staff members from noon to 2 p.m., Monday, Dec. 7. This is a chance to explore the laboratory pre-school and to learn about scholarship opportunities.
If you are interested in attending or would like more information about the programs, please contact Maggie Rosenblum at 412-268-2199 or rosenblu@andrew.cmu.edu.