December 10, 2015
News Briefs
CMU Names Third Cohort of I-Corps Teams
Carnegie Mellon students, faculty and alumni are recognized leaders in producing successful startup companies, and the university houses several centers and programs for promoting innovation and growth. Fueled by such entrepreneurship, the National Science Foundation-sponsored Innovation Corps (I-Corps) Site is one of the Carnegie Mellon vehicles that drives relationships with internal and external partners in the business community.
The objective of the I-Corps Site is to help students and faculty members test-drive their entrepreneurial skills while they collaborate with industry professionals to transition research out of the lab and into the commercial market.
Carnegie Mellon's I-Corps Site recently announced a new cohort of 15 startup companies that are commercializing innovations ranging from advancements in medical treatments, to in-home security, to gaming systems. This year's teams include Carnegie Mellon faculty members, alumni and students at the undergraduate, graduate and Ph.D. levels, as well as participants from the University of Pittsburgh.
Find out about the new group of 15 startups.
Research Team Finds Record of Fast Radio Bursts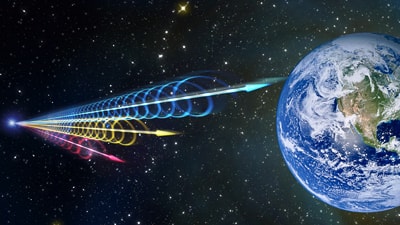 Fast Radio Bursts (FRBs), brief yet brilliant eruptions of cosmic radio waves from the distant universe, have baffled astronomers since they were first reported nearly a decade ago. Though they appear to come from the distant universe, none of these enigmatic events have revealed more than the slimmest details about how and where it formed, until now.
By poring over 650 hours of archival data from the National Science Foundation's (NSF) Green Bank Telescope (GBT), a team of astronomers, including Carnegie Mellon's Jeffrey Peterson and Hsiu-Hsien Lin, has uncovered the most detailed record ever of an FRB. The group's research indicates that the burst originated inside a highly magnetized region of space, possibly linking it to a recent supernova or the interior of an active star-forming nebula. The results are published in the Dec. 3 issue of Nature.
Lasting only a fraction of a second yet packing a phenomenal amount of energy, FRBs are brief flashes of unknown origin that appear to come from random directions. Though only 15 have been documented to date, astronomers believe that the observable universe is rocked by thousands of these events each day.
CMU-Q, QInvest Partner To Promote Learning in Business
QInvest, Qatar's leading investment group, and Carnegie Mellon in Qatar signed a Memorandum of Understanding (MOU) to cooperate and coordinate in the fields of research and education. The MOU will offer QInvest the opportunity to make use of CMU-Q's educational programs, research and strategic studies. QInvest in return offers CMU-Q's new graduates and students in their final year the opportunity to spend one month working at QInvest under the bank's QTalent initiative.

CMU-Q Dean Ilker Baybars praised QInvest's contribution to business education. "QTalent is a market-leading internship program, one which will truly benefit our students. It is invaluable experience for students to learn international best practices across investment banking and asset management before they begin their careers," Baybars said.
QTalent is an internship program that QInvest developed to provide students and new graduates the opportunity to work in a challenging and dynamic environment across a wide variety of sectors in Islamic financial services. Successful candidates will enroll in an initial orientation course to equip them with the foundation to quickly adapt to working at QInvest. The remainder of the program is a mix of classroom-based learning and exposure to live deals and transactions.
Thrill Mill Seeks To Help Early-Stage Startups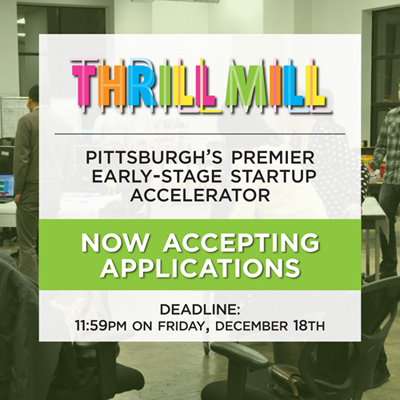 Thrill Mill, a Pittsburgh-based startup accelerator, has launched its fourth application cycle, seeking to help startups across a broad range of industries, including those building software technology companies, to family businesses, to nonprofits.
Thrill Mill has established partnerships with industry leaders in the region, whose teams and resources will be accessible to startups that join Thrill Mill's future cohorts. These partnerships include: UPMC Enterprises (health care technology startups); Up Prize (social ventures); and the Ed-Tech Refinery (education technology startups) among others. 


The application window closes at 11:59 p.m., Dec. 18. Find out more. 
Seeking Presenters for Daughters & Sons To Work Day
Staff Council's Take Our Daughters and Sons to Work Committee is looking for activity leaders/presenters and general volunteers to contribute their time and enthusiasm to the 2016 Take Our Daughters and Sons to Work Day event, which will be held on Thursday, April 28.
On this day, children of faculty and staff between the ages of 8 and 15 are invited to campus to learn about the many career and learning opportunities that exist at CMU. This year's theme is "Sparking Aha! Moments."
The committee is seeking individuals who would like to create and lead an activity or presentation for one or two sessions in the afternoon. Each session will run roughly 45 minutes. If you volunteer for both sessions, your total commitment will be from approximately 12:40 p.m. – 3:20 p.m., considering set-up and tear down.
Depending on the nature of your activity/presentation, you will have either a smaller group of children (15 maximum) or a larger group (30 maximum). While most presentations are held in the Cohon University Center, we encourage and welcome you to use a classroom, lab or room in your area.
If you are interested in leading an activity or presentation, contact Tom Wilk. 
You can also complete the Presenter Registration form. 
Attention Ph.D.s: Seeking Participants for Three Minute Thesis Competition
Three Minute Thesis (3MT®) challenges Ph.D. students to present a compelling oration on their thesis and its significance in just three minutes, in language appropriate for a general audience. 3MT is not an exercise in trivializing or "dumbing-down" research, but requires students to consolidate their ideas and crystallize their research discoveries.


Any currently enrolled CMU Ph.D. candidate may sign up to compete. Register online. Registration deadline is Jan. 24.

 Qualifying rounds will be held February through March and the championship round will be held in April. Heat winners will receive iPads or the equivalent value as a research/travel grant. Championship winners will receive $3,000, $2,000 and $1,000 research/travel grants.
Learn more about Three Minute Thesis at CMU.
CMU's United Way Campaign is Underway

Carnegie Mellon's 2015 United Way Campaign will run through Tuesday, Dec. 29. This year's theme is "Together, We Are Stronger." Employees are encouraged to join the campaign by advocating for or volunteering with the United Way and by pledging or donating. Please make your pledge online today. 
Register for Gelfand Outreach Center's Spring Saturday Series
CMU community members can register their children for the Gelfand Center for Service Learning and Outreach's Spring Saturday Series for K-9 students. Classes fill fast so please register now to guarantee your child a spot in class!
Classes are developed by CMU faculty and staff to be fun, engaging, rigorous and hands-on. Available classes are listed in a primary division (grades K-2) and an upper division (grades 3-9). Classes are STEM focused and highlight the research and work of faculty, staff and students. Don't delay, register today!
PSO Offers Discounts for CMU
The Pittsburgh Symphony is offering discounts to CMU students, faculty and staff for their upcoming shows at Heinz Hall. Students can purchase tickets for $15, and faculty and staff tickets are available for $20.
At 8 p.m., Friday, Dec. 11, 2:30 and 8 p.m., Saturday, Dec. 12 and at 2:30 p.m., Sunday, Dec. 13, a sleigh full of guest artists will join the Pittsburgh Symphony for Highmark Holiday Pops, including The Voice's Chris Jamison, Three Rivers Ringers, the Mendelssohn Choir of Pittsburgh, Attack Theatre and of course Jolly Old Saint Nick!
The cast will be back for shows at 2:30 and 8 p.m., Saturday, Dec. 19 and at 2:30 pm., Sunday, Dec. 20.