August 27, 2015
News Briefs
Team Identifies Structure of Tumor-Suppressing Protein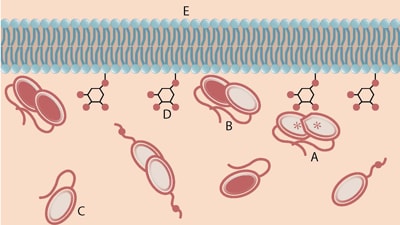 An international group of researchers led by Carnegie Mellon physicists Mathias Lösche and Frank Heinrich have established the structure of an important tumor suppressing protein, PTEN. Their findings provide new insights into how the protein regulates cell growth and how mutations in the gene that encodes the protein can lead to cancer. Their findings are published online in Structure, and will appear in the Oct. 6 issue.
Phosphatase and tensin homolog (PTEN) is a known tumor suppressing protein that is encoded by the PTEN gene. When expressed normally, the protein acts as an enzyme at the cell membrane, instigating a complex biochemical reaction that regulates the cell cycle and prevents cells from growing or dividing in an unregulated fashion. Each cell in the body contains two copies of the PTEN gene, one inherited from each parent. When there is a mutation in one or both of the PTEN genes, it interferes with the protein's enzymatic activity and, as a result inhibits its tumor suppressing ability.
"Membrane-incorporated and membrane-associated proteins like PTEN make up one-third of all proteins in our body. Many important functions in health and disease depend on their proper functioning," said Lösche, who with other researchers within Carnegie Mellon's Center for Membrane Biology and Biophysics aim to understand the structure and function of cell membranes and membrane proteins. "Despite PTEN's importance in human physiology and disease, there is a critical lack of understanding of the complex mechanisms that govern its activity."
CMU-Q Receives Five Research Grants
Researchers at Carnegie Mellon University in Qatar have received five grants in the eighth cycle of Qatar National Research Fund's flagship National Priorities Research Program (NPRP). As the major funding program in Qatar, NPRP encourages research activities that are aligned with the four pillars of the Qatar National Research Strategy: energy and environment; health and life sciences; social sciences, arts and humanities; and computer science and ICT.
The awarded proposals are:
• "SLATE Q- Scaffolding Literacy in Academic and Tertiary Environments: The Case of Communication in Information Systems," by Silvia Pessoa, associate teaching professor of English at CMU-Q.
• "Testing English Reading Comprehension through Deep Text Analysis and Question Generation," by Kemal Oflazer, teaching professor of computer science at CMU-Q.
• "New mathematical models for the large strain swelling response of biological tissues: Applications to Edema, Inflammation, and Pregnancy," by Thomas Pence, professor of mechanical engineering at Michigan State University, and Hasan Demirkoparan, associate teaching professor of mathematics at CMU-Q.
• "Towards Mobile Opportunistic Cloud Computing: Enabling Generic Computational Offloading to Extreme Heterogeneous Entities," by Khaled Harras, associate teaching professor of computer science at CMU-Q.
• "Development of Novel Antibiotic, Antiparasitic and Anticancer Agents," by Gordon Rule, professor of biological sciences at CMU.
Gelfand Center Offers New Classes for K-12 This Fall
The Gelfand Center is offering new classes for K-12 students this fall, including, for the first time, classes for 10th, 11th and 12th graders. Classes are developed by CMU faculty and staff to be fun, engaging, rigorous and hands-on.
Some of the available classes include CSI CMU: DNA Detection (grades 10-12), The Magic of Heredity: DNA (grades 10-12), Wearable Computers (grades 7-9), Brownfields are like Transformers (grades 6-7), and Reimagining Houses (grades K-1).
Defensive Driving, AED Training Classes Offered
Environmental Health and Safety is sponsoring four Defensive Driving classes during the fall semester. Classes begin at 8:30 a.m. in the EH&S Conference Room in the Facilities Management Services building.
Classes will be held on Sept. 8, Oct. 13, Nov. 10 and Dec. 8.
Use your Andrew ID and password to register online.
EH&S also is sponsoring an AED (automated external defibrillator) training class beginning at 10 a.m., Sept. 9 in Rangos 2 in the Cohon University Center. Use your Andrew ID and password to register online.
New Street Parking Prices Set for Sept. 1
This fall the campus community will observe a change in street parking prices prompted by the ongoing Carnegie Mellon parking study. The new prices will take effect Sept. 1. The new prices are:
Frew Street, excluding the 5000 block: $2 per hour;
Frew Street, 5000 block: $1.25 per hour;
Margaret Morrison Street: $1.25 per hour;
Schenley Drive: $1.50 per hour; and
Tech Street: $2.25 per hour.
Due to the varying prices, it is important for commuters to use the parking pay station closest to and on the same street as where they park.
The parking study is directed by Tepper School of Business professors Stephen Spear, professor of economics, and Mark Fichman, associate professor of organizational behavior and theory. The research involves periodic adjustments of hourly parking rates based on usage and demand.
UPDATE: Hamerschlag Drive To Close This Evening (Aug. 27)
Hamerschlag Drive will be closed from 7 p.m. today (Thursday, Aug. 27), to 6 a.m., tomorrow, Friday, Aug. 28 for the disassembly of a crane that was used to lift heavy equipment to the roof of Scott Hall.
Hamerschlag Drive provides access from Frew Street to the FMS building, the loading docks for Roberts Hall, Doherty Hall and Wean Hall, the Gates Parking Garage and the Gates High Bay area. Access to these areas will be restricted during this 11-hour period.
The City of Pittsburgh and Carnegie Mellon police, paramedic and fire departments will have emergency access. In an emergency, call Campus Police at 412-268-2323 for access to the road.
For Gates garage permit holders, alternative parking will be available free of charge in the East Campus and Morewood locations during the interruption.
Questions should be directed to Project Manager Max Dorosa at maxd@andrew.cmu.edu.
Purchase Discounted Tickets to the Renaissance Festival
Staff Council is offering discounted tickets to the Pittsburgh Renaissance Festival. Tickets are for Aug. 22 - Sept. 27 (weekends only), including Labor Day (Sept. 7). 
Ticket prices are $16.95 for adults and $8 for children. For more information and how to purchase the tickets, go to the Staff Council website. Click on Benefits & Discounts in the left-hand column, scroll down and click on Fall Discounts.