August 20, 2015
News Briefs
Information Easier To Learn When Composed of Familiar Elements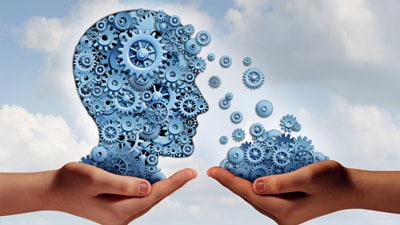 People have more difficulty recalling the string of letters BIC, IAJ, FKI, RSU and SAF than FBI, CIA, JFK, IRS and USA. The well-established reason is that the amount of information we can hold in our short-term, or working, memory is affected by whether the information can be "chunked" into larger units.
New research by Carnegie Mellon psychologists led by Lynne Reder takes this learning principle one step further by uncovering how the strength — or familiarity — of those chunks plays a crucial role. Published in Psychonomic Bulletin Review, they show for the first time that it is easier to learn new facts that are composed of more familiar chunks.
These findings have implications for how students are taught almost any subject, including second language learning. They also indicate that the long-held belief that children have less working memory than adults may not be true because working memory resources are more rapidly consumed when the chunks are less familiar.
This novel research merges instructional innovation and brain science, two of Carnegie Mellon's university-wide initiatives — the Simon Initiative, which aims to measurably improve student learning outcomes by harnessing decades of learning science research, and BrainHub, which focuses on how the structure and activity of the brain give rise to complex behaviors.
CMUWorks Implements Automated Response and Message System

To provide callers to the CMUWorks Service Center (CSC) with more direct access to information and support, the CSC has implemented an automated response and message system. Callers to the support line, 412-268-4600, are now greeted with a general message regarding the available system options and have the opportunity to self-direct their call based upon the nature of their specific questions, speak with a CSC representative, or leave a voicemail (if a representative is not available).
During the first phase of this automated response and message system implementation, the CSC will offer callers three topics to choose from. They are:
Employment Verifications;
Onboarding; and
Other Topics.
Over the next several months, the CSC will incorporate additional topic choices into the system for Time Tracking, Payroll, Taxes and Benefits.
Individuals who require more direct access to their designated CSC Adviser, Payroll Team members, or other CSC staff can contact these individuals directly rather than using the general CSC support line.
Visit the CMUWorks Service Center website for additional information. For questions or feedback regarding the new system and call handling method, contact the CSC at cmu-works@andrew.cmu.edu.
Student Interns Develop Technology in India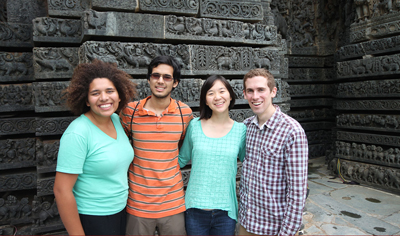 Electrical and computer engineering students Maya Lassiter and Erik Pintar, computer science student Amal Nanavati and Minnar Xie, who is studying art, psychology and human-computer interaction, spent nine weeks in Bangalore, India, developing technology for blind, deaf and differently-abled children as part of the iSTEP summer internship program.
iSTEP, or "innovative Student Technology ExPerience," is a unique research internship started by TechBridgeWorld in 2009 that's designed to give CMU students the opportunity to conduct technology research projects in developing communities.
The student team worked directly with the Mathru School for the Deaf to develop a digital sign language dictionary creation tool, called Signbook, and Speak Up! a suite of voice powered sound games for pre-verbal children. They also observed the blind school's use of braille tutoring technology developed by past iSTEP teams.
Pictured are (l-r) Maya Lassiter, Amal Nanavati, Minnar Xie and Erik Pintar.
Find out more and watch the videos.
New Video Promotes MLK Writing Awards Program
A new video has been produced about CMU's Martin Luther King Jr. Writing Awards, a centerpiece of the university's MLK Day celebration since 1999. The awards program gives Pittsburgh-area high school and college students a safe and creative space to write and share their personal struggles with race and discrimination.
The video, produced by Marketing & Communications' Carrie Chisholm and Ben Perkins, highlights the impact of the program and illustrates how anyone – teachers, students and community members – can get involved. Narrated by Jim Daniels, the Thomas Stockham Baker University Professor of English who founded the awards program, the video features students reading their selections and photos from previous awards ceremonies.
Defensive Driving, AED Training Classes Offered
Environmental Health and Safety is sponsoring four Defensive Driving classes during the fall semester. Classes begin at 8:30 a.m. in the EH&S Conference Room in the Facilities Management Services building.
Classes will be held on Sept. 8, Oct. 13, Nov. 10 and Dec. 8.
Use your Andrew ID and password to register online.
EH&S also is sponsoring an AED (automated external defibrillator) training class beginning at 10 a.m., Sept. 9 in Rangos 2 in the Cohon University Center. Use your Andrew ID and password to register online.
New Street Parking Prices Set for Sept. 1
This fall the campus community will observe a change in street parking prices prompted by the ongoing Carnegie Mellon parking study. The new prices will take effect Sept. 1. The new prices are:
Frew Street, excluding the 5000 block: $2 per hour;
Frew Street, 5000 block: $1.25 per hour;
Margaret Morrison Street: $1.25 per hour;
Schenley Drive: $1.50 per hour; and
Tech Street: $2.25 per hour.
Due to the varying prices, it is important for commuters to use the parking pay station closest to and on the same street as where they park.
The parking study is directed by Tepper School of Business professors Stephen Spear, professor of economics, and Mark Fichman, associate professor of organizational behavior and theory. The research involves periodic adjustments of hourly parking rates based on usage and demand.
Hamerschlag Drive To Close Saturday, Aug. 22 and Aug. 29
Hamerschlag Drive will be closed from 6 a.m. to 6 p.m., Saturday, Aug. 22 and Saturday, Aug. 29 for the assembly and disassembly of a crane that will be used to lift heavy equipment to the roof of Scott Hall.
Hamerschlag Drive provides access from Frew Street to the FMS building, the loading docks for Roberts Hall, Doherty Hall and Wean Hall, the Gates Parking Garage and the Gates High Bay area. Access to these areas will be restricted during these 12-hour periods.
The City of Pittsburgh and Carnegie Mellon police, paramedic and fire departments will have emergency access. In an emergency, call Campus Police at 412-268-2323 for access to the road.
For Gates garage permit holders, alternative parking will be available free of charge in the East Campus and Morewood locations during the interruption.
Questions should be directed to Project Manager Max Dorosa at maxd@andrew.cmu.edu.
Purchase Discounted Tickets to the Renaissance Festival
Staff Council is offering discounted tickets to the Pittsburgh Renaissance Festival. Tickets are for Aug. 22 - Sept. 27 (weekends only), including Labor Day (Sept. 7). 
Ticket prices are $16.95 for adults and $8 for children. For more information and how to purchase the tickets, go to the Staff Council website. Click on Benefits & Discounts in the left-hand column, scroll down and click on Fall Discounts.