August 13, 2015
News Briefs
Parking Permit Distribution Dates Announced
Parking assignments for 2015-16 are now available and can be viewed online. Lots were assigned based on preferences submitted during the open enrollment period.
Parking materials may be picked up according to the following schedule.
If you've been assigned parking in the Dithridge Garage, Fifth & Craig, 4700 Fifth Avenue, Zebina, GATF, Henry Street or Whitfield locations, you may pick up your permit from 9 a.m. – 1 p.m., Aug. 18 in the Dithridge Garage lobby.
Permits for all other parking locations can be picked up from 9 a.m. – 3 p.m., Aug. 19, 20 and 21 on the lower level of the Cohon University Center next to FedEx/Kinkos.
You must have your Carnegie Mellon ID to pick up your parking permit.
Parking permits also may be picked up at the Parking and Transportation Services Office on the Cohon University Center Lower Level during normal business hours (other than the dates and times listed above) prior to Aug. 31. Permits that are not picked up by Aug. 31 will be considered unclaimed and will be cancelled and removed from the database.
If you have questions, send email to parking@andrew.cmu.edu or call 412-268-2052, Monday through Friday between 8 a.m. and 5 p.m.
New Street Parking Prices Set for Sept. 1
This fall the campus community will observe a change in parking prices prompted by the ongoing Carnegie Mellon parking study. The new prices will take effect Sept. 1. The new prices are:
Frew Street, excluding the 5000 block: $2 per hour;
Frew Street, 5000 block: $1.25 per hour;
Margaret Morrison Street: $1.25 per hour;
Schenley Drive: $1.50 per hour; and
Tech Street: $2.25 per hour.
Due to the varying prices, it is important for commuters to use the parking pay station closest to and on the same street as where they park.
The parking study is directed by Tepper School of Business professors Stephen Spear, professor of economics, and Mark Fichman, associate professor of organizational behavior and theory. The research involves periodic adjustments of hourly parking rates based on usage and demand.
New Siebel Energy Institute Awards Seed Grants to CMU Researchers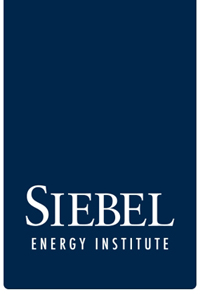 The newly established Siebel Energy Institute, a consortium of Carnegie Mellon and seven other research universities, marked its official launch Aug. 4 by announcing 24 seed grants, including three to CMU researchers.
Zico Kolter, assistant professor in the Institute for Software Research and Computer Science Department, will lead a project with Sebastian Scherer, systems scientist in the Robotics Institute, using autonomous unmanned aerial vehicles (UAVs) and machine learning algorithms to assess electrical distribution systems, identifying portions most likely to fail or, in the case of outages, pinpointing the failures.
Jennifer Mankoff, associate professor in the Human-Computer Interaction Institute, will lead a project with Stephen Fienberg, professor of statistics, social sciences and machine learning, to reduce energy consumption by developing technology that helps people select rental homes and apartments that are energy efficient.
Abraham Ishihara, senior scientist at Carnegie Mellon Silicon Valley, working with Ole Mengshoel, associate research professor of electrical and computer engineering at the Silicon Valley campus, and Therese Peffer of the University of California, Berkeley, will perform a pilot study on how distributed sensing and real-time computation can provide incentives for facility managers to reduce energy consumption.
The institute awarded $50,000 seed grants for the Kolter and Mankoff projects and $25,000 to Ishihara's project.
Jim Daniels' Latest Collection Headed to the Moon
As a writer, Carnegie Mellon's Jim Daniels frequently draws on his life for inspiration, capturing working-class urban life and struggles with race and discrimination.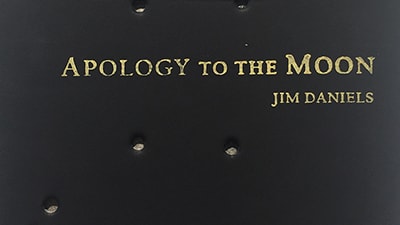 For his 15th poetry book, "Apology to the Moon," Daniels again used self-reflection as well as his involvement in a unique endeavor with the Moon Arts Group Collaborative.
The collaborative is a group of CMU students, faculty and alumni working alongside independent artists and professionals through the College of Fine Arts' Frank-Ratchye STUDIO for Creative Inquiry to create a gift representing all of the arts and humanities. The "Moon Arts Ark" contains art, poetry and music. In 2016, the ark will be delivered to the moon by a CMU Robotics Institute rover competing in Google's Lunar X Prize.
"My role in the project was to find poems about the moon to send to the moon. It was fascinating to notice how many poems about the moon there are out there," said Daniels, the Thomas Stockham Baker University Professor of English.
"The moon has been a constant throughout our history, while life on earth continues to change, so, as a result, how we see the moon in poetry has changed. The project also got me to reflect on how often the moon has showed up in my own poems, which I was thinking about when I put together 'Apology to the Moon,'" he said.
CMU Takes 2nd in "World Series of Hacking"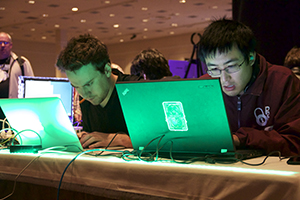 Carnegie Mellon's cybersecurity team, The Plaid Parliament of Pwning, took second place at this year's DefCon Capture the Flag competition. Widely considered the "World Series of Hacking," the event was held last week in the Bally's Events Center in Las Vegas.
"Every year this contest gets harder and harder," said David Brumley, the team's faculty adviser and the director of Carnegie Mellon's cybersecurity institute, CyLab. "It's amazing to see our team, year after year, put in long hours of preparation and compete with the best hackers in the world."
First place went to "DEFKOR" from South Korea while the Swiss-French team "0DAYSOBER" came in third. This year's field consisted of 15 teams with players from over 10 countries. Carnegie Mellon's team was the highest scoring team from the United States.
Hamerschlag Drive To Close Saturday, Aug. 22 and Aug. 29
Hamerschlag Drive will be closed from 6 a.m. to 6 p.m., Saturday, Aug. 22 and Saturday, Aug. 29 for the assembly and disassembly of a crane that will be used to lift heavy equipment to the roof of Scott Hall.
Hamerschlag Drive provides access from Frew Street to the FMS building, the loading docks for Roberts Hall, Doherty Hall and Wean Hall, the Gates Parking Garage and the Gates High Bay area. Access to these areas will be restricted during these 12-hour periods.
The City of Pittsburgh and Carnegie Mellon police, paramedic and fire departments will have emergency access. In an emergency, call Campus Police at 412-268-2323 for access to the road.
For Gates garage permit holders, alternative parking will be available free of charge in the East Campus and Morewood locations during the interruption.
Questions should be directed to Project Manager Max Dorosa at maxd@andrew.cmu.edu.
UDPATE: CIC Drive To Close Aug. 13 and 15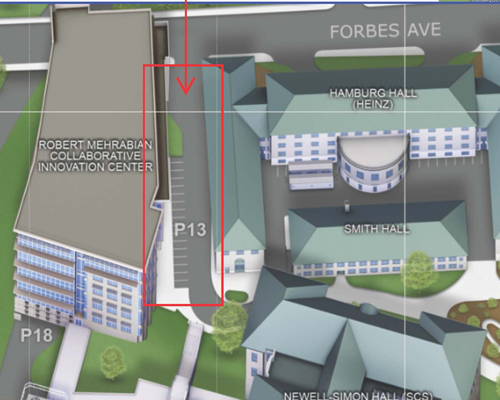 As part of the work to add chillers for campus cooling on the Robert Mehrabian Collaborative Innovation Center (CIC), several shutdowns have been scheduled for CIC Drive between the CIC and Hamburg Hall. The shutdowns will affect vehicular and pedestrian traffic, parking and access to nearby buildings.
Thursday, Aug. 13, 6 a.m. to 6 p.m.
A crane will be assembled and used to lift steel to the roof of the CIC. Access to the Gates and Hillman centers, and Smith and Newell-Simon halls will be restricted from Forbes Avenue. All vehicular traffic and parking on CIC Drive will be prohibited. The sidewalk will be closed as well.
Friday, Aug. 14
There will be no parking in the CIC Drive, however the drive will be open to vehicular and pedestrian traffic.
Saturday, Aug. 15, 6 a.m. to 6 p.m.
A crane will be assembled and used to lift piping and the new cooling towers to the roof of the CIC. Access to the Gates and Hillman centers, and Smith and Newell-Simon halls will be restricted from Forbes Avenue. All vehicular traffic and parking on CIC Drive will be prohibited, and the sidewalk will be closed as well.
Purchase Discounted Tickets to the Renaissance Festival
Staff Council is offering discounted tickets to the Pittsburgh Renaissance Festival. Tickets are for Aug. 22 - Sept. 27 (weekends only), including Labor Day (Sept. 7). 
Ticket prices are $16.95 for adults and $8 for children. For more information and how to purchase the tickets, go to the Staff Council website. Click on Benefits & Discounts in the left-hand column, scroll down and click on Fall Discounts.