April 30, 2015
Personal Mention

After serving as Voice/Speech and Alexander Technique coach for the School of Drama's Chosky Theatre production of "The Three Sisters," Janet Madelle Feindel has a busy summer planned. The tenured full professor, Voice/Alexander & dialect coach for the School of Drama will be leading a Voice/Alexander and Presenting Skills workshop at the Care of the Professional Voice Symposium May 29 in Philadelphia. On June 5, she is leading an Alexander and yoga workshop at the Montreal Yoga Festival. She is also presenting a Voice/Alexander workshop at the Voice and Speech Trainers Association and the Theatre in Higher Education conferences in Montreal July 30 and Aug. 4, respectively. Ten days later, she is leading a session on the F.M. Alexander Technique at the International Congress in Ireland on Aug. 14. Her chapter "Alexander Technique and Strategies to Address Vocal Tension" is included in "Performers Voice," scheduled for release in May. Performers Voice is being published by Plural Publishing in San Diego and Oxford, U.K.

Duane Seppi, the BNY Mellon Professor of Finance and head of the Master in Computational Finance Program, has been recognized by the Review of Asset Pricing Studies (RAPS) for his paper "Rating-Based Investment Practices and Bond Market Segmentation." The study won the 2015 RAPS best paper award, which is sponsored by the Society for Financial Studies and awarded annually to recognize the highest level of excellence in financial research. The paper documents a new channel for rating-based bond market segmentation. This study differs from others of its kind because it is based on non-regulatory investment management practices. Seppi's co-authors include Zhihua Chen of the Shanghai University of Finance and Economics, and Aziz Lookman and Norman Schuerhoff, who earned their Ph.D.s at the Tepper School in 2005 and 2004, respectively.

Darlene Scalese, assistant to the head of the School of Design, is one of seven finalists selected from 48 local Jefferson Award winners to be considered for the 2014 Most Outstanding Volunteer of the Year Award. The winner will be announced on May 4 at an invitation-only awards ceremony at Heinz Field and will go on to represent Western Pennsylvania at the national Jefferson Awards ceremony in Washington, D.C., this summer. Since 2012, Scalese has been preparing care packages for U.S. troops at Operation Troop Appreciation in West Mifflin, where she also manages the organization's "Welcome Home" program, donating 30 hours per week 
to help veterans facing extreme poverty or financial hardships. Learn more.
Alex Imas, assistant professor of social and decision sciences, was named to Pacific Standard's "The 30 Top Thinkers Under 30" list. The magazine, designed for opinion leaders, policymakers and concerned citizens who are interested in developing solutions to some of the world's toughest social and environmental problems, included Imas on a list full of "rising stars whose careers promise to make a lasting mark." Read more.

English Professor David Kaufer was selected as the 2014-15 Wilson T.S. Wang New Method College Visiting Professor in Language Education at Chinese University in Hong Kong (CUHK). Kaufer, who is currently in China teaching English for the new Joint Institute of Engineering Program between CMU's College of Engineering and Sun Yat Sen University in Guangzhou, gave a general talk to the university community about language education, a more specialized talk to the English Department and met with faculty and students about English education curriculum and policy at CUHK and in Hong Kong. For the university lecture, Kaufer focused on Classroom Salon, which leverages the power of social media to create online learning communities.  The department talk focused on the text analysis — DocuScope — environment Kaufer co–developed with Suguru Ishizaki, associate professor of English.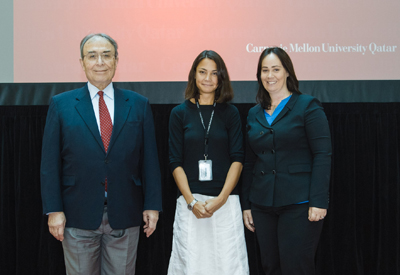 Five staff members at the Qatar campus recently received Charles E. Thorpe awards for their exceptional teamwork and dedication. The awards are named for Carnegie Mellon Qatar's founding dean. The 2015 recipients are:
Outstanding Innovation: Doru Meltei, Principal Media Technology Design Engineer;
Outstanding Newcomer: Suzanne Dixon, Facilities Manager;
Outstanding Service to Students: Christine Gilchrist, Academic Program Administrator;
Outstanding Dedication to CMU: Renee Barcelona, HR Administrative Coordinator; and
Outstanding Commitment to the Community: 
Nada Waleed Soudy, Research Associate/ Project Manager in Computer Science.
Pictured (l-r) is CMU-Q Dean Ilker Baybars with Academic Program Administrator Christine Gilchrist and CMU-Q Associate Dean for Education Selma Limam Mansar. Gilchrist was recognized for her outstanding service to students.