September 04, 2014
Meet Miss Pennsylvania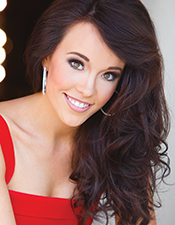 Amanda Smith has stage presence. That and her jaw-dropping singing voice — qualities she's learned and nurtured at Carnegie Mellon's School of Drama the past two years — helped the junior musical theatre major win the Miss Pennsylvania crown for 2014.
Smith, who sang an amazing rendition of the Phantom of the Opera's "Music of the Night" in the state pageant, will be competing for the title of Miss America on Sunday, Sept. 14 in Atlantic City. The competition will be broadcast live at 9 p.m. EDT on ABC.
Amid her busy schedule, 
the Piper recently caught up with Smith to talk about her role as 
Miss Pennsylvania and her fitness 
and nutrition platform.

Q: What's it like to wear the crown?
A: It truly has been an amazing experience. It's a lot of personal appearances, community service work, paperwork and training. It keeps me busy, but I love every second.

Q: Has your CMU education helped you compete?
A: Oh, absolutely. As a musical theatre major, I take acting, voice lessons and dance — ballet, jazz and tap — every semester. I also have taken classes in speech, movement, Alexander technique and foundations of drama. The talent portion of the pageant is 35 percent of your score, and CMU's School of Drama definitely contributes not only to my confidence and technique onstage, but how 
I carry myself in social situations as well.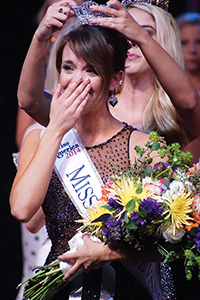 Q: How do you deal with the time crunch?
A: I will be taking a year of absence from CMU; however, the faculty and staff have been incredibly supportive as I embark on this journey dedicated to scholarship, community service and personal growth. And I can't thank them enough for that.

Q: When people think of pageants, 
the movie "Miss Congeniality" comes to mind. Can you separate fact from fiction?
A: (laughs) … Taking the truth and stretching it always makes for a good comedy. I'm sure there are pageants out there that are about beauty and "world peace," but I feel proud to be part of an organization that really prides itself on intelligent, talented, beautiful, caring, authentic and forward-moving women.

Q: What platform are you 
promoting?
A: Fitness and Nutrition: The Key to Healthy Living. I took on this platform to make people aware of how fitness and nutrition are directly related to cancer and other diseases. Recently, I've started an initiative to educate families and individuals about affordable ways to maintain a healthy lifestyle, since cost is a key issue for Americans today.

Q: How are you preparing to compete for the Miss America title?
A: I've been keeping updated on current events, working with my personal trainer for that swimsuit body, working on interview skills and expanding my personal platform.

Q: What has been the most rewarding part of this experience?
A: The most rewarding part for me is meeting the people who are so grateful for Miss Pennsylvania coming to support an event or cause.

Q: What are your plans post-graduation?
A: I love serving, and I love promoting the benefits of fitness and nutrition to help others. And with the connections I'm making, I can certainly continue to do that without a crown on my head. I also hope to pursue a career onstage in New York City or in film and television in Los Angeles.
By: Piper Staff