September 04, 2014
Happy Returns
Edna Jackson Moves to Qatar as Director of Dean's Office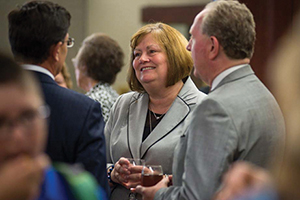 After 26 years of working in the 
Carnegie Mellon Provost's Office, Edna Jackson has decided to pack it up and see the world. Her first stop … Doha.
Jackson, who has been a mainstay on the sixth floor of Warner Hall for more than two decades, and her husband, Bob, have moved to Carnegie Mellon Qatar, where she has assumed the new position of director of the 
Office of the Dean for Ilker Baybars. Bob will be doing "a little bit of everything," she said.
For Jackson, this trip — a three-year stint — is her fifth time to CMU-Q. She and Bob were there for four months as part of the initial set-up team 10 years ago. They both returned for the inaugural year celebration and the 10-year anniversary gala this past spring. Jackson also has been back for the CMU-Q building opening ceremony and the first graduation there.
From their first visit, Jackson said Qatar has always been a "special place."
"It really changed our view of the world. It made me realize that parents there are the same as parents here. They ask the same questions. They want the best for their kids and they want us to look after them. We found a close group of friends there and we found a church to be involved in.
"People had this distorted view of this part of the world after 9-11 that we found to be unfounded," Jackson said.
Jackson's son, Andy, said his parents' affinity for Qatar is evident.
"Every time they came back, there was a sparkle in their eye and a jump in their step. They were living a dream over there," he said.
Jackson feels pride, a sense of family and hope when she talks about CMU-Q.
"CMU came up out of the sand there. It really is Carnegie Mellon there. The kids work just as hard. What we are here is what Doha is as well. I've told Mark [Kamlet] that the thing he should be most proud of is the Qatar campus," she said.
"I believe education changes the world, and I think that's our only hope for peace in the Middle East. Qatar is like the Switzerland of the region. The universities are there to encourage and advance the mindset of peacefulness and collaboration. Maybe we can share that thoughtfulness, peacefulness and diplomacy with others," she said.
Carnegie Mellon has been family to the Jacksons. Their two sons, Ryan (DC'01) and Andy (DC'03), are CMU graduates. Ryan is director of Financial Systems for the Financial Systems team, and Andy is a major gift officer in University Advancement. Daughter Libby, a teacher in California, worked at the Cyert Center for Early Childhood Education during her summer breaks in college and before she earned her full-time teaching certification.
"As little boys Ryan and Andy came to the first football game at Gesling Stadium. We've been a CMU family. CMU has been good to us. It's our home," Jackson said.
Jackson's role in the Provost's Office, under Angel Jordan (1983-1990), Paul Christiano (1991-2000) and Mark Kamlet (2000-2014), has included many aspects, from learning how to type a bit in Spanish for Provost Jordan to serving on search committees and tenure review committees with influential faculty members. She's also helped plan many special events.
She has deep admiration for her three provosts.
"Angel [Jordan] was a great person to work for, he was very protective of me, and Paul [Christiano] and I had a very special relationship," she recalled. "They were both engineers, and Mark [Kamlet] was my first chance at a social scientist. We quickly became fast and furious friends. I've loved them all for different reasons.
"Mark is an amazing man and very thoughtful. His door was always open. He always had time to give you the backstory," Jackson said.
At a celebration in early August, Jordan and Kamlet thanked Jackson for her outstanding contributions.
Jordan noted her ability to work with many different people and personalities and her ability to keep calm during controversial times. He praised her for her patience, confidence, loyalty and stability.
Kamlet said Jackson was "extraordinarily important" to him from the day he walked into the office in July 2000.
"She has immense common sense, a very good sense of humor, is wise and experienced, and has seen and handled pretty much every situation one can imagine," said Kamlet, who stepped down as provost this past summer after 14 years.
"She treats everyone with respect and dignity and has the patience of a saint. She has a keen understanding and appreciation of the culture of Carnegie Mellon and has contributed profoundly to that culture. But, perhaps more than anything else is how much she cares for the individuals she works for and all those that she works with," Kamlet said.
Over the years Jackson has worked with four presidents; 19 vice presidents; 37 deans; 53 vice provosts, associate provosts and associate vice presidents; 127 department heads; and has served on 1,820 reappointment, promotion and tenure review committees. "Edna was invaluable in every one of those activities," Kamlet said.
Jackson said her new assignment should be an easy transition.
"I've known Ilker for a very long time. Every provost I've worked for has had a great relationship with Ilker, so in my mind this is a perfect fit," she said.
Dean Baybars agrees.
"Edna is the most experienced high-ranking administrative assistant/office manager at CMU. She is knowledgeable, skilled, competent and hard working with a very pleasant demeanor. She is a veteran, who is intimately familiar with the academic components of CMU, and she would serve any dean in Pittsburgh extremely well. I am lucky that she was ready for a change and she decided to join us," Baybars said.
And what about traveling and 
seeing the world?
"You can't be in that part of the world and not take advantage of the 
opportunity," Jackson said.
By: Bruce Gerson, bgerson@cmu.edu