September 04, 2014
Global Stage
CMU's Big Data Experts in Spotlight at World Economic Forum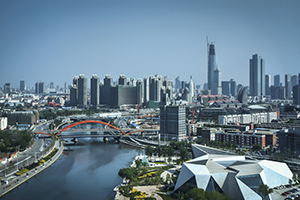 In a world deluged with data and increasingly sophisticated methods for collecting and analyzing it, scientists are focused on how they can use all of this information to improve our lives.
Four Carnegie Mellon faculty members will provide their perspectives on this topic during a session titled "Data Science in Action" at the World Economic Forum's Annual Meeting of the New Champions 2014 — also known as Summer Davos — Sept. 10-12 in 
Tianjin, China.
Manuela Veloso, the Herbert A. Simon University Professor of Computer Science, will discuss the future of autonomous robots. She will show how these robots not only use their own sensors to collect data from their environment but also can collaborate with other robots to share and process massive amounts of data in real-time, allowing them to make decisions and take action. Veloso also will be featured in a panel titled "Discover! Robot Revolution," moderated by NPR's science correspondent Joe Palca.
Marlene Behrmann, director of Carnegie Mellon's Cognitive Neuroscience Lab, will discuss how analyzing brain signal pathways in individuals with autism can help identify markers that accurately predict the onset of the condition and allow for early behavioral intervention.
Marsha Lovett, director of Carnegie Mellon's Eberly Center for Teaching Excellence and Educational Innovation and co-coordinator of CMU's Simon Initiative, will explain how collecting data from students using online learning software can help scientists customize each learner's experience, which results in more effective and efficient learning.
James H. Garrett Jr., dean of the College of Engineering, will examine how sensors can be used to collect data from infrastructure, such as water and sewer pipes, buildings and bridges, in order to locate trouble spots before they break down, which could save trillions of dollars in repair costs.
President Subra Suresh will introduce the session.
Forum Leadership
Suresh, who is one of nine "programme mentors" for Summer Davos and the only university president serving in that capacity, will be featured in a session titled "Optimizing Education through Technology."
Last November, Carnegie Mellon launched the Simon Initiative, harnessing the university's leadership in learning science to improve learning outcomes for both CMU students and learners around the world.
Adding further to Carnegie Mellon's leadership in this area is Justine Cassell, Simon Initiative co-coordinator and associate vice provost of technology strategy and impact. Cassell serves as head of the forum's Global Agenda Council on Robotics and Smart Devices at Summer Davos. She will speak during several sessions on the topics of wearable computing technologies, gender and how emerging technologies are augmenting the human experience."
40 Under 40
Each year, the forum selects 40 scientists under the age of 40 to participate as Young Scientists alongside the business and political leaders.
These scientists are selected from all regions of the world and from a range of disciplines to provide perspectives on the most up-to-date trends in scientific research.
Three of the scientists chosen this year are Carnegie Mellon faculty who were selected following nominations by the university's Marketing and Media Relations (MMR) team, in collaboration with the deans. The CMU scientists are:
Inês Azevedo, associate professor, Engineering and Public Policy; co-director, Center for Climate and Energy Decision Making;
Jessica Hammer, assistant professor, Human-Computer Interaction Institute and Entertainment Technology 
Center; and
Chris Harrison, assistant professor of Human-Computer Interaction.
Hammer will be a panelist during a session called "Future Learning: Better, Faster, Smarter." The session will explore how as machines get smarter, education and learning can become smarter, too.
Harrison will present during sessions 
titled "Tomorrow's Consumer Tech" and "Consumer Industry Transformations."
CMU and the Forum
The World Economic Forum's membership includes the top 1,000 companies 
from around the world that drive the 
global economy and collaborate on shaping global, regional and industry agendas.
Carnegie Mellon's relationship with 
the forum began in 2010, when MMR initiated a daylong visit between faculty from across the university and a forum representative. Shortly after, Carnegie Mellon was invited to join the forum's Global University Leaders Forum, a group of 25 elite global universities, only 11 of which are in the U.S.
Since then, 15 faculty members 
from six schools and colleges — plus 
the Entertainment Technology Center — 
have presented at forum meetings.
See highlights from the World Economic Forum.
(Pictured) The World Economic Forum's Annual Meeting of the New Champions 2014, also known as Summer Davos, is taking place 
Sept. 10-12 in Tianjin, China.