September 04, 2014
Former Skater's Recipe for Success
CMU's Rebecca Gilbert Authors Easy-to-Follow Guide for Going Vegan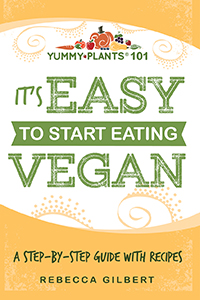 As a competitive figure skater from the age of 6, Rebecca Gilbert was used to pushing herself through pain. But the body has its limits, and Gilbert's right knee let her know that loud and clear in college during her senior year.
On what should have been a typical day for her — classes sandwiched between time on the ice — her knee totally gave out from chronic pain that had been plaguing her for months. It didn't matter that Disney awaited her arrival in Florida where she was to join the "Beauty and the Beast" European Tour; this was Gilbert's final bow, and the show hadn't even started.
"They tried to get me into shape with physical therapy, cortisone treatments and electrical stimulation. 
Nothing worked," she said.
A surgical procedure promised her a knee that would work like new. However, post-surgery the problem worsened, and Gilbert was faced with her toughest pill to swallow — a future without figure skating.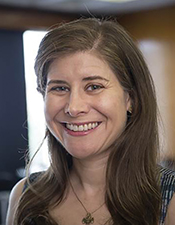 Gilbert moved on. She went to business school, earned an MBA and began working as a market analyst. Still suffering five years after her professional skating career ended, Gilbert searched the Internet for help with chronic joint pain and stumbled on a study done in Scandinavia.
"The experimental group went vegan for six months, eating a completely plant-based diet — no meat, no butter, no dairy, no eggs, no fish. The control group ate whatever they wanted. The experimental group reported an 80 percent reduction in their osteoarthritic knee pain," she said.
What did she have to lose by eating plants for a few weeks?
"I was desperate. These people had knee pain, and then they didn't. And that was all I needed to know," Gilbert said.
Starting with beans and rice as a staple, she figured out the rest as she went along. Her pain subsided in the first couple of weeks, and within five weeks of the start of her vegan diet, the pain was completely gone.
"Stepping out onto the ice for the first time in six years felt amazing," said Gilbert, who still tears up when she remembers the moment.
"It's not just about the loss. We all have something in our lives that gives us so much joy. When we're doing it, time stops. We smile. We're fulfilled. For me, skating was that. No one can skate for six hours a 
day who doesn't love it. And I felt so sad. I just missed it. And I was just so, so grateful to be able 
to do it again."
Gilbert works for Carnegie Mellon as a fundraiser. In her free time, she promotes the benefits of a vegan diet and shows people how easy it is to switch to plant-based eating. She speaks regularly at vegetarian festivals and has given talks in New York and Paris.
Gilbert has a substantial following on Twitter and Facebook, and her newly published beginner's guide to becoming vegan, "It's Easy to Start Eating Vegan! Yummy Plants 101," offers practical tips, including:
Easy egg and dairy substitutions;
Ideas for stocking your vegan pantry;
Plant-based protein sources;
Sample meal plans and tasty, easy-to-make basic recipes; and
Tips for navigating social situations.
"Living a life of service is important to me," Gilbert said. "Whether it's through 
the work I do to raise financial support for CMU's amazing students, faculty and programs, or through my personal work to teach people about the health benefits 
of a vegan diet, I want to use my talents to make this world a better place."

(Pictured) Rebecca Gilbert, a fundraiser for CMU, spends her free time promoting the benefits of a vegan diet.
By: Kelly Saavedra, ksaavedra@cmu.edu