September 04, 2014
Effort in Efficiency
Workday To Streamline HR, Benefits and Payroll Processes
The days of completing green paper time sheets, manually keeping track of your PTO and remembering yet another password to view your pay stub are gladly coming to an end.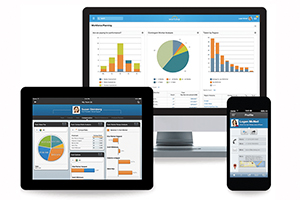 Workday, a web-based, human resources (HR), benefits and payroll management system that provides employees and managers with the information they need, is in the final stages of its campus-wide rollout. Workday deployment is set for late December 2014, with the first payroll to be run in Workday in January 2015.
Workday will bring payroll in-house and consolidate several manual spreadsheets and information and processing systems — some of which were created and developed at Carnegie 
Mellon more than 20 years ago. The systems are the HR Information System (HRIS), the HR Employee Module (HREM), HR Connection, the Talent Management System (TMS), the Payroll Roster System (PRS) and ADP for Payroll. Green time sheets and Excel spreadsheets for PTO requests and tracking of faculty appointment, promotion and tenure also will be replaced by Workday.
"Software generally does not age gracefully. What may have begun as an elegant design when the system was first conceived 25 years ago, today limits what you can realistically accomplish," says CMU Chief Information Officer Steve Huth on the Workday website. "When it became clear that the current systems could not keep up with the changing needs of the university, we explored new options. Workday will provide us a HR/Payroll system agile enough to support the needs of a 21st century university."
Workday, which has been adopted by many state governments, businesses and universities, including Brown, Cornell, Chicago, Georgetown, Miami, Rochester, USC and Yale, will provide faculty, staff and student workers with a more efficient way to navigate the HR benefits and payroll aspects of their life at CMU.
Employees will be able to record their work hours, view their pay slips, review and update their payroll information, make changes to their health benefits and request PTO.
Supervisors will receive notification of the time entry approval and PTO request via email from Workday and will be able to approve or deny the request from their desktop, laptop or mobile device. Managers will have access to the data for the people they supervise, such as general employee data, contact information, work history, position history and PTO data.
Workday also will enable managers and administrators to more accurately track faculty appointments, promotions and tenure dates, something Sharon 
McCarl is anxiously anticipating.
"Currently we spend a great deal of time entering appointments year after year. This will be greatly reduced in Workday and that will allow people to focus on other things," said McCarl, associate dean for Financial Affairs in the Mellon College of Science and a member of the Workday Campus Team, Steering Committee and Executive Sponsors Group.
"Carnegie Mellon has entered the global community and our employees don't all work in Pittsburgh. We need a system that allows us to serve all of our employees. The new functionality for faculty appointments will allow us to use one system to track faculty."
Like Huth, Cheryl Wehrer, associate director of Finance and Administration in the Robotics Institute who has been a member of the CMUWorks Campus Team and Steering Committee, says Workday will bring Carnegie Mellon's HR systems into the 21st century.
"Moving from our current HRIS to Workday is analogous to going from a 1970s rotary phone to the latest smartphone in one fell swoop. There's a ton 
of delivered functionality in Workday that we simply don't have today," 
Wehrer said.
About 40 members of the university community have participated in user acceptance testing to provide feedback to the implementation team, but training for the university community will begin in earnest this November.
Individuals who will be conducting transactions in Workday on a regular basis will receive instructor-led training. The majority of CMU employees will get their training online, which will be complemented with screencasts and quick guides.
Going live in conjunction with Workday will be the newly created CMUWorks Service Center. The team is in place, assisting with the project and getting up to speed on their new roles. Located in the UTDC Building on Henry Street, the CMUWorks Service Center will be a one-stop shop where CMU employees can get answers to their inquiries related to HR benefits and payroll transactions. The CMUWorks Service Center, which consists of about 20 employees, will debut in late 
December.
McCarl, who has learned how to use the Workday system, thinks people will get the hang of it.
"Parts of Workday are very intuitive but others are a bit tricky. Some people will say that it is complicated. [But] we do 'complicated' every day and just as we had to learn to use Oracle, we will learn to use this system," McCarl said.
Wehrer also has tested the system and has conducted Workday demonstrations for users.
"Workday is very easy and intuitive. If you can read Gmail or use a Web browser such as Amazon, the experience is similar. Employees will easily figure out many parts of Workday on their own," Wehrer said.
For more information, visit the Workday website. You can subscribe to the 
Workday monthly newsletter 
by emailing cmu-works@
andrew.cmu.edu and using "subscribe" in the subject line.
(Pictured) Using Workday, employees will be able to record their work hours, view their pay slips, make changes to their health benefits and request PTO online.
By: Bruce Gerson, bgerson@cmu.edu