October 15, 2014
Innovation Palooza
Engineering Students Offer Solutions for the Homeless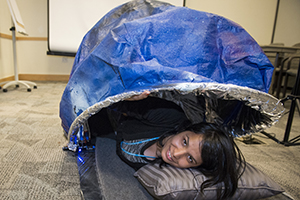 Forecasts of another particularly cold winter have raised concerns about space in Pittsburgh's homeless shelters, which contain only 375 beds. There are an estimated 1,500 homeless individuals in the city.
Carnegie Mellon students addressed this concern by putting their technical and creative skills to good use. Their results were on display during the College of Engineering's Impact-a-Thon, part of the Innovation Palooza event that took place in early October.
Student teams that participated in the competition were given less than a week to research the problem and come up with temporary and economically viable shelters that could be erected during cold weather.
Each group approached the challenge in a unique way, with ideas that ranged from converting old public buses into portable homes to outdoor shelters that can be folded up and carried like a backpack during the day.
"The most difficult part was trying to grasp the problem in such a short time," said Rajlakshmee, who is working on her master's degree at CMU's Integrated Innovation Institute. "We had to go from understanding the problem to building the prototype in five days."
The teams were required to have at least one engineering student, but many were interdisciplinary groups with students from across the university, like Rajlakshmee's team, which won second place and $600 in the competition with members Alex Surasky-Ysasi from the Integrated Innovation Institute; Priya Ganadas from the School of Architecture; and Linh Thi Do from the Tepper School of Business.
"You need the diversity of perspectives," said Surasky-Ysasi. "Linh Thi reminded us, 'Don't forget about cost!' and I would ask, 'Mechanically, does this work?' and Raj would say, 'But the fabric!'"
The students presented their solutions to judges, who determined which teams would receive the three prizes.
The third-place prize of $400 went to Porchlight, the truly innovative idea of not building shelters at all. After careful research, the group discovered that a major hurdle for many of the individuals in need is the stigma of homelessness. They also found that it is very hard to open new shelters, but that 68 percent of the people they surveyed said they would harbor those in need in their own homes. Based on this information, the team developed a third-party service that would match up willing hosts with those needing a place to stay.
"We introduced the concept of having a third party — a caseworker — who does a background check, so there's a great degree of confidence that the people in your house are reputable people that don't have any problems," said Michael Richardson, a graduate student in human-computer interaction (HCI) whose team included fellow 
HCI students Katarina Shaw (CS'15), 
Jason Azares (CS'15), Ron Kim (CS'15), Jim Martin (CS'15) and electrical and computer engineering student Joseph Carlos (E'15).
The second-place team developed a product called a Satellite Shelter. The structure is flat when folded, but it can be laid on the ground and opens into a tent-like sleeping bag. It is insulated 
with Mylar, an affordable polyester material used in space blankets, and has a waterproof layer with ventilation. Wool blankets also keep occupants warm and make the space more comfortable.
Green Residence won $1,000 for first place. The team included graduate students Wei-Hsun Chen (CMU'15), Fan Sai Kuok (CMU'15), Vanessa Li (CMU'15), Hongqiao Lu (CMU'15) and Ruyao Wu (CMU'15), all from the Integrated Innovation Institute. Their project was a structure that could be set up in Pittsburgh's parks.
During the day, the structure folds up into a billboard, which the team proposed selling for $100 per month to cover maintenance costs. Homeless individuals can reserve one of these structures after 8 p.m., using an ID system that tells them which units are available and swiping the ID card to open the temporary residence. Inside, there is a heating element and fan that can be plugged into the city's lampposts. The ID system also assists homeless individuals with job placement.
The Impact-a-Thon was part of a larger College of Engineering event called the Innovation Palooza, which highlighted faculty research such as 3-D bioprinting from Adam Feinberg, professor of biomedical engineering and materials science and engineering, and included a lesson on how to make butter from heavy whipping cream using mechanics from Mechanical Engineering Professor Phil LeDuc and Chemistry Professor Subha Das.
The Palooza also showcased demos and lightning talks from industry leaders, such as Merline Saintil, head of operations for mobile and emerging products at Yahoo! and Bill Fuller of Big Burrito, who put an innovative spin on mealtime by making Asian-style lobster tacos with wasabi guacamole.
The College of Engineering plans to host the Innovation Palooza and Impact-a-Thon annually, something that teams said will help them immensely as they move forward in their careers.
"The biggest value of this project 
was that, rather than just designing a 
solution, we went out and talked to 
people. We got a survey, and we were 
able to get a good sense for what people cared about and what the issues actually are by talking to people in those situations," Richardson said.
"That makes our opportunities in industry much better because decisions informed by research have good results."
By Tara Rae Moore
(Pictured) Rajlakshmee (E'15), a master's degree student in the Integrated 
Innovation Institute, demonstrates her team's project, the Satellite Shelter, which is designed to keep the homeless warm.