October 15, 2014
Form and Function
Andy Award Winners Are University Role Models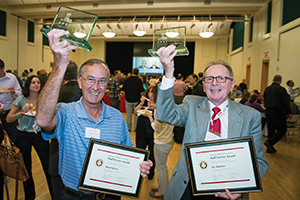 Bodies in motion tend to stay in motion. Even for 100 years.
That law of physics appropriately rings true for two members of the Physics Department, who enjoyed the distinction of winning Andy Awards and Years of Service citations for their combined 100 years at Carnegie Mellon at this year's staff recognition ceremony on Sept. 30.
Joe Rudman, scientific project administrator, earned the Andy Award for University Citizenship and was celebrated for his 55 years at the university. Chuck Gitzen, storeroom manager, received the Andy Award for Dedication and was honored for his 45 years 
at CMU.
Joining Rudman and Gitzen as 2014 Andy Award winners were Treshea Wade for Innovation; Leon "Pete" Smith and William Taylor for Community Contributions; Diane Stidle for Culture; and Rubab Jafry O'Connor for Commitment to Students.
Here's a look at this year's honorees.
University Citizenship: 
Joe Rudman
Rudman (pictured above, left, with Chuck Gitzen) has been a valuable member of the Physics Department for more than five decades, but it's his many efforts outside of the department that made him this year's choice in the University Citizenship category.
He has presented more than 100 etiquette dinners for undergraduate and graduate students; delivered talks during Family Weekend, Homecoming and Orientation; and has served on numerous university committees, including the commencement student speaker selection committee and the student disciplinary committee. He has served as an adviser to students seeking prestigious national scholarships and fellowships. And he's volunteered as the assistant golf coach for more than 30 years.
Rudman, who has a Ph.D. in English, has taught classes as an adjunct faculty member at the Tepper School and Dietrich College. He is an expert in authorship attribution and specializes in 18th century author Daniel Defoe. He has given talks around the world on the subject and has been cited in many international publications.
"To Physics, he is a constant. To campus, he is who you can call," wrote his nominator Anne Witchner, assistant dean of Student Affairs. "Joe is unique and special, and Carnegie Mellon has benefited greatly from his decision to remain here for 55+ years."
"Over the years, the name Joe 
Rudman has been synonymous with caring and commitment," wrote Vice President for Campus Affairs Michael Murphy in a supporting letter. "He makes people around him better than they would have been, and he never gives up on those in whom he believes.
"Joe is inordinately dedicated not just to the tasks or responsibilities under his purview, but also to the university as a whole," Murphy added. "He is ever present at university events and programs, and he is a staunch advocate of the many and varied campus activities that make this such a rich community."
Dedication: 
Chuck Gitzen
Gitzen wears many hats for the Physics Department. He is the storeroom manager, purchasing agent, Mr. Fix-It, Mr. Mover and the "general go-to-guy" for more than 150 faculty members, post-doctoral researchers, graduate students and staff.
"Chuck is thoroughly committed to serving our department. Day in and day out, he just gets the job done, no matter what it is," wrote his nominator Stephen Garoff, professor and head of the Physics Department. "In everything he does, Chuck is committed to doing a quality job."
Garoff said that although the department has grown significantly over the past few years, Gitzen has continued to perform his duties at the highest level, while always remaining calm, professional and friendly.
"He is dedicated to his work and performs every task with care and creativity," Garoff said.
Professor Sara Majetich recalled that when she arrived at CMU in 1990, Garoff told her that Gitzen was the best thing about the department. "[And] he's absolutely right," she wrote in a supporting letter.
"In the other places I've been there's no equivalent. There may be a supply room, but there's no one to promptly and reliably place the orders 
and keep track of the paperwork. There's a reason that so many of my grad students have acknowledged Chuck Gitzen in their Ph.D. theses. My students all hope to graduate before Chuck retires. I don't know how we will ever replace him," Majetich said.
She also noted his pleasant 
demeanor.
"He's always cheerful and helpful to others, even when I know he's had tough times in his own life. He never complains — even when the rest of us would," Majetich said.
Physics Business Manager Patrick Carr calls Gitzen's job performance "nothing but impeccable."
"His commitment to his job is like no one I have ever seen before. Chuck possesses the attitude of 'Let's get 'er done,'" Carr said in a supporting letter.
Community Contributions: 
Leon "Pete" Smith and 
William Taylor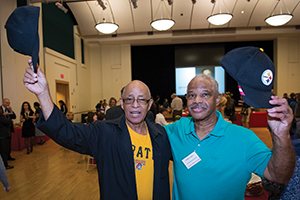 Simply put, Smith and Taylor (right), bus drivers for the Leonard Gelfand Center for Service Learning and Outreach for a combined 35 years, make a large percentage of the outreach and service activities of CMU faculty and students possible.
"These drivers go above and beyond, taking care of the buses as if they were their own — cleaning them and checking mechanical elements regularly to ensure that passengers are transported in safe vehicles," wrote nominator Judith Hallinen, assistant vice provost for Educational Outreach. "Most service programs take place in the evening and on weekends, and the drivers are flexible to meet the needs of the users."
Susan Polansky, faculty liaison for the Modern Languages Tutoring for Community Outreach course, praised them for their dedication and dependability.
"Without fail, through rain and snow, very early in the day or late in the day, they have met us at the appointed hours and often waited for us to make the return trip to campus if the visits have been short. They have just been wonderful: punctual and congenial as well as excellent, safe drivers," she wrote in support of their nomination.
Satvika Neti, a member of Moneythink, a student organization that works with urban youth to help educate them about personal finances, said Taylor and Smith were vital to its success.
"The Gelfand drivers were absolutely essential to our organization having such remarkable growth in its first year," Neti wrote. "It was imperative that we had at least one site that didn't need Port Authority … and because of the flexibility of the Gelfand Center drivers, we ended up having two."
Minnar Xie, former president of FORGE, called their services "invaluable" in helping the organization to build its roster of student mentors for local refugees and in providing a space [the bus] each week for student volunteers to bond and share their experiences immediately after visiting refugee homes.
"We are so grateful for the service Bill and Pete have offered us, especially in picking up our Saturday afternoon shifts," Xie said.
Commitment to Students: 
Rubab Jafry O'Connor
As associate director of the Undergraduate Business program for the Tepper School, O'Connor is an adviser and confidant to business majors and minors, exchange students and to various business clubs. With more than 200 students in the program each year, it's not an easy task, but her commitment to students is exceptional.
"She rises to the challenge and far beyond, being proactive in reaching students who may be struggling, affirming those who are doing well, and urging many to participate in program events that help them build their professional development," wrote her nominator Stephen Pajewski, director of the Undergraduate Business program.
Pajewski specifically noted a monthly brunch she created called "Waffles, Coffee and Professors," which gives students the opportunity to meet with faculty and to talk about their courses and interests; her work in planning networking events with employers; and her efforts in planning the school's etiquette dinner and business fashion show.
He also praised her for her willingness to help international students far from home.
"Rubab is from Pakistan, and she has had advisees from Pakistan, and recently one exchange student from the Doha campus," Pajewski recalled. "She builds relationships with these students from her home country, making them feel comfortable in Pittsburgh and at CMU, and at times conversed with them in their native language of Urdu. On numerous occasions she has invited students to her home for a home-cooked dinner."
Student Melissa Dileo calls O'Connor a mentor and role model.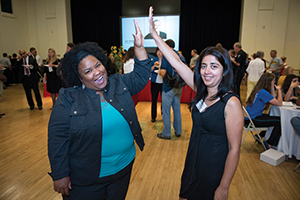 "She is honestly one of the most caring individuals I have ever met and continues to guide me every single day, whether it is in schoolwork or in life," wrote Dileo in a supporting letter.
Alysia Finger (TPR'14, A'14) said O'Connor played a critical role in her academic, professional and personal development.
"I know I speak for the majority of business undergraduates when I say that Rubab's trust, support and mentorship have been crucial to my growth at this university," she wrote.
Innovation: 
Treshea Wade
Wade, assistant director of Alumni Communication and Online Services at the Tepper School of Business, is being recognized for her leadership role in helping to design and launch new alumni communication tools, including the "Tepper Ticker" electronic newsletter, the Alumni Reunion Weekend App, the Tepper Online Magazine App, and a new annual giving social media campaign.
"An incredibly hard worker, she has earned a reputation for her imagination, creativity and innovative ideas especially related to online communication with alumni and social media," wrote her nominator John Sengenberger, executive director of Alumni Relations at the Tepper School. "A skilled artisan of her craft, she is always learning the latest trends and has applied the insights she is learning in her courses at the Heinz College to her work in the office."
In a supporting letter, Meghan Bollens, director of Annual Giving for the Tepper School, praised Wade for her innovative approach to alumni relations and fundraising, her positive attitude, flexibility and creative thinking.
Bollens noted Wade's work to strategically improve the Tepper School's LinkedIn presence, her critical role in bringing the Tepper Ticker to fruition and her key role in launching a webinar series.
"Treshea is a student of communication, social media and marketing, and she is constantly reading expert commentary, attending webinars, collaborating with colleagues from other top schools and searching for best practices. She brings this knowledge base to the table, helping to shape our online strategy with not only her expertise but the data to back it up," Bollens said.
Ann Powers, senior executive 
director of Individual Giving and Alumni Relations for the Tepper School, credits Wade for her work in improving communication with younger alumni.
"Her social media fundraising campaigns have enabled us to increase annual support from a very key demographic that has helped us to continue to break fundraising records from year to year," Powers said.
(above) Treshea Wade (left) and Rubab Jafry O'Connor were this year's recipients of the Andy Awards for Innovation and Commitment to Students, respectively.
Culture: 
Diane Stidle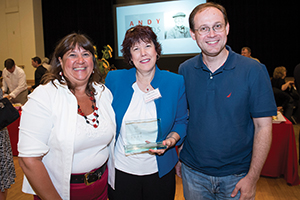 The Ph.D. students in the Machine Learning Department fondly call Stidle the "mom of the department." Faculty members call her the department's "heart and soul."
That's why Stidle, the business and graduate programs manager in the Machine Learning Department, is this year's Andy Award winner for Culture.
"Diane makes everybody feel welcome not only with her warm personality and light-hearted sense of humor, but also with her genuine human touch," wrote Professor Christos Faloutsos in a nominating letter.
Since becoming the Machine Learning Department's first staff member in 1997 (it was then called the Center for Automated Learning and Discovery), Stidle has worked to make the office environment "home" to 
faculty, staff, students and alumni.
"Since that day she has worked enthusiastically and consistently to foster a wonderfully positive and supportive department culture, consistently exceeding expectations along every dimension," wrote eight professors in a supporting letter — Tom Mitchell, 
William Cohen, Geoffrey Gordon, 
Robert Kass, Barnabas Poczos, Alex Smola, Larry Wasserman and Eric Xing.
The professors noted her "self-defined role as a helper and confidant" to students and her "superb community-building skills." They credited her for creating an engaged and loyal alumni group; for instituting weekly departmental teas for students, faculty and staff; for encouraging students to organize retreats; and for recently organizing a reunion for students, faculty and alumni at a major Machine Learning conference in Chicago.
"Diane Stidle has demonstrated the highest standards of CMU, a genuine concern for every person she interacts with, and an amazing ability to foster a culture in which we all feel we belong," they wrote.
In a supporting letter signed by 33 Ph.D. students, Stidle was called "the glue that holds the department together."
"She knows us all personally, her door is always open and she receives everyone with warmth," they said.
(above) Diane Stidle, (center), business and graduate programs manager in the Machine Learning Department, won this year's Andy Award for Culture. Pictured with her are Deb Cavlovich and Geoff Gordon.