October 15, 2014
Cohon University Center
A New Name, Now a New Beginning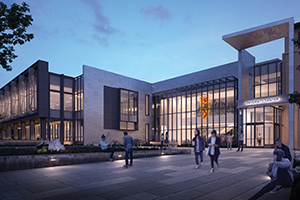 After receiving a new name and months of preparation and anticipation, the Jared L. Cohon University Center addition will soon begin in earnest. The start is tentatively scheduled for late November 
with completion anticipated in late Spring 2016.
The 62,000 square feet of space being added to the CUC will bring new fitness facilities, swimming pool enhancements, a new studio theater for student performance groups and a stunning university presence along Forbes Avenue.
At a town hall meeting about the project, Bob Reppe, director of design for Campus Design and Facility Development, explained that the front door and lobby area to the CUC will sit along Forbes in front of the current loading dock and service area. The current turnaround will be removed to allow for new construction.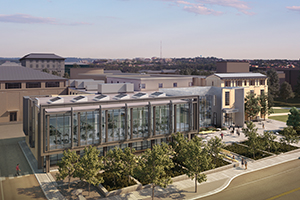 Reppe said the lobby would be easy to navigate with plenty of natural light and a main hallway, or "spine," that will lead you by the bookstore to McConomy Auditorium and the Information Desk.
Director of Athletics Josh Centor and Director of Student Activities Elizabeth Vaughan gave a preview of the new fitness and studio theater components.
Centor said the new facilities would include a weight room with heavy and light free weights, a service area and locker room on the first level. The second floor will feature a large area with 70-75 pieces of technology-equipped cardiovascular machines, a personal training and fitness area, two exercise studios for group exercise classes and a dedicated cycling, or spinning classroom.
The current fitness center will be transformed into meeting space and the existing exercise studio will remain as such and will be shared by Athletics and Student Activities. The squash court that has been filled with cardio equipment is expected to revert back to being a squash court.
A balcony with about 120 seats will be added above the swimming pool. The pool area also will be renovated with HVAC upgrades.
"When the pool area closes for renovations in early spring 2015, we're making arrangements with Chatham University, the Jewish Community Center in Squirrel Hill and Club One in East Liberty to accommodate our recreational swimmers," Centor said.
He noted that while the current locker rooms will close in early spring, locker facilities would be available in Skibo Gym.
Vaughan said the studio theater would be a "highly functional, multipurpose space that will answer the prayers 
of many of our students."
The theater will be used by CMU student performance groups, including Scotch'n'Soda, the All University 
Orchestra, the Kiltie Band and several dance organizations.
Vaughan said the theater will be equipped with 100 seats in a "telescopic format." She said the theater would be easily reconfigured to accommodate 
various types of performances.
For example, she said one full side of the theater will be lined with mirrors for dance groups. But, when musical groups are performing soundproof curtains can be pulled across the mirrors.
The theater will feature a "tension wire grid" for greater safety and flexibility in lighting, a control booth, conventional and LED light fixtures, and user-friendly in-room technology, such as plug-ins to play music from iPods.
Vaughan said the project will also provide "shell space" on the lower level and third level. She said the third floor space might be used for a graduate student lounge and for undergraduate needs to be determined by Student Senate. The lower level space will be used by the bookstore, copy center, dining services and CUC operations.
The addition also will cause the East Campus Garage entrance/exit to be reconfigured. A new driveway to and from Forbes to the garage with single lanes for entry and exit will be constructed across from Devon Road. Once completed, all permit holders will be required to exit the garage from Beeler Street during the rush hour, between 4 and 6 p.m.
Cannon Design of New York City is the architectural firm leading the project and the construction manager is Mosites Construction. Adam Homer of Campus Design and Facility Development is the project manager.
By Bruce Gerson
(Pictured) The renovation will bring a stunning university presence to Forbes Avenue.