October 15, 2014
"The Book of Mormon" Gives Back to Drama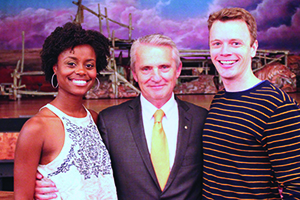 Carnegie Mellon's School of Drama has given a lot of talent to the hit Broadway production "The Book of Mormon." And over the past couple of weeks, "The Book of Mormon" has been giving back.
Since it premiered in 2011 with three School of Drama grads in originating principal and ensemble roles, several more alumni have joined the cast. In late September, when the national tour rolled into town, the New York producers invited current Carnegie Mellon students to attend a performance at Heinz Hall.
Denee Benton (A'14), who stars as Nabulungi in the national tour, noted that her castmates could tell how much the Pittsburgh house loved her during these performances.
Benton and her co-star, David Larsen (A'02), gave a post-performance talkback for Carnegie Mellon alumni moderated by Professor and Head of 
the School of Drama Peter Cooke on Sept. 29.
During the conversation Cooke asked Larsen what he thought distinguished the School of Drama from other conservatory training programs. Larsen replied that it was the strong foundation in acting theory that set School of Drama alumni apart in the musical theater world.
"To tell the story of the song is more important than hitting the notes," Larsen said. "I mean, you've gotta hit the notes but I would rather see a story told."
Before their two weeks in Pittsburgh were over, Larsen and Benton made their way back to Oakland for a visit to the Purnell Center for the Arts, where they spoke to current School of Drama students about their work in 
"The Book of Mormon."
Many students were curious about Benton's recent transition from the conservatory to the professional atmosphere.
Benton suggested to students that they never get too comfortable, that they take directorial advice with grace and that they always believe in the innate gifts that helped them win the role.
Larsen also offered up some wisdom from his 12 years as a working actor.
"You should never need to take 
extra classes if you continue to apply what you learned here," Larsen said. "It's those who stick around, it's those that persevere, that's who 'makes it.'"
By Erin Keane Scott
(Above) Denee Benton (A'14) and David Larsen (A'02), co-stars of the Broadway hit "The Book of Mormon," returned to their alma mater for a talkback, moderated by Peter Cooke (center), head of the School of Drama.