October 15, 2014
A Hot Topic
Mock Dorm Room Fire Emphasizes Safety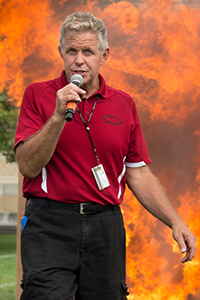 Richard Caruso (right), fire safety manager for Carnegie Mellon's Environmental Health & Safety Department, conducted two mock dorm room fires last month on the CFA lawn to help spread the word to students about the importance of smoke detectors and sprinkler systems.
The first fire, portrayed to be in a Carnegie Mellon-owned student residence, was quickly extinguished by the installed sprinkler system, but the second fire in an off-campus facility fully 
engaged the entire dorm room within 
a minute.
"Fire sprinkler systems offer residents an additional level of safety because they can contain and control the fire immediately in the room of origin, and often extinguish the fire before the fire department arrives," said Caruso, who noted that all CMU-owned residence halls are equipped with smoke detectors and sprinkler systems.
Caruso encouraged students living in off-campus housing to investigate to see if their residence has a fire alarm or sprinkler system, or that smoke alarms on every floor, at the very least, are present. He said the batteries in the smoke detectors should be checked frequently to make sure the detector is in good working condition.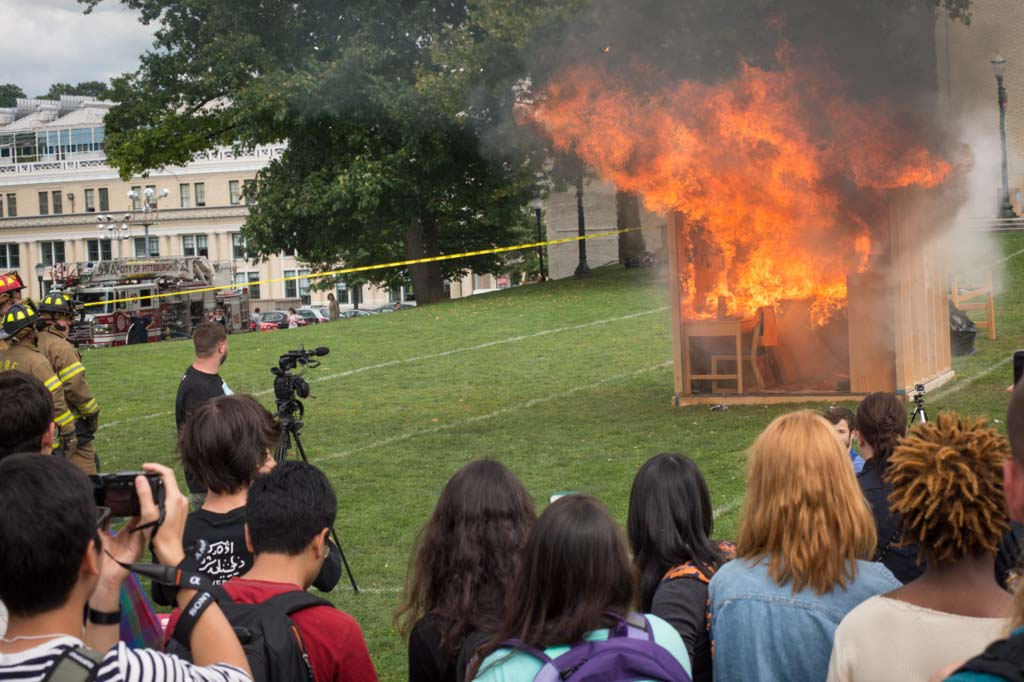 "There is no such thing as a 'safe' city or town when it comes to avoiding the risk of fire for college students. Fire safety should be something that goes with you wherever you reside, particularly in off-campus housing," Caruso said.
To see a video of the mock dorm room fires, go to www.cmu.edu/ehs/.
For more on the EH&S Fire Safety program, go to www.cmu.edu/ehs/fire/index.html.
By Bruce Gerson