November 18, 2014
Top Brass
CMU Staff at Roots of Popular Pittsburgh Ensemble
By Kelly Saavedra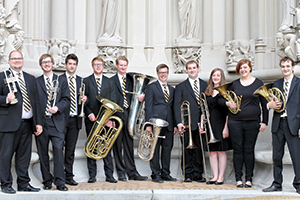 From the feel-good vibe of 1950s Swing to the solemn sound of "Taps" at military funerals, brass instruments in capable hands can eloquently express the range of human emotions.
"Brass is just incredibly versatile, and very similar to the human voice," said trumpet player David Gardner (A'13), an administrative assistant in CMU's Department of Individual Giving. "For me, being a brass musician is the equivalent of being fluent in another language, one that's universal. It's a means of expressing our humanity. It's how we cope."
Hearing his dad play trumpet in church on Sundays and observing the impact it had on the congregation lit the fire in Gardner to follow suit.
"That sound — the power of it — I wanted to have that capacity to play lyrically like he did and, frankly, blow the house down," Gardner said.
Gardner's dream is now his reality. He is a co-founding member of The Brass Roots, a collection of Western Pennsylvania's finest brass musicians quickly growing in popularity in Pittsburgh. Through dynamic musicianship and innovative programming — including a live Twitter feed, meet-and-greets and leaving the lights on during performances — the group is taking classical music and packaging it in a way that makes it more accessible 
to concert-goers.
"Classical music is often viewed as stodgy because you have to sit in a seat and stay quiet the entire time. It's difficult to be engaged when you're in a roomful of quiet people all sitting in the dark," Gardner said. "There is a clear barrier between musicians in the classical realm and their audience, and our goal is to get rid of that barrier."
For non-aficionados, the 13-piece ensemble can be compared to a human chorus. It consists of:
a trumpet section (representing the soprano vocal range);
a French horn section (alto vocal range);
trombone (tenor vocal);
euphonium (a "baby tuba," also tenor); and
tuba (bass).
Jonathan Speek (A'14), a payroll clerk in CMU's Payroll Services Department, is the group's tuba player. He spoke of a successful turnout when they invited one audience to join them at a local restaurant after a performance.
"We're always trying out new ideas to engage our audiences," Speek said. "And just so you know, tailgating is not off the table."
The Brass Roots hold the distinction of being the first ensemble-in-residence at Soldiers and Sailors Memorial Hall in Oakland. Their unique sound has earned them recent television appearances on KDKA and WQED, and a polished reputation means members get requests to play with the Pittsburgh Symphony Orchestra, Pittsburgh Opera and River City Brass Band when a need arises.
"We are always working," said 
Gardner, who got his first big opportunity as an undergrad in the form of a brief tour with Barry Manilow.
"A lot of the opportunities we receive are the result of being in the right place at the right time," Gardner said, "but you also have to be able to perform at the highest level on any given day."
For a brass musician, that means regular physical exercise to keep facial muscles, finger dexterity and lung capacity in tip-top shape.
"Tuba, in particular, requires a lot 
of air," Speek said.
So, he goes running. A lot.
In a place like East Liberty 
Presbyterian, one of several local churches that have established a 
partnership with the ensemble, the 
effort pays off.
"East Liberty Presbyterian is an amazing space," Speek said of the church's European-style architecture and stellar acoustics. "It's really epic. The organ in there is amazing, and the organist is very, very good. The space was treated acoustically to be able to handle organ, which is very similar to brass acoustically, so it's an ideal venue for us."
Speek began playing tuba in middle school, when he was handed down his older brother's professional-level instrument and lessons with prominent players.
"For some reason, the tuba was cool to me," he said. He soon learned not everyone shared his opinion.
"I was watching MTV one time when I was younger, and they had a 'sexy' meter for the different instruments," Speek recalled. "Guitar raised the needle all the way to the maximum. Drums came in right behind the guitar. Flute received kind of a quiver. And then the tuba gave the needle just this, like, little bump."
He laughed.
"Looking back, I think, 'wow, I could have chosen anything else.'"
For upcoming performances and tickets, visit The Brass Roots website at www.thebrassroots.com.

The Brass Roots (above) pose in front of the College of Fine Arts building. (Left to right) David Gardner (A'13), Kenton Bandy, Kyle Anderson (A'14), Jonathan Speek (A'14), Christopher Pearlberg (A'14), Henry 
Attaway (A'14), Mike Dorato, Morgan Wynn (A'15), Deborah McDowell (A'13), and Joseph Hughes (A'14). 
Not pictured: Carloz Gil (A'15).