November 18, 2014
Silver Anniversary
SCS Celebrates 25 Years
By Byron Spice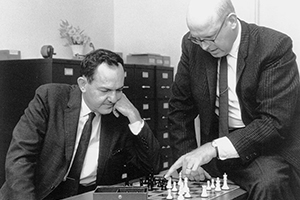 Little hoopla surrounded the creation of the School of Computer Science.
Carnegie Mellon President Richard Cyert told faculty and staff on Dec. 13, 1988, that the new school would begin operations soon and the school was officially announced in a news release on Jan. 3, 1989.
Few people off campus took note.
Maybe it was the holidays; maybe it was that CMU already had established itself as a computer science pioneer. But it was the last time SCS would be ignored.
Now, as the school celebrates its 25th anniversary, its graduate programs are consistently top-ranked by U.S. News & World Report, it boasts 12 Turing Award Laureates among its alumni and faculty and, most significantly, its graduates are highly prized by recruiters.
President Subra Suresh possessed a competitive respect for SCS's capabilities when he was MIT's dean of engineering and oversaw that institution's computer science program.
"One of the things I've realized since coming here," he said at the October kickoff of SCS25, "is that the School of Computer Science is even richer, even broader, even deeper, even stronger than I ever knew."
From speech recognition to CAPTCHAs, self-driving cars to kidney donor matching, SCS has earned its recognition around the world as a leader in all facets of computer science and robotics education.
Though the school was created 25 years ago, the history of computer science at CMU began much earlier, in 1956, when Herbert Simon, Alan Newell and RAND's Cliff Shaw created the first artificial intelligence program — several months before the campus' first computer was installed. In 1958, Alan Perlis began teaching the first freshman-level computer programming course in the United States and, in 1961, the university began an interdisciplinary computer 
science Ph.D. program.
The Computer Science Department (CSD) was established in 1965 and, by the time SCS was created, had become a free-floating department. The new school, first proposed by Nico Haberman, head of the CSD, and then-Provost Angel Jordan, included the CSD, the Robotics Institute and the Center for Machine Translation, which later grew into the Language Technologies Institute.
The school did not include computer engineering, but was dedicated to a vision of computer science first espoused by Perlis, Simon and Newell — not just the theory and design of computers, but also "the study of the phenomena arising from them." SCS faculty and students thus have taken a broad view of computer science, with the school now also including the Human-Computer Interaction Institute, the world's first Machine Learning Department, the Institute for Software Research and the Lane Center for Computational Biology.
In 1989, SCS had just 33 faculty members and 185 graduate students, with no undergraduates. It conducted $39 million in sponsored research. Last year, SCS had 284 faculty members and a total student enrollment of nearly 1,700, including undergraduate, master's degree and Ph.D. students, and conducted $124 million in research.
The undergraduate program, which began in the 1989-90 academic year, has been a particular success, SCS Dean Andrew Moore said.
"The trajectory and the career paths of the people coming out of that program are not just similar, they are strictly faster and superior to those from every other school in the world," said Moore, based on his experience as a Google vice president and on reports from colleagues at Facebook, DropBox and Microsoft.
"It's not just high IQ," he added during the SCS25 keynote event in October. "They can work together and get things done."
The undergraduate program also has distinguished itself in its diversity, with women representing 41 percent of this fall's first-year students. Nationally, the percentage of women graduating from U.S. computer science programs averaged just 14 percent last year.
Moore said the focus of SCS25, like the focus of the school, remains on the future and making lives safer and more meaningful.
"It's not just that it's fun to be building the future — it is," Moore said. "Here at Carnegie Mellon, we also feel a sense of earned responsibility for it."
Herb Simon and Allen Newell (above), "fathers" of artificial intelligence, ponder their next moves over a game of chess.