November 18, 2014
Passionate About Puppet Design
Sesame Street Artist Visits with Drama Students
By Erin Keane Scott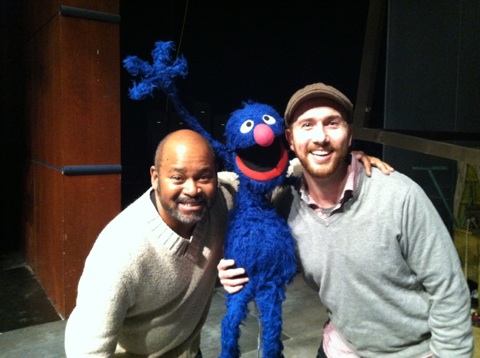 When Louis Henry Mitchell took the stage in Philip Chosky Theater, he was laughing. 
Naturally.

The jovial creative director of character design for Sesame Workshop — the non-profit organization behind the 45-year-old hit children's show "Sesame Street " — was here to talk art, passion and puppets with drama students from CMU, Pitt and Point Park University.

Mitchell has been working with Sesame Street since 1992, designing characters, directing photo shoots and conceiving floats for the Macy's Thanksgiving Day Parade.

But his journey to Sesame Workshop began long before the '90s. He remembers watching Jim Henson on the Ed Sullivan Show and feeling something inside of him flip on.

"I started stealing socks from my sister's drawer to make puppets," Mitchell told the audience.

For him, this was just the beginning of a journey to a career that feels less like work and more like fun. He usually arrives at his New York studio well before 9 a.m., to pick up where he left off on a project the night before.

Mitchell attributes his success not to confidence in his skills, but rather to a commitment to his work and to his own life. He searches to find things to love in all of the characters he develops. He looks at Sesame Workshop's mandate to educate children around the world as his mission. And for him, it's a labor of love.

He suggested student artists stay in touch with the humanity of their work — the spontaneous, tangible aspects of the subject, no matter how whimsical.

Mitchell keeps his skills and imagination sharp with continual practice, noting that he sketches regularly at the Natural History Museum. He spoke about the privilege of being a working artist with a sense of deep gratitude.

"I haven't worked in years," he said, "because it doesn't feel like it."

Louis Henry Mitchell (left) poses for a picture with Grover and CMU School of Drama Props Master Jonathan Ward.