November 18, 2014
CMU Crowdfunding
New Program Takes School Projects to the People
By Bruce Gerson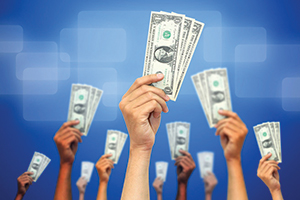 If students have a university-related project, or an idea for one, but need funding to get it going, there's a new program at Carnegie Mellon that just might fit the bill.
Or help pay the bill, actually.
CMU Crowdfunding, sponsored by University Advancement through the Office of Alumni Relations & Annual Giving, is designed for students and student organizations to pitch their projects — and funding goals of between $2,000 and $10,000 — to the university community and the public at large via social media, including videos and text similar to crowdfunding efforts like KickStarter or Indiegogo.
Projects are posted to the Web at www.crowdfunding.cmu.edu for a 
30-day period, during which individuals can donate funds directly to the project via credit card. Payments are processed through CyberSource, a secure payment processing system used by Carnegie Mellon.
"CMU Crowdfunding is beneficial to the individual or group seeking support and to the donors as well," said Mary Ann McCollough, director of Constituent Insights and Business Operations for Alumni Relations & Annual Giving. "The program allows individuals and organizations to state their case directly to the public and donors to know exactly where their gift is going."
McCollough said the university's Office of Alumni Relations and Annual Giving will coordinate a review committee to select about five to six projects 
every 30 days for participation from among the applications received from 
the student community.
"Projects selected cannot be funded by existing operating budgets in any form," McCollough said. "They also 
must be upcoming projects. Funds cannot be used to reimburse projects already completed."
The first five initiatives selected 
were recently posted online. They'll be live until Dec. 16. The projects are:
Carnegie Mellon's swimming and 
diving team, led by Nicole Crimi (DC'15), is raising money to help fund its annual winter training trip to the Charles Hadley Aquatic Complex in Miami; their goal is $8,000;
The Catholic Newman Club, led by Luke Tsai (E'16), is seeking funding to send members on a spring retreat and mission trip; their goal is $2,500;
Lily Daigly (DC'16) and CMU's chapter of Camp Kesem, a nonprofit organization that runs one-week summer camps for children in families affected by cancer, is raising money to support campers between the ages of 6 and 17; their goal is $7,500;
Daniel Mathews (A'15) and fellow School of Drama students are raising money to support a June trip to the Prague Quadrennial of Performance Design and Space, often called the Olympics for theatre designers, in the Czech Republic; their goal is $10,000; and
The CMU Global Medical Brigades, led by Jeremy Applebaum (CS'16), is seeking funds to purchase medication and health care supplies to take to Nicaragua, where they will help set up medical clinics in rural communities; their goal is $5,000.
The groups will receive all the funding, even if the dollar goal is not achieved," McCollough said. "If the funds raised exceed the goal, the group will receive all the funding with the expectation that the funds will be used for the project. There is no administrative 
or processing fee," she said.
McCollough said the gifts go 
directly to the project and not the 
university, so they are not tax deductible, or eligible for matching gifts. However, she said the gift would count as a gift 
toward the CMU Annual Fund, and donors will be recognized as CMU donors.
To apply to the program, interested parties must complete a short application and submit it to crowdfunding@andrew.cmu.edu.
If selected, project leaders must agree to attend an orientation session, develop and maintain website content and a short video (2-3 minutes), develop an email list of at least 100 individuals prior to the launch of the project, spend all funds toward the project as outlined in the proposal, provide updates on their progress and meet all deadlines outlined by the review committee.