November 18, 2014
Back Home
Siger To Direct 
Strategic Planning Process
By Mike Yeomans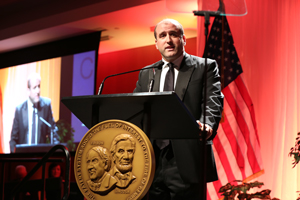 Since leaving Pittsburgh to attend 
Columbia University, Rick Siger's career has been on a fast track.
His rapid progression shaping public policy in the areas of science, technology and economic development — first in Virginia, and then in Washington, D.C. — resulted in his appointment as chief of staff in the White House 
Office of Science and Technology Policy in 2011.
But the further he progressed, the more it became apparent to him that 
all roads headed back home, and specifically to Carnegie Mellon.
Siger, a native of nearby Fox Chapel, joined CMU in September as director of Strategic Initiatives and Engagement, a position in which he will focus on directing the university's strategic planning process. He also will coordinate the university's engagement in regional and national economic development initiatives, as well as engagement with key university partners and stakeholders.
From cybersecurity, to energy policy, to advancing the nation's science, technology and innovation agenda, to unlocking the secrets of rebuilding rust-belt cities, Siger said Carnegie Mellon's influence is growing in Washington, D.C., and beyond.
"Pittsburgh is a great story from a public policy perspective," he said. "There is a reason the president has come to Pittsburgh and to CMU so many times. There is an energy and momentum in the narrative of the city and of the university that is compelling.
"I think that is the reason so many people are 'boomeranging' back here. There is the sense that profound things are happening. Young people want to contribute to building something that is much bigger than themselves," he added.
Siger pointed to new leadership in key organizations in the public, private and nonprofit sectors across the region, including new Pittsburgh Mayor Bill Peduto, as creating the conditions for transformational change.
"This is an important moment in time for CMU and the region to step up to a larger role — both nationally and internationally," he said. "Pittsburgh was the frontier of an expanding new nation and the engine of the industrial revolution. The city and the university are now poised to lead in a new global era where human capabilities and creativity are being rapidly transformed by technology."
Siger said the university's strategic planning process comes at an important time for the CMU community to reflect on the university's strengths and how to build on them. The process also serves as an opportunity to collectively identify new areas of emphasis and investment.
"CMU has a well-earned reputation as being a place where stakeholders from widely different perspectives come together to solve problems that improve the world," he said. "I look forward to the innovative ideas that emerge from the strategic planning process, and to establishing a framework to measure progress against those goals."
Prior to his time at the OSTP, Siger served as deputy chief of staff and chief of staff to the deputy secretary at the U.S. Department of Commerce. Before arriving in Washington, he served as deputy secretary of commerce and trade in the cabinet of Virginia Governor Tim Kaine, focusing on rural economic development and energy policy, among other areas.
An avid outdoorsman, Siger has guided canoeing trips across North America, most recently in the Yukon Territory and Alaska.