May 06, 2014
Lewis Urges Classmates To Find Their "Chicken Soup"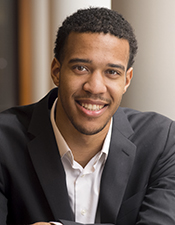 A self-proclaimed "social engineer," Bryan Lewis (E'13, '14) aims to build a better future through renewable energy and by finding a greater purpose in his life.
The latter will be the focus of his speech — the first speech he's ever written and delivered — at commencement as this year's student speaker. He said his speech doesn't have an official title, but he calls it "kind of like a 'Chicken Soup for the Soul.'"
"By extending your hand and bringing someone along, helping them get to where they need to be, you can find a greater purpose in yourself," said Lewis, who will be receiving his master's degree in energy science, technology and policy after earning his bachelor's degree in civil and environmental engineering and engineering and public policy a year ago.
"At the end of the day, the people who really are going to be remembered in this lifetime are the people who make those connections, the people who help to bring someone along. That leaves a legacy," he said.
Lewis wants to encourage his fellow graduates to apply his message and pay it forward.
"When I saw the student speaker ad on a table tent, I thought 'I should do this.' I knew it was going to be hard, but 
I have the passion, the will and the 
purpose to give this message.
"That greater purpose is what I want people to leave with. I want people to question, 'what have I done?' 'What can I do?' 'And how can I go about 
doing it?'"
Lewis and his friends in the High Council, a group of all male, black 2013 graduates, have walked his talk at CMU. Their unofficial organization had meetings to discuss their legacy and what they could leave behind "to fulfill a greater purpose."
"We brought in our younger friends, freshmen and sophomores and gave them advice. We gave them the 'dos' and 'don'ts.' We mentored them. We shared our own experiences to try 
to influence theirs.
"I think it created a spark and they'll take that and go back and do the same when they're seniors," Lewis said.
Lewis, who has been a member of the National Society of Black Engineers, a member of the Engineering and Public Policy Student Curriculum Committee and the College of Engineering's First-Year Advisory Board, also leaves CMU with an academic legacy.
As a junior he committed himself to the energy industry, specifically renewable energy, after hearing about Solyndra, the now-defunct solar panel manufacturing company. In addition to focusing his classwork on energy issues, he secured a solar energy internship with the U.S. Department of Energy and an internship at the Center for American Progress, where he wrote blogs and white papers on renewable energy finance.
"My voice was being heard. That was a stepping-stone to what I'm doing now," he said.
Professionally, Lewis sees his greater purpose in helping to provide energy-efficient and sustainable energy to the poor and disadvantaged.
"I want to start a venture to figure out financing methods and policy schemes to get clean energy, renewable energy and energy-efficient supplies to lower-income communities. We need innovative third-party leasing agreements, in which people can lease supplies rather than buy them," he said.
Lewis points to several staff and faculty who have helped him along the way, particularly Deanna Matthews, assistant teaching professor of Engineering and Public Policy and associate department head, and her husband, Scott Matthews, professor of civil and environmental engineering and EPP.
"They have always believed in me and given me the confidence to achieve, even in the face of adversity," he said. "Also, the Civil Engineering Department staff are all amazing people — 
Andrea Francioni Rooney, Mireille 
Mobley and company — the best staff 
on campus."
Lewis said it was the people at CMU, the university environment and the accepting community that reeled him in five years ago during his recruiting visit. He remembers playing a pick-up basketball game in Wiegand Gym and recalls winning the game in which he amazed his teammates and competitors by dunking the ball.
He hopes to end his CMU career 
the same way — with a slam-dunk of 
a speech on commencement day.
By: Bruce Gerson, bgerson@cmu.edu