May 15, 2014
President Suresh Meets Staff in First Open Forum
College affordability, tuition benefits, research, and, of course, parking, were topics of discussion at Staff Council's first Open Forum with President Subra Suresh this past Tuesday (May 13).
President Suresh opened the session by thanking staff for the welcome he and his wife, Mary, have received during their first year at Carnegie Mellon.
"Thank you profusely for the warmth you have embraced us with. We are thrilled to have spent our first year on campus. It's been very enriching and enjoyable," said President Suresh, who noted that one of the most beneficial aspects of the year was his listening tour, which gave him the opportunity to hear what was on the minds of students, alumni, faculty and staff at CMU.
He then fielded his first question on a historically popular topic: parking, specifically how the Tepper Quad will impact those parking in the Morewood lot.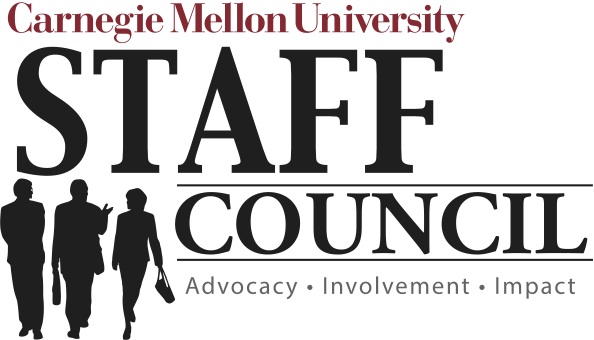 Suresh said the university was on the verge of selecting an architect for the Tepper Quad project and that preliminary construction work for utilities and site preparation was anticipated to begin in late summer or fall of 2015. At that time 400 of the 650 spaces in Morewood would be lost.
Michael Murphy, vice president for Campus Affairs, said alternative sites are being explored to accommodate for the loss, including areas off of Boundary Street and Filmore Street as well as the former Catholic Diocese properties across Fifth Ave. from Central Catholic High School, which were purchased by the university.
Murphy said parking rebates based on the employees' salary, regardless of where they park, are being considered to help keep a low-cost parking option available for employees who qualify. At $87 per month for 2014-15, the Morewood lot is one of the least expensive parking areas at the university.
Full construction for the new Tepper School building is expected to commence in fall 2016 with completion set for fall 2018.
A second question prompted President Suresh to discuss the topic of college affordability and what CMU was doing to address the issue.
Suresh said that while CMU tuition was one of the highest in the country, the average starting salary for CMU grads also was among the highest in the U.S. "You have to look at cost vs. value," he said.
He then spoke about the need to grow the university's endowment to help provide students with financial assistance. He noted that earlier in the day he announced a new endowed fund of $30 million to provide Presidential Fellowships and Presidential Scholarships to help recruit the best and brightest students.
"There's no substitution for money," he said.
Money was a thread throughout the discussion, and Suresh said CMU was "very lean," in human capital supporting its research enterprise.
"We have the faculty, we have the connections to be a major player, but we need better 'machinery,' better infrastructure," he said.
He said the appointment of Farnam Jahanian as CMU's new vice president of research was a critical hire.
With regard to university finances, President Suresh said the central administration has been operating at a deficit for the past 10 years, "but the sky is not falling." He said the deficit would not affect faculty and staff raises, or the hiring process, and that he is exploring long-term ways to reduce the shortfall.
In response to a question regarding tuition benefits for children of staff, President Suresh said CMU's policies were better than MIT's and Brown's, two institutions where he worked. He said CMU spent $11.3 million for tuition benefits this year.
Under the current policy, staff are entitled to tuition assistance for two children that attend other higher education institutions. There is no limit to the number of children who can attend CMU with full tuition remission.