May 06, 2014
Inaugural Symposia
Events Showcase CMU's Work in Innovation, Humanities and Social Sciences
The yearlong celebration of the inauguration of President Subra Suresh as Carnegie Mellon's ninth president included two symposia in April.
"The Research University 
and U.S. Economic Growth: 
Is a New Model Emerging?"
Carnegie Mellon is one of the primary reasons why Pittsburgh is a model for economic prosperity, not only in the United States, but around the world.
At a D.C. event, academic experts and government officials shared the message that innovation-fueled job growth happens when research universities collaborate with government and the private sector to accelerate discoveries from the lab to the marketplace.
"We're grateful that CMU has impact on the common welfare of our country," said Sen. Robert P. Casey Jr. "And one of the reasons you have that impact is because you have not allowed southwest Pennsylvania to wait for the future, you have helped to invent it."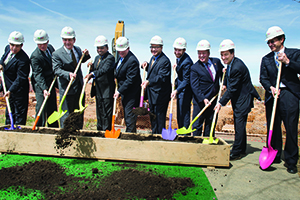 President Subra Suresh (fourth from left) joined local Pittsburgh 
officials for the groundbreaking of the next phase of the Bakery Square development, home to Google Pittsburgh, on April 17. The development hopes to attract new businesses and create new jobs.
Bruce Katz, vice president and director of the Metropolitan Policy Program for The Brookings Institution, said what the U.S. needs is an economy fueled by innovation.
"What that requires us to do is to shift our growth model in the U.S. from an economy that was really characterized as consumption and debt and financial mischief to an economy that you've built in Pittsburgh," he said.
"You have essentially invented 
the model, not just for regional transformation but for national transformation… You've created in Pittsburgh a new spatial geography of innovation. Because talented workers want to be in places where they can live, work, play; and firms want to be close to other firms and anchor institutions where ideas can be shared and commercialized for the marketplace."
Honorary co-hosts were Sen. Casey, Sen. Pat Toomey and Rep. Mike Doyle.
Doyle said that the biggest lesson to draw from Pittsburgh's renaissance is that economic growth is driven by technological change.
He added, "The best way to promote more rapid economic growth in the country is for the federal government to invest more in research so that we can maintain America's leadership in innovation."
President Suresh, himself a new arrival in Pittsburgh, found the role that research universities like Carnegie Mellon and the University of Pittsburgh play in the economic transformation of the region very appealing. "What happened with Pittsburgh as a model can potentially be used in other parts of the country, perhaps other parts of the world," he said.
Several entrepreneurs from some of Carnegie Mellon's spinout companies were part of the conversation, noting Carnegie Mellon has created more companies per federal research dollar than any other university in the United States.
Andrew Moore, vice president of Google's Pittsburgh engineering office who will be returning to CMU as the dean of the School of Computer Science 
in August, said Google understands that to be the best it has to attract the best people. That's the reason, he said, it chose to open an engineering office in Pittsburgh in 2006.
"Mapping the Future of the 
Humanities and Social Sciences"
At the request of Congress, the American Academy of Arts and Sciences commissioned the "Heart of the Matter," a comprehensive report on the current state of the humanities and social sciences that stresses their importance in creating a vibrant, competitive and secure nation.
Carnegie Mellon — which has a long history of the humanities and social sciences collaborating with other fields to solve problems — and the American Academy held the first Pittsburgh-area discussion of the report and its implications for improving education and creating a sustainable global society.
"The humanities and social sciences are absolutely essential," said President 
Suresh in his opening remarks. He recalled that when he was director of the National Science Foundation millions of dollars were invested in systems to predict when tornadoes would strike. However, despite the investment 24 people died in Oklahoma last year as a result of tornadoes. "When I asked how this could happen, the answer was 'we predicted the tornadoes, but we could not predict how people would react.'"
Two members of the commission that produced the "Heart of the Matter," Norman Augustine, retired chairman and CEO of Lockheed Martin, and Hunter Rawlings III, president of the Association of American Universities (AAU), participated. Rawlings is a member of the Global Learning Council, which is committed to the use of science and technology to enhance learning.
"It's more difficult, but no less important, to study the humanities and social sciences," Augustine said. "I do believe that while history doesn't repeat itself, it does tend to rhyme."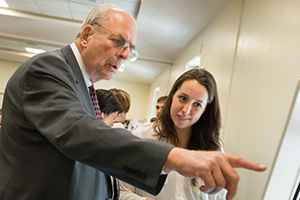 Norman Augustine discusses the work of Lindsay Elliott-Foose (DC'14) 
at a poster presentation where Dietrich College students showcased 
research projects.
Rawlings called CMU a "remarkable institution that is different from the other research universities within the AAU because it is an incredibly interdisciplinary place with highly stimulated faculty that have their own approach to research and teaching."
Augustine and Rawlings joined CMU faculty members — Baruch Fischhoff, Susan Polansky, David Shumway and Kiron Skinner — for a panel discussion moderated by John Lehoczky, dean of the Dietrich College of Humanities and Social Sciences.
"When I first read the 'Heart of the Matter,' I thought, 'that's what we try to do,'" said Fischhoff, the Howard Heinz University Professor of Social and Decision Sciences and Engineering and Public Policy.
Polansky, head of the Department of Modern Languages, shared the promising trend that students are taking more and more advanced language and culture courses, making them more attractive job candidates.
"It's a common concern that majoring in the humanities and social sciences does not directly link to a career path," she said. "But, more than 90 percent of employers agree that a candidate's demonstrated capacity to think clearly, communicate clearly and solve complex problems is more important than their undergraduate major."
Skinner, associate professor of social and decision sciences and director of CMU's Center for International 
Relations and Politics, highlighted the ways that the humanities and social 
sciences are poised to make war the 
option of last resort.
"History, culture, languages, decision sciences, psychology and anthropology are centrally important to blocking war," said Skinner, who organized the discussion. "Arguments win at the end of the day — bullies do not."
Shumway, professor of English and director of the Humanities Center, spoke about how the value of the humanities stems from how they deal with problems that cannot be solved or do not have a single solution.
"Humanities provide a framework to work with interpretation, analysis and judgment — all problems of intellectual value that students encounter in school but also in life," he said.
Online: Watch the discussions at
www.cmu.edu/
suresh-inauguration/symposia/index.html
.