May 06, 2014
Decade of Discovery
Gindroz Prize Winners Reunite To Share Experiences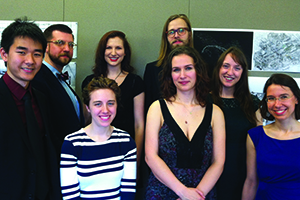 Marilyn (A'73) and Ray Gindroz (A'65) have shared a lifelong love of travel.
The couple met in Rome and after a whirlwind 11-month romance, they married. They will celebrate 47 years together on May 27.
"Our lives were changed by travel," Marilyn said. "We believe student travel is a very important part of an artist's development."
The Marilyn and Ray Gindroz Foundation Board of Directors celebrated 10 years of Gindroz Travel/Study Prize Winners with a celebration and reunion in April at Urban Design Associates, the firm for which Ray Gindroz served as a founding partner.
Eight of the 10 winners were on hand to share their memories of how the Gindroz Prize helped to further their education and, ultimately, their careers.
The prize supports and encourages study abroad opportunities to enhance the student experience in the schools of Music and Architecture. Marilyn Gindroz 
earned her master's degree from the 
School of Music in 1973. Ray earned 
his master's degree from the School of 
Architecture in 1965. He was a Fulbright scholar visiting Rome in June 1966, 
when he met Marilyn through a friend 
as she was traveling abroad.
Grindroz/Travel Study Prize Winners: 

2014    Allyson Edington (A'14), music
2013    Peter Salim (A'15), architecture
2012    Talia Perry (A'13), architecture
2011    Weronika Balewski (A'12), music
2010    James Harvestus Locus III (A'11), 
music
2009    Kaitlin Miciunas (A'11), architecture
2008    Christian Kriegeskotte (A'03, '09), 
music
2007    Michael O'Gieblyn (A'07), music
2006    Joshua Cummings (A'08), 
architecture
2005    Emma Hancock (A'06), music

Eight of the Gindroz Prize winners (pictured above) gathered in April. They were: 
(back row, left to right) Peter Salim, Christian Kriegeskotte, Kaitlin 
Miciunas, Joshua Cumming, Allyson Edington; (front row) Talia Perry, Emma Hancock and Weronika Balewski.
By: Pam Wigley, pwigley@andrew.cmu.edu