March 07, 2014
"Shipbreakers" Makes US Premiere in CMU Film Festival
Film Documents Dangerous Scrapping Work
By Shilo Rea shilo(through)cmu.edu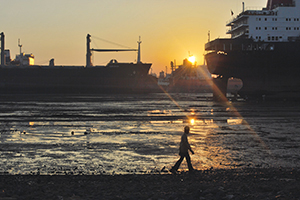 In Alang, India, there is a six-mile stretch of an oily, smoky beach where huge ocean vessels no longer seaworthy are run aground, broken apart and stripped of everything from portholes and paneling to furniture, engines and propellers.
Forty thousand migrant workers making $1-2 per day do the scrapping. They cut the ships apart by hand, working in extremely dangerous conditions and without any safety or labor regulations. Ship owners make millions off the process.
To bring this process of shipbreaking to life - and to highlight the human rights and environmental issues - involved the late filmmaker and Carnegie Mellon Professor Paul Goodman, CMU's Ralph Vituccio and Tom Clancey, an award-winning cinematographer whose resume includes Hollywood films such as "Fast & Furious," spent four years making the documentary "Shipbreakers."
They had shot the footage in India and were working on the script when Goodman passed away.
Goodman's widow, Denise Rousseau, the H.J. Heinz II University Professor of Organizational Behavior and Public Policy, stepped in to keep the project moving. Working off Goodman's original script, Vituccio rewrote it to include more of the environmental and human rights issues.
"We were invited to the European Parliament in Brussels to present our unfinished work to the NGO Shipbreaking Platform Conference on global regulations for shipbreaking," said Vituccio, an assistant teaching professor in the Entertainment Technology Center who has won several awards for films and interactive media on topics including racism, conflict management, art history and military service. "There, we were able to interview people involved in trying to set new regulations for the industry."
"Shipbreakers" will make its U.S. premiere as part of CMU's 2014 International Film Festival, running March 20 - April 5.
"This is one of the most dangerous industrial sites in the world - there are explosions all the time, people die, people are maimed," Vituccio said. "The ships are 20 stories high and several football fields long, and the men are wearing sandals, climbing up the ships on rope ladders and using chisels and hammers to break up propellers and other precious metals."
The environmental pollution is devastating because the ships are laden with toxic materials, which are buried in surrounding farmlands or simply left to pollute the once pristine tidal flats.
"Every ship is a sump of toxic waste," Vituccio said. "If workers aren't killed on the job from explosions or falling objects, exposure to toxic waste, for many, will result in longterm illness or early death. They don't have a union or any protection. If they complain, they don't get hired. There's no pay standardization, and if - or when - they get hurt, there is no medical or lost wages compensation."
Vituccio hopes "Shipbreakers" brings awareness to how shipbreaking in less-developed countries has become a major international concern because of the human sacrifice involved and the environmental damages it causes. It pales in contrast to places, such as the U.S., where international laws for dealing with the proper disposal of toxic substances and occupational safety are followed.
"Shipbreakers" will screen at 7:15 p.m., on Friday, March 21, in McConomy Auditorium and will feature a panel of experts discussing the issues the film raises.
The film recently was nominated for Best Feature Documentary and Best Producer for Feature Documentary at the 2014 Madrid International Film Festival. It also has been accepted at the Palm Beach International Film Festival, Flagler International Film Festival and the American Online Documentary Film Awards.
The theme of this year's International Film Festival pays homage to Goodman, a revered filmmaker, and will highlight work across different cultures, which was his professional focus.
"Paul was about the process. He was a world-renowned organizational psychologist and was interested in work processes - how people organize, get along and manage each other. He was passionate about how film could help tell their stories. We all miss him," said Vituccio, who had worked with Goodman on numerous films during the past 15 years.
CMU's International Film Festival is sponsored by the Humanities Center.
"Shipbreakers" documents dangerous conditions faced by migrant workers scrapping unseaworthy vessels in India.