March 07, 2014
Research for Life
Community Shares Tips for a Healthy Lifestyle
By Bruce Gerson bg02(through)andrew.cmu.edu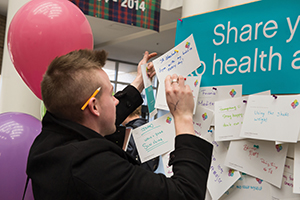 The University Center was transformed into a university health club for the body, mind and soul.

Free fitness demonstrations and exercise classes, massages, a knitting and crochet room, and a gaming and arts and crafts area highlighted the second floor.

The first floor featured the talents of CulinArt chefs preparing Salmon Pasta Pomodoro and Albacore Stir Fry, a relaxation room with comfy chairs, mood-lighting and videos of a peaceful forest and sun-drenched beach, and a trail-mix bar area where about 1,000 students, faculty and staff shared their tips for a healthy lifestyle on bulletin boards. Eighteen individuals were pictured on posters with a description of their healthy activity.

Those tips in the Kirr Commons "Wellness Area" included volunteering, knitting, walking, running, spending time with family, refinishing furniture, getting enough sleep, balancing work and personal life, praying, laughing and thinking positive thoughts.

Anita Barkin, director of University Health Services, said the Wellness Area was one of her favorite aspects of the day, which put a positive light on health and wellness.

"I enjoyed reading what people shared about what they do to keep healthy and what wellness means to them," Barkin said. "We can all help promote the health of our community by sharing our personal health strategies with others."

The healthy thoughts and venues were all part of "Exploring Health, Discovering Wellness," a first-of-its-kind interactive event at Carnegie Mellon in late February promoting health and wellness. The daylong activities were sponsored by the university's Healthy Campus initiative and were part of "Crossing Boundaries, Transforming Lives," the yearlong celebration of the inauguration of Subra Suresh as CMU's ninth president.

A featured event during the day was a symposium titled "Research Into Practice: Health and Wellness for Ourselves and Our Community," in which a panel of CMU faculty spoke about their health-related research. Mary Suresh, a longtime public health professional and former director of public health for Wellesley, Mass., moderated the panel.
CMU panelists were:
Baruch Fischhoff, the Howard Heinz University Professor of Social and Decision Sciences and Engineering and Public Policy;
Sheldon Cohen, the Robert E. Doherty Professor of Psychology;
Rema Padman, professor of management science and healthcare informatics at the Heinz College; and
Kristen Kurland, teaching professor in the School of Architecture and Heinz College.

Dr. Karen Hacker, director of the Allegheny County Health Department (ACHD), opened the discussion with an overview of the ACHD and the challenges it faces, specifically the high rate of obesity and smoking, and the poor air and water quality in the county.

Fischhoff, an expert in risk communication and decision science, spoke about the need for easy-to-understand food and drug information. He is a member of the Environmental Protection Agency's Scientific Advisory Board and chair of the Food and Drug Administration Risk Communication Advisory Committee.

"Some of the labels [on products] aren't very good. We need to insist on better information," Fischhoff said. "The fact that a drug is FDA approved doesn't mean that it's FDA recommended. That only means that there are some [very sick] people who would want to take that drug. Sometimes they approve drugs that are highly dangerous for people who are really suffering. The fact that they're out there doesn't mean they're recommended."

Cohen's research has shown that stress increases your susceptibility to infectious disease, including the common cold. His studies also have proven that the more interpersonal relationships a person has and the more diverse his or her social network is, the less susceptible a person is to getting a cold.

"Very clearly loneliness is a driving force for new students. There's a good deal of it, and we've shown it's related to markers of health," Cohen said. "I think the university has already implemented a number of programs trying to get new students integrated into groups and into the university, but it's something we have to keep working on."

Padman spoke about how the growing "digitization of health care" is increasing the amount of data per individual in clinical information systems, but the challenge for the health care industry is how it can be used to provide "cognitively guided, real-time decision support at the point of care." She calls it a "consumability" challenge.

She said by using information technology that reveals both population level and individual level information in a visual and interactive format, information can be accessed quickly and shared between patients and clinicians to potentially improve outcomes, communication and education.

Kurland, co-author of "GIS Tutorial for Health," studies how the environment affects our health. Her studies have shown how childhood obesity is affected by proximity to fast food restaurants and parks, and how pedestrian injuries are more common among youth living far from parks and among youth living in poverty. She also spoke about the "walkability" of neighborhoods and their importance in health and wellness.

Kurland, who wears a Jawbone Up wristband that records and uploads her daily activity to her smartphone, recommends walking as a way to keep healthy.

"Set a goal and try to meet that goal. I set a goal of [walking] five miles a day. Find a collaborator. You have to have some device to help you track what you're doing," Kurland said.

Prior to the symposium, the panelists, student leaders and several students planning a career in public health attended a luncheon.

"The conversation was very, very lively. It was a great opportunity for Dr. Hacker to connect with the panelists and students," Mary Suresh said. "As the students described what they do you could just see Dr. Hacker's face light up when she saw the firepower in the room.

"The panelists beautifully described how their research translates into practice that benefits all of us. The title of the symposium, 'Research Into Practice: Health and Wellness for Ourselves and Our Community' said it all."
Peers Promote Healthy Living
A group of students at Carnegie Mellon are encouraging their peers to live healthy by hosting and serving at a variety of programs and events on campus that are geared toward wellness.
Most recently, these Peer Health Advocates (PHAs) promoted participation in a number of free activities as part of "Crossing Boundaries, Transforming Lives: Exploring Health, Discovering Wellness."
The PHAs greeted students walking through the University Center and informed them about the many activities going on, increasing participation in the drum circle, a craft room, massages, a game of inflatable Twister and ballroom dance.
"Because we had a lot of student participation, I think the Wellness event was a great success," said Janet Lorenz, lead PHA.
Students are encouraged to attend the "Help Yourself" fair on April 8, the PHAs' largest event of the year. The event will include make-your-own yogurt parfaits, a raffle for free 30-minute massages, games, activities and plenty of "swag."
"'Help Yourself' is a fun way to remind students about services and support available to help them finish the semester strong," said program director Paula Martin.  - Kelly Solman

J.R. Marshall (DC'16) shared his healthy living tip "Gym with my buddies every day."

Albacore Stir Fry
1 pouch 2.6 oz. Starkist Albacore Tuna, drained and chunked
1/2 cup chopped onion
1 tsp. minced garlic
3 tbsp. soy sauce, reduced sodium
1 tbsp. lemon juice
2 tbsp. vegetable oil
1 bag frozen oriental vegetables or 4 cups fresh thinly sliced, carrots broccoli, snow peas, bell peppers, mushrooms and celery
1 tsp. sugar or 2 packets from Entropy
1 pouch 2.6 oz. Starkist Albacore Tuna, drained and chunked
1/2 cup chopped onion
1 tsp. minced garlic
3 tbsp. soy sauce, reduced sodium
1 tbsp. lemon juice
2 tbsp. vegetable oil
1 bag frozen oriental vegetables or 4 cups fresh thinly sliced, carrots broccoli, snow peas, bell peppers, mushrooms and celery
1 tsp. sugar or 2 packets from Entropy
Heat oil in skillet or wok and stir fry onion and vegetables until crisp-tender, about 4 minutes. Add tuna, soy sauce, sugar, lemon juice, garlic and 1 tbsp. of water, until tuna is heated through. Serve over hot rice.  Contains: fish, soy, wheat
Nutrition Facts:
Per serving: 320 calories,
45g. carbohydrate, 9g. protein,
6g. fiber, 12g. fat