March 27, 2014
Personal Mention
President
Subra Suresh
recently gave a lecture on the "Study of Human Diseases at the Intersections of Engineering, Science and Medicine" at the Indian Institute of Science. In his lecture Suresh said red blood cells could hold the key to the design of better drugs. Suresh is a distinguished scientist who has studied changes that occur at the cellular and molecular level in diseases like malaria, sickle cell anaemia and cancers like leukemia. He said advances in physics, engineering, biology, imaging, nanotechnology, genetics, public health, computer science and medicine are together leading to newer perspectives in the study of diseases.
Read more about his lecture
.
President Emeritus Jared L. Cohon and University of Pittsburgh Chancellor Mark Nordenberg have been selected as the 2014 recipients of the Elsie Hilliard Hillman Lifetime Achievement Award for Excellence in Public Service. The award, created in 2012 by Pitt's Institute of Politics, recognizes individuals whose leadership and achievements have "advanced the quality of life enjoyed by citizens of Western Pennsylvania." "Through their collaborative leadership style, Nordenberg and Cohon have demonstrated how developing strategic partnerships can improve governments, philanthropies, and public and private enterprises, creating opportunities for regional prosperity to be enjoyed by all," said Terry Miller, director of the Institute of Politics. The award will be presented April 8 at a private ceremony at Carnegie Music Hall in Oakland.
Deborah Stine, associate director of policy outreach for the Wilton E. Scott Institute for Energy Innovation, is participating in a Canadian Pan-Prairie Energy Tour this week at the invitation of the Canadian government. The tour is profiling innovation, environmental protection and community engagement in the energy sector in Alberta, Saskatchewan, and Manitoba. Discussions are focusing on Canada's energy sector, touching on oil, gas, clean coal, uranium and renewable energy. The tour group is visiting tar sands, a coal power generation plant with carbon capture sequestration technology, and one of the most energy efficient buildings in North America. The Canadian government is providing images and information from the tour on Twitter. The tour hashtag is #EnergyPartners. Stine is sharing personal accounts of her trip at http://cmu-energy.blogspot.com.
Dervla McDonnell, a junior fine art and Japanese Studies major has won a second consecutive U.S. Department of State Critical Language Scholarship (CLS), making her one of the very few to participate in the CLS program for two years in a row. "With an acceptance rate of less than 10 percent, CLS is one of the most prestigious language programs for U.S. citizens," said Yoshihiro Yasuhara, assistant teaching professor of Japanese Studies. "So receiving the fully-funded scholarship for a second year in a row is quite something, especially since she had never considered Japanese Studies very seriously until she came to CMU."  The State Department's program is designed to teach students 13 critical foreign languages in an abroad, intensive summer school format, with speaking classes each morning and reading and writing instruction in the afternoons. Learn more about McDonnell.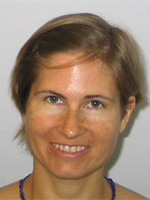 The recipients of this year's Graduate Student Service Award and Graduate Student Teaching Award are Rebecca Balebako and Skyler Speakman, respectively.
Balebako (right) is a fourth-year Ph.D. candidate in the Engineering and Public Policy (EPP) Department. While at CMU, she gave birth to two daughters and has been working to create more support for graduate students with children, including advocating for new policies for family leave and child care, and re-invigorating a community of student parents. She also has been a Graduate Student Association representative for EPP.
Speakman (right) is a Ph.D. candidate in information systems at Heinz College with a focus on applying pattern detection algorithms to public policy issues such as disease surveillance. He received a master's degree in machine learning from CMU in 2013. Speakman has been involved with mathematics and statistics secondary education for over 10 years.  Last fall he was the head instructor for Heinz College's Statistics for IT Managers course, and during the past three summers has taught an algebra refresher course for students with conditional acceptances into Heinz College. Speakman was awarded Heinz College's Teaching Assistant of the Year (2012) Award for his communication skills, knowledge and enthusiasm in the classroom. Additional courses he has taught at Carnegie Mellon include Empirical Methods for Policy and Management, Large Scale Data Analysis and Data Mining.