March 07, 2014
Decade in Doha
Faculty, Staff Reflect on Experience
By Sarah Nightingale sarahjn(through)qatar.cmu.edu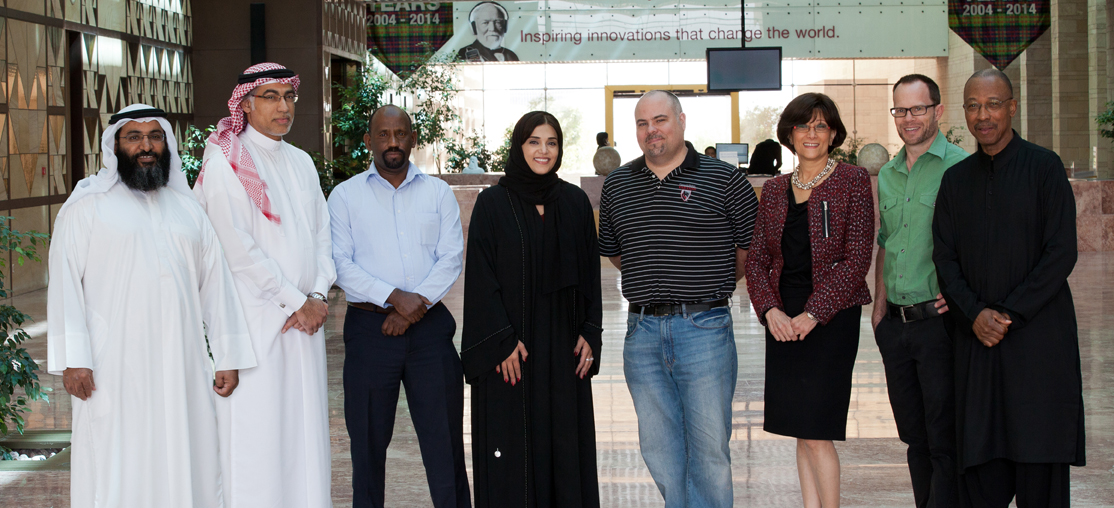 When the first employees signed on with Carnegie Mellon Qatar a decade ago, they arrived to little more than a contract between Qatar Foundation and the university. There was no CMU-Q building, no website and no students.
The first faculty and staff had to "jump in with both feet and get to work," recalled Gloria Khoury, assistant dean for student affairs. "We always call the first class the pioneers, but I think we felt like we were pioneers too."
Khoury is one of a handful of people hired to set up Carnegie Mellon Qatar and is still working on the campus today.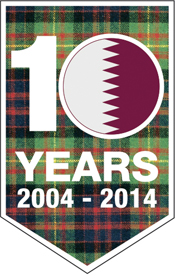 Carnegie Mellon Qatar is celebrating its 10th anniversary with an event in Doha on March 18. The event will be webcast live at the Pittsburgh campus. Details to be announced.
Joining Khoury were faculty members Marion Oliver (S'67) and Benjamin Reilly; Fadhel Annan, assistant dean for Government and Corporate Affairs; Ahmed Husaine, Housing and Transportation manager; Abdullah Ibrahim, Housing and Transportation coordinator; and Stephen MacNeil, Web manager. Amal Al-Malki, an associate professor of English currently on a leave of absence, also joined the university in 2004 as the orientation manager.
Dean Ilker Baybars congratulated the faculty and staff who have been at Carnegie Mellon Qatar since the beginning and commended their service to the university.
"Our first faculty and staff were integral to bringing Carnegie Mellon's distinctive educational programs and campus culture to Qatar. Through their various roles over the past 10 years, they have helped create the next generation of researchers, entrepreneurs, leaders and problem-solvers in Qatar and the region," Baybars said.
About 40 staffers joined the university during that first year, with most moving on to other jobs.
The university's first home in Education City consisted of two corridors in the Weill Cornell University in Qatar building. From here, the team got to work on developing the business administration, computer science and general education curricula, as well as the supporting programs.
First on the agenda was to bring in a little of the Carnegie Mellon spirit. To create a student lounge, staff scoured local home stores, bringing back comfortable sofas, funky lamps, games and pop-art posters. All that was missing were the students.
First Encounters
With admission handled through the Pittsburgh campus, the inaugural class consisted of just names on a roster to most of the Qatar staff. The campus came together for the first time at Family Day, the beginning of new student orientation.
"I remember standing nervously at the Ritz Carlton with the dean, and then the students started to arrive one-by-one with their families. We said the first 'hellos' and gave the first handshakes, and that to me was the moment when it all became real," Khoury said.
The students were excited and nervous. While many of them could have travelled overseas to study, they had stayed in Qatar to support the country's ambitious educational initiatives, said Reilly, an associate teaching professor of history. Among them was Lulwa Al-Thani, daughter of the H.E. Sheikh Hamad Bin Khalifa Al-Thani, the Father Emir of Qatar.
During their first few days on campus, the students were as quiet as mice, Khoury recalled. They walked past the new lounge but didn't sit down, assuming it must be for faculty and staff.
Oliver, teaching professor of mathematics, said the small space in Weill Cornell helped faculty, staff and students get to know each other. It also allowed the academic and co-curricular programs to become integrated from day one.
"That kind of thing happens once," Oliver said. "It doesn't last, but at that time it was pretty special."
After a little encouragement, the students started to hang out in the lounge.
"No sooner did they get the hang of it and you couldn't get them out of there. They lived there, worked there, napped there and ate there, and it was just what we wanted," Khoury said.
The students didn't stay quiet for long, Oliver recalled.
"That group has always been known as being the loudest class, and they were proud of that," he said.
So loud, that Weill Cornell sent emails asking if Carnegie Mellon could please keep the noise down.
A Carnegie Mellon Education
The transition from high school to college can be a bumpy road for many students, and it was no exception for Carnegie Mellon Qatar's first class.
"They came from being the best in their high schools to realizing they were going to have to work really hard. They were in boot camp trying to get through this thing," Oliver said.
When a student shows up late for Oliver's class, they'll probably find themselves locked out of the class. If they show up late for Reilly's class, he'll sometimes yell out, "You're so late," in an attempt to embarrass them in front of their friends. Those instances have become legends at Carnegie Mellon Qatar, but they were happening for the first time for the 41 students who joined in 2004. While they didn't always appreciate things like this, the first class rose to the challenges, Oliver said.
"As a group, I believe they had a lot of self confidence, and they were fighters," he said. "I remember sitting down with that group to give them some bad news about an assignment, and they were getting so mad that there were tears in their eyes. These weren't tears of sadness, they were tears of anger."
It wasn't only in the classroom that Carnegie Mellon traditions and legends began. To avoid becoming a commuter campus, Khoury and her team looked for ways to keep students on campus between classes.
"Our first goal was to have them stay during the day and not go off to the mall, which was tending to happen because at that time Landmark Mall was only a 10-minute drive away," Khoury said.
The team started workshops, talks and activities to complement the academic programs and build leadership skills. They encouraged students to start clubs by pitching ideas, applying for funding and creating the content.
Programs that started during the first year and are still going strong today include "Pizza and Politics," a series that encourages students to talk about current issues, International Day, the CMBA business club and the All Around student newspaper. The first Student Majlis was elected in 2004, with Fahad Al Jefairi as the president.
Making Progress
In spring 2005, five Carnegie Mellon students spent a week on the Pittsburgh campus, paving the way for cross-campus relations and becoming the first Carnegie Mellon Qatar ambassadors. That same spring, some of the students spoke at an event for the Carnegie Mellon trustees, who had traveled from Pittsburgh to visit Doha. This was the moment when Khoury realized what the group had achieved.
"It really blew me away because they were able to talk about their experience, and they began to call it the 'Carnegie Mellon' experience, which included both the academic and non- academic components," she said. "And I thought to myself, 'wow, we're really on the right path here.'"
Since then, Carnegie Mellon Qatar has grown every year, moving to its second home in Education City's LAS Building before the addition of the Information Systems program in 2007. The first students graduated a few months before the university's state-of-the-art building was completed in fall 2008. In 2011, the university expanded again, adding programs in biological sciences and computational biology.
While the inaugural faculty and staff have different reasons for staying, all have appreciated CMU's ongoing sense of community.
Oliver, who earned his doctorate at Carnegie Mellon 35 years ago and worked on the main campus for 10 years before leaving, returned to start the Qatar campus. He said he plans to stay indefinitely.
"I am here because I am having a great time and I am appreciated by the people I work for. As long as I'm healthy, I'll be here," he said.
Left to right: Ahmed Husaine, Fadhel Annan, Abdullah Ibrahim, Amal Al-Malki, Benjamin Reilly, Gloria Khoury, Stephen MacNeil and Marion Oliver (S'67) were faculty and staff pioneers at Carnegie Mellon Qatar.