June 13, 2014
CMU Takes Center Stage at Tony Awards
by Piper Staff
From Carnegie Mellon's partnership with the Tony Awards and its first prime-time TV commercial to alumni presenters, nominees and Tony recipient, CMU had a leading role in the star-studded spectacular that was the 68th Annual Tony Awards®, presented by the American Theatre Wing and The Broadway League.
Alumna Jamie DeRoy (A'67) took home her second consecutive Tony Award as a producer for the winner of the Best Musical, "A Gentleman's Guide to Love and Murder."
"Congratulations to Jamie on winning a 2014 Tony Award," said CMU President Subra Suresh. "It's always exciting to see Carnegie Mellon alumni be recognized for their outstanding contributions to Broadway and the American theatre. This is another example of how, for 100 years, CMU's School of Drama has prepared and supported talented individuals, both on stage and off, to reach the highest levels of their profession. The entire CMU community is very proud to celebrate with Jamie."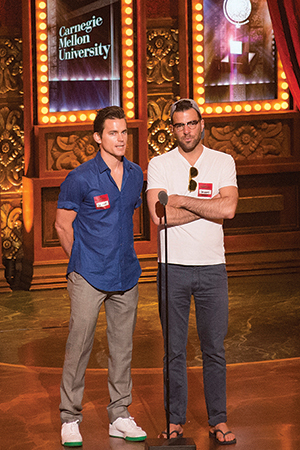 Previous theatre producing credits for DeRoy include dozens of shows, among them Tony Award winners 
"Vanya and Sonia and Masha and Spike" in 2013 and the revival of 
"The Norman Conquests" in 2009.
Carnegie Mellon also took center stage as the first, education partner of the Tony Awards. Alumni Matt Bomer (A'00) and Zachary Quinto (A'99) announced the partnership during the broadcast before millions of viewers 
on CBS.
As part of the exclusive higher education partnership, CMU and the Tonys will present The Tony Honor for Excellence in Theatre Education Presented by Carnegie Mellon University during next year's telecast.
Carnegie Mellon premiered its first prime-time television commercial during the show. The 30-second 
animated spot, which highlights CMU's success in the arts, business, sciences and technology, aired twice during the Tony broadcast. Tony Award winner Billy Porter (A'91) recorded the voiceover.
Hosted by Tony Award winner, Academy Award®-nominated and Golden Globe®-winning actor Hugh Jackman, the Tony Awards also featured appearances by Patrick Wilson (A'95) and Judith Light (A'70).
Recognized for excellence in acting, producing, sound and lighting, this year's Tony Award nominees reflect the breadth of drama education at CMU, and the range of impact alumni are having on the Broadway stage.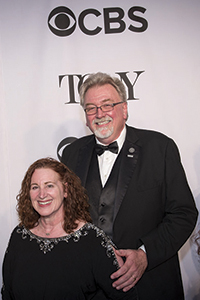 The other 2014 Tony Award 
nominees were:
Peter Hylenski (A'97), Best Sound Design of a Musical, "After 
Midnight"
Leigh Silverman (A'96), Best 
Direction of a Musical, "Violet"
Cherry Jones (A'78), Best Performance by an Actress in a Leading Role in a Play, "The Glass Menagerie"
Paula Wagner (producer), Best Play, "Mothers and Sons"
Sutton Foster, Best Performance by
 an Actress in a Leading Role in a Musical, "Violet"
The awards ceremony was highlighted by selections from various productions that included CMU alumni. Performing were Daisy Hobbs (A'10) in a selection from "Aladdin," Andrew Kober (A'06) in an act from "Les Miserables" and Kaleigh Cronin (A'11) in "Cabaret."
Nominations for the Education Honor will be open to the public and accepted starting this fall at tonyawards.com and cmu.edu. For more information visit https://www.facebook.com/tonyeduhonor.

Top Photo: Students, alumni, friends and staff of the university met outside Radio City Music Hall Sunday, June 8, 
to see the morning dress rehearsal of the Tony Awards.

Middle Photo: Matt Bomer (A'00) and Zachary Quinto (A'99) rehearse their 
presentation about CMU's partnership.

Bottom Photo: College of Fine Arts Dean Dan Martin and his wife, Cheryl Pinto, pose on the red carpet.