June 13, 2014
Artistic Endeavors
Block Trades Curtains for Canvas in His Off Time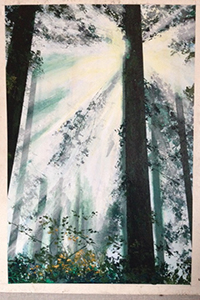 Dick Block, associate head of the School of Drama, has worked on Broadway stages for such productions as "Evita," "42nd Street," "Barnum" and "Cats." He's been active with projects designed at the Pittsburgh Playhouse, Opera Theater of Pittsburgh and the Pittsburgh Public Theater and he's been a familiar face at the School of Drama for 22 years.
It's seldom that Block speaks of 
his other passion, painting.
In 1989, he took his first painting class focusing on watercolors at Carnegie Museum. Block, along with three colleagues, Linda Kauffman, distinguished service professor of biological sciences; Suzanne Colvin, former project director for the Psychology Department's Pittsburgh Mind-Body Center; and Pat Kelly, retired Pittsburgh Public School music teacher and member of Associated Artists of Pittsburgh, have 
been painting together for more than 
20 years.
Block calls his painting a stress reliever, because it's the painting that lets him immerse himself in the details of the brush alone.
His inspiration comes from a 
number of sources, but he says it's 
impossible to pinpoint his muse.
"One of the joys of being an artist is that one never knows when an idea will strike or when an image will be the genesis of an idea," Block said. "I think the real trick is keeping your eyes open to anything and everything and observe what is around you."
He often works on two paintings at a time and varies his subject matter between landscape, portrait and abstract styles.
"I suspect it's the theatre training that encourages me to jump around — it keeps me from getting bored and doing the same thing over and over again," Block said.
Block is fascinated by the different ways in which people see the same things.
"I am just as taken with the ways in which other painters make their marks on the paper," he said.
"I have enjoyed painting with the same group of people for more than two decades because we are all so different in our approach. We constantly learn from one another and encourage each other to try what will inevitably be more challenging," Block said. "Since we paint in the studio of a local artist, Robert Robinson, he has served as guide and mentor to all of us."
The group met Robinson when they registered for one of his painting classes taught at the Pittsburgh Center for the Arts more than 10 years ago.
The quartet meets weekly to paint at Robinson's studio. Their most recent show was in April.
By: Dan Mohler, dmohler@andrew.cmu.edu