January 13, 2014
Dickson Prize
Neuroscientist To Discuss "Illuminating the Brain"
By Jocelyn Duffy jhdufy(through)andrew.cmu.edu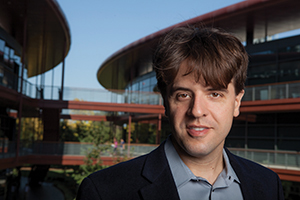 The brain is considered to be the most mysterious organ in the body.
For years neuroscientists have searched for improved methods for looking inside the brain and to control the activity of brain cells. Such methods are critical to understanding both normal brain function and brain function following disease or injury.
Karl Deisseroth, the recipient of the 2013 Dickson Prize in Science, has been a key discoverer and developer of such methods, which are now being applied across all areas of brain science.
The D.H. Chen Professor of Bioengineering and Psychiatry at Stanford University, Deisseroth will give this year's Dickson Prize Lecture, titled "Illuminating the Brain," at noon, Monday, Feb. 3 in McConomy Auditorium. The lecture is free and open to the public.
In particular, Deisseroth's lab has made key breakthroughs in the area of optogenetics, which allows neuronal activity to be controlled with unprecedented precision and recently has invented a technique called CLARITY, which allows brain structures to be viewed in ways never before possible. These techniques have dramatically accelerated discoveries in brain science.
"Dr. Deisseroth's approaches have initiated a revolution in the field of neuroscience," said Nathan Urban, the Dr. Frederick A. Schwertz Distinguished Professor of Life Sciences and head of the Department of Biological Sciences.
Named a "Breakthrough of the Decade" by Science magazine in 2010, optogenetics uses light sensitive proteins to control the activity of individual neurons or specific populations of neurons. Using this approach, researchers can selectively activate or inactivate these genetically modified neurons using light, allowing unprecedented control of neuronal activity. Optogenetics is now being used widely to study the mechanisms of normal brain functions, like memory and sensory perception, as well as abnormal conditions like Parkinson's Disease, addiction, depression and autism.  
Deisseroth's latest work focuses on CLARITY, a chemical technique that turns unlabeled brain tissue transparent, allowing researchers to visualize and study the brain's 3-D structure and circuitry using standard molecular probes.  
His work has been widely recognized by the scientific community. He was awarded the National Institutes of Health Director's Pioneer Award, a Presidential Early Career Award in Science and Engineering, a McKnight Foundation Scholar Award, the Lawrence C. Katz Prize in Neurobiology, the Nakasone Award of the Human Frontiers Science Program and The Brain Prize from the Grete Lundbeck European Brain Research Prize Foundation. He has been elected to the Institute of Medicine.
Given annually since 1970, the Dickson Prize in Science is awarded by Carnegie Mellon to an individual who has made outstanding contributions to science in the United States.  
Karl Deisseroth