February 17, 2014
Sundance Celebration
CMU Students, Fellows Immerse Themselves in Star-Studded Studies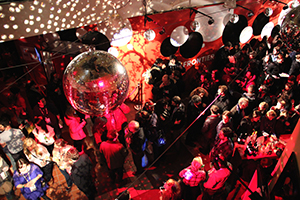 While some students started the year attending class, others were attending the Sundance Film Festival. But that doesn't mean their learning stopped.
As part of the second-year curriculum of CMU's Master of Entertainment Industry Management (MEIM) program 19 students attended the festival in Utah to watch movies and learn from the best in the industry.
Producers, executives and filmmakers met with the MEIM students during a series of breakfast seminars coordinated exclusively for the students. This year's guests included David Dinerstein, past president of Paramount Classics. Dinerstein is now head of marketing efforts for Annapurna Pictures, the production company whose films "American Hustle" and "Her" earned Academy Award nominees for Best Picture.
In addition to other speakers, students met with alumni including Samantha Fabin (HNZ'13) from Millennium Entertainment, Director/Producer Tommy Oliver (TPR'08), and Lakshmi Iyengar (HNZ'09), an executive at Universal Acquisitions.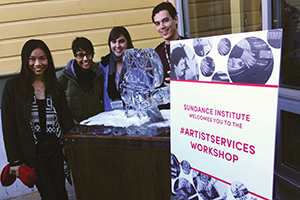 During the festival, Divya Joseph (HNZ'14) interned for Sunshine Sachs, a public relations firm whose clients include Leonardo DiCaprio, Ben Affleck and the Hollywood Foreign Press Association. Sunshine Sachs also represents Canon Cameras, a Sundance sponsor that hosted a party for cinematographers.
"This experience of working at Canon Craft Services during the festival showed me a unique side of the festival," Joseph said. "The main lesson I learned through working at Sundance is that all networking situations are opportunities to meet new people, and you never know when or how a connection you make will be beneficial in shaping your career."
Dian Song (HNZ'14) saw a gap in festival coverage in the Chinese media.
"I've seen Chinese media doing a lot of coverage on Cannes/Venice/Berlin/Toronto, but Sundance is still quite unknown to most Chinese people," Dian said.
He pitched his idea of covering the event to an editor at the Chinese website iFeng.com, who loved the idea and provided a pass for press and public screenings and access to official venues.
Two students aided with a movie premiere by dressing up like Nazi Zombies to help out Roxanne Benjamin (HNZ'08).
"When I was offered the chance to dress up like a Nazi Zombie for the premiere of 'Dead Snow 2: Red vs. Dead,' my first thought was 'This is going to be absolutely hilarious,'" said Katie O'Leary. "I was right. Kris [Elder] and I met with the producers prior to the start of the film. ... We donned our costumes and for the next 30 minutes we scared people in the parking lot of the theater with our frightening appearances. Luckily I speak German and was able to frighten people with that, too."
The university has served as an Institute Sponsor for seven years. The Carnegie Mellon party on the opening night of the festival, was a huge success with more than 800 guests. It was thrown in conjunction with the festival's New Frontier program, which fosters artists experimenting at the intesection of film, art, media, live performance, music and technology.     
Film Premieres
In addition, two fellows from the Frank-Ratchye STUDIO for Creative Inquiry hosted a viewing of their documentary, "Clouds."
James George and Jonathan Minard's 3-D cinematic technology piece was produced by Golan Levin, director of the STUDIO, and was born at the STUDIO's Art&Code Conference. It focuses on the global community of new-media artist-technologists.
Li, Manji, Charnetsky and Taylor Grabowski check out the Artist Services Workshop at Sundance.

Carnegie Mellon's presence at the Sundance Film Festival continues to get bigger and better. The university's party on the opening night this year drew more than 800 guests.