February 17, 2014
Student Success
New Programs Designed To Help Overcome Personal Challenges
By Abby Simmons abbysimmons(through)cmu.edu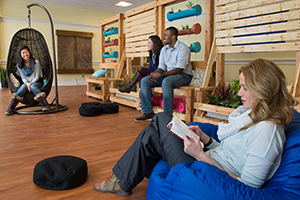 Carnegie Mellon's academic rigor and reputation for hard work have served as both points of pride and sources of stress for the university community, particularly among students.
In the past year, campus conversations have taken place, and numerous initiatives have been launched.
"There has been exciting momentum and deep investment in where we can make meaningful change in campus culture," said Dean of Student Affairs Gina Casalegno.
Following several campus-wide events to better explore and understand the campus perspective, Student Government, the Office of the Vice Provost for Education and the Division of Student Affairs issued a request for proposals to identify creative ways to engage students, faculty, staff and alumni in addressing stress, building resilience and investing in personal wellness. The Enhancing Campus Culture (ECC) Fund provided $15,000 in seed funding for four proposals last March.
Here's a look at how these initiatives are coming to life.
thrive@CMU
Juniors Soniya Shah (DC'15) and Vivek Nair (E'15) partnered with Angie Lusk, assistant director of Student Life and housefellow for Boss and McGill houses; Amy Burkert, vice provost for education; Heather Workinger, an academic adviser; and other faculty and staff members, to pilot thrive@CMU, a six-week mini-course designed to help first-year students learn about the personal, academic and co-curricular opportunities and challenges they may encounter during their time at CMU.
The pass-fail elective met in the fall for 50 minutes a week and was capped at 15 students. Students completed self-assessments and wrote reflections on the previous session's topic before each class. Students delivered 2-4 minute "TED-like" talks on what they personally took from the class material in lieu of a final exam.
"I was simply blown away by the depth and amount of reflection these first-year students had put into internalizing what it meant to be a CMU student and what steps they could take to make the most of their time here," Nair said.
    A number of faculty and staff facilitated course segments. They were:
Burkert and Casalegno provided an overview of resources available to students as they transitioned to university life;
Kunal Ghosh, teaching professor of physics, led a discussion on setting goals and integrating academic and campus involvement;
Nico Slate, associate professor of history, shared thoughts pursuing passions and becoming "architects of change";
Helen Wang, director of first-year student life, helped students explore ways to build and sustain relationships;
Mary Suresh, CMU's first lady and former director of public health for Wellesley, Mass., shared her expertise on personal wellness and holistic health; and
Kurt Kumler, director of Counseling and Psychology Services (CAPS), addressed stress management strategies.
Overall feedback from course participants has been positive, and instructors are identifying changes to the curriculum based on student input. Another section of thrive@CMU will be offered during the Mini-4 session, which begins March 17.
"We're hoping to identify the scalability of the course as we consider how many sections we can offer for the 2014-2015 academic year. We don't believe this is something that would be mandatory for first-year students, but we would like to be able to offer it to all students interested in participating," Lusk said.
Project Smile
Angela Ng (S'16) was a straight-A student in high school, but she found herself struggling during the fall of her freshman year. No matter how long or hard she studied, she felt she wasn't getting ahead - and she saw many of her peers in the same position.
"I love random acts of kindness," she said. "Putting a smile on someone else's face puts a smile on mine."
Using her own money, she launched Project Smile by making midnight visits to Hunt Library armed with candy for fellow students.
Wang, her housefellow, and friends like Sean Archie (E'15) encouraged her to apply for financial support through the ECC Fund.
Other morale-boosting efforts by Project Smile members have launched this year, including Temporary Tattoo Tuesdays, bubble-blowing parties and chocolate "gratitude grams."
The Mindfulness Room
Ng also is the mastermind behind the Mindfulness Room, which celebrated its grand opening Jan. 30.
Located in the former first-floor TV lounge in West Wing, the room is open 24/7 to the entire campus community. The only rules: No homework, no meetings and no technology.
 Ng's original plan was to transform the room with $3,000 from the ECC Fund. However, Wang and Lusk encouraged her to engage others in the project. As Housing Services, Facilities Management Services, Academic Affairs, Student Affairs and Student Senate joined the conversation, funding increased to more than $22,000.
"We want this to be an evolving space. We want to see change each semester, so that every class and every community has an opportunity to contribute," Lusk said.
Ng and friends built room dividers out of 2x4s and attached floating metal planters filled with plants. The entryway walls, covered in dry-erasable paint, are filled with messages from visitors. The room also features a waterfall wall, yoga mats, meditation pillows, a hanging egg seat and donated books.
A shelf holds two handmade albums that capture students' reflections on what they love about CMU, descriptions of times they failed and words of wisdom.
"I want students to know that it's OK to ask for help. We're all here to look out for each other," Ng said.
In the future, yoga and other wellness programs will be offered in the space.
"We've also talked about adding Legos, Play-Doh and crayons, so if meditation is not your thing, maybe there is something else that gets you away from the chaos of your day," Lusk said.
Mental Health First-Aid Training
The final proposal funded through the ECC Fund was a pilot mental health first-aid training course with a select group of staff and students in the fall. Mercy Behavioral Health staff helped to design and deliver the training, which aims to increase awareness of mental health issues and reduce stigma.
Participants will learn how to recognize when someone is in serious mental distress and how to help individuals connect with the resources they need. University Health Services and CAPS are assessing feedback from the first cohort of trainees, and an announcement about future training opportunities will be made this semester. The eight-hour course will be open to all faculty, staff and students.
The ECC Fund is just one initiative among many that the Division of Student Affairs, Office of the Vice Provost for Education and Student Government have implemented to improve campus culture. Casalegno, Burkert and student leaders welcome ongoing input and suggestions.
"Campus spoke, and we heard you," Casalegno said. "If you have an idea, speak up. There is a pathway to create it."
Angela Ng (S'16), Helen Wang, Sean Archie (E'15) and Angie Lusk (l-r) hang out in the new Mindfulness Room on the first floor of West Wing.