February 17, 2014
Scholarly Athletes
CMU Fall Teams See More 4.0 GPAs Than Ever Before
By Dan Mohler dmohler(through)andrew.cmu.edu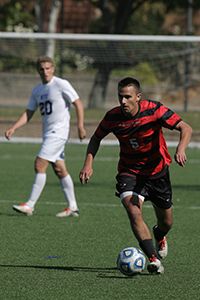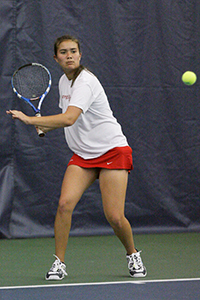 Seventy Carnegie Mellon student-athletes scored in a big way this past fall. But among their record-times, touchdowns, aces and goals, was an achievement that was even more impressive - a 4.0 grade-point average.
Josh Centor, interim director of Athletics, calls the accomplishment remarkable.
"They continue to prove that student-athletes can achieve whatever they set their mind to at Carnegie Mellon. Their excellence is extraordinary," Centor said. He said the combination of academics and athletics at CMU is excellent.
"The athletic experience complements the groundbreaking work being done across disciplines within the classrooms and laboratories of the university," he said. "Our students are able to prioritize their academic pursuits at Carnegie Mellon, without compromising their collective athletic ambition."
A member of the University Athletic Association, CMU has 17 intercollegiate teams. Like all Division III schools, athletic scholarships are prohibited, so students compete for the joy of the game.
"I love being a part of a team, I love to compete, and I love to win. In return I get camaraderie, the ability to compete and a few great memories," said Matt Sarett, a midfielder on the soccer team and student in the Integrated Master's/Bachelor's Program for Electrical and Computer Engineering.
Sarett, one of two varsity athletes graduating this spring with a 4.0 cumulative GPA, chose CMU because of the strength of the soccer program and the College of Engineering.
"CMU's engineering program has a very strong reputation, and I wanted to be a part of it," he said.
"There is a great balance between sports and academics at CMU because we can be academically successful but compete at a high level," Sarett said. "Playing soccer in college with my teammates and friends is really special as well because we have a great support system."
Head Men's Soccer Coach Arron Lujan said a new program started by Chris Madden, a senior in business administration, pairs freshmen with upper classmen mentors in the same fields of study to ease the transition into college.
"The team has been terrific over the past few years, and the outcome is directly related to the philosophy and identity of the team and the individual player," Lujan said. "Students have the freedom to miss team practices without repercussions. The team knows to keep in mind what the mission is - and that's to get an education before playing soccer."
The team has made the second round of the NCAA tournament four times in the last six years. This past season the Tartans ranked 18th in the nation with an overall record of 12-3-3. The team is 74-25-8 in the last six years under Lujan.
Of the 430 current student-athletes, 86 are seniors expected to graduate or continue their education at CMU.
The other senior graduating with a cumulative 4.0 GPA is Katie Cecil, an All-American tennis player majoring in biological sciences.  
"My performance on and off the court is directly related to the balance between academics and sports and the full support of professors and the coaching staff," she said.
Head Tennis Coach Andrew Girard said, "One of the best things about Katie is that she shows both current and prospective athletes that it is possible to have both academic and athletic success at the highest level."
Cecil was an All-American in singles play in 2012 and was named National Player to Watch for 2013 by the Intercollegiate Tennis Association (ITA). She was named to the CoSIDA (College Sports Information Directors of America) Academic All-America first team, received the ITA National Arthur Ashe Jr. Award for Leadership and Sportsmanship, and earned the NCAA Elite 89 Award. Cecil completed 2013 with a 16-8 record in singles and a 15-10 slate in doubles.
Academic All-American Ryan Jok, a defensive end for the football team, is a senior majoring in business administration and statistics. He said he committed to CMU for its high-caliber opportunities.
"CMU is well-known for its academics. I knew the direction that I wanted to go, and it included football as well as finance," Jok said. "Coming to CMU was an easy decision."
Jok backed up his prestigious academic record with 113 total tackles and seven career sacks on the gridiron.
"You do well in the classroom before you do well on the football field because it's what Coach [Rich] Lackner emphasizes," Jok said. "It's because of his emphasis on balancing schoolwork and football that I - as well as my teammates - achieve greater success in the classroom, on the field and in the community."
Carnegie Mellon ranks first in Division III football and non-scholarship institutions with a total of 45 Academic All-Americans. The program ranks eighth overall in the NCAA.
"We've created a culture of high expectations for our players, and players have created a culture in the locker room to be great as a player and great as a student," said Lackner (DC'79), CMU's longtime head football coach. "Students expect excellence in themselves so it's important for us [the coaching staff] to encourage them to be great."