February 06, 2014
Imaginations: CMU Team Wins Top Honors in Disney Competition
by Susie Cribbs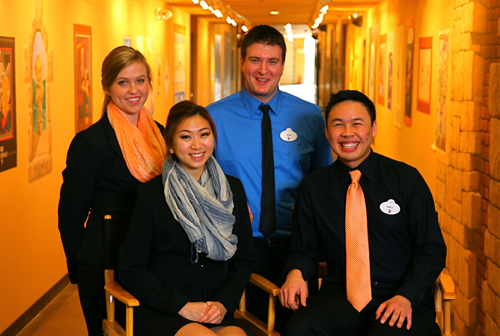 Carnegie Mellon students used their imagination to create an intercontinental experience truly worthy of Disneyland.

Their idea earned them the top prize in Walt Disney Imagineering's "Imaginations" competition.

For this year's competition, teams were tasked with selecting a large, densely populated urban environment and designing an experience for the enjoyment of its residents and visitors.
Matthew Ho, a fifth-year senior in architecture, had long dreamed of entering the competition and planted the seed for the idea with friend Christina Brant, a fellow fifth-year senior in architecture and human-computer interaction. The pair recruited friends John Brieger, a senior in computer science, and Angeline Chen, a junior majoring in communication design.

The CMU team created a cross-cultural experience a person couldn't encounter in his or her lifetime. They pushed that notion to its limit with an experience that involved antipodes — two locations across the world from each other. In this case, Bangkok and Lima, Peru.

Their project, aptly titled "Antipode," takes the form of a two-week cultural-exchange festival that unfolds simultaneously in each country. The team created a backstory, in which two children long ago stumbled upon magical "whispering tress" — one each in Bangkok and in Lima.
"The trees allowed them to talk to each other from opposite ends of the globe," Ho said. "They grew up together, sharing their lives with each other through the magic of the trees. Eventually, the trees filled up with their memories and stopped working."

"The Antipode Festival celebrates The Great Stumps — remnants of the magical trees that are converted into stages at a public park in each city," Ho continued. "These serve as the central points for the festival, hosting cultural performances and the opening and closing ceremonies. In the Closing Ceremony, the Great Stump sinks into itself to become a live portal between Lima and Bangkok, where guests can see, hear and communicate with their counterparts from the other side of the world."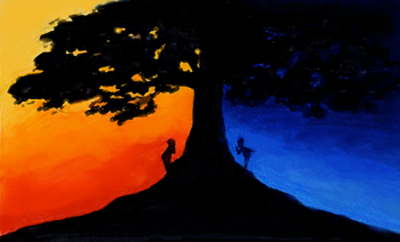 The students submitted a presentation to Disney Imagineering in November with original images and photomontages of their proposed experience.

Named one of six finalist teams in December, the quartet earned an all-expense-paid trip to Walt Disney Imagineering in Glendale, Calif., to present their work to Imagineers. They also went behind the scenes to see what makes Walt Disney Imagineering — and Disneyland — tick.

"We've been socializing with Imagineers, learning what they do and seeing projects. It's been awesome," said Brant. "It's been interesting to see the collaborative process and how things work."
Started in 1992, Imaginations challenges teams of university students to showcase their skills and talents by designing a Disney-related project. It also serves as a platform for Walt Disney Imagineering to scout the next generation of creative and innovative thinkers for possible internships with the company.

This is the third consecutive year that a CMU team has placed in one of the top three spots.

"Antipode" won based on the same criteria Disney Imagineers use to judge their own projects. The winning formula was based on the team's ability to collaborate across different disciplines and backgrounds, master their individual skills, create an engaging guest experience, tell a story, understand the local and tourist market in the chosen location, and understand and have a passion for the Disney brand and Walt Disney Imagineering.
In addition to earning a $3,000 cash prize (and $1,000 for the university), the students gained practical knowledge of design and multidisciplinary collaboration during their process.
"I learned how to work with people who have different backgrounds and skill sets, and how those can be melded into an overall proposal or product," Brant said. "When people have diverse backgrounds and experiences, you have different opinions and ways of viewing things. And I think that really challenges and pushes the project further."
For more on the Imaginations competition, visit https://disneyimaginations.com/.

###
Top Photo:Carnegie Mellon students (pictured above, from left) Christina Brant, Angeline Chen, John Brieger & Matthew Ho earned first place in the 2014 Imaginations design competition. (c) Disney Photographer: Gary Krueger
Photo Above: The team created a backstory, in which two children long ago stumbled upon magical "whispering tress" — one each in Bangkok and in Lima. "The trees allowed them to talk to each other from opposite ends of the globe," Ho said. But, eventually the trees stopped working.

Images courtesy of Walt Disney Imagineering.