December 18, 2014
Personal Mention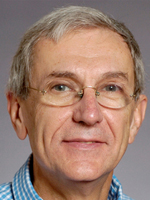 José Moura (right), the Philip L. and Marsha Dowd University Professor of Electrical and Computer Engineering, has been elected a Fellow of the National Academy of Inventors for demonstrating "a highly prolific spirit of innovation in creating or facilitating outstanding inventions that have made a tangible impact on quality of life, economic development, and the welfare of society." Moura holds 11 U.S. patents ranging from image video processing to biomedical areas, several of which have been adopted by industry. A sequence detector from two of his patents (co-inventor Aleksandar Kavcic) has been placed in 2.4 billion disk drives and 60 percent of all computers sold worldwide in the last 10 years. Moura, who also is associate head of ECE and director of the Carnegie Mellon Portugal Program, joins three other CMU faculty members who are members of the NAI — Krzysztof Matyjaszewski, Raj Reddy and President Subra Suresh. Moura will be officially recognized as a Fellow at the NAI Fellows Luncheon and Induction Ceremony March 20, 2015, at the California Institute of Technology in Pasadena. Fellows will be inducted by Andrew Faile, the Deputy U.S. Commissioner for Patent Operations in the U.S Patent and Trademark Office. Learn more.
The National Endowment for the Humanities (NEH) has awarded Andreea Deciu Ritivoi a research fellowship to explore how the concept of "captive nations" emerged in early Cold War political discourse, and how their liberation only appeared as an American responsibility. Ritivoi's project, "Captive Nations: American Democracy in the Cold War and the Politics of Rescue," will begin in January 2015. Ritivoi, a professor of English, will use the award to research the way American political actors engaged with Central and East European refugees to uncover how the notion of captive nations came to be widely accepted. Learn more.
The Athletics Department is hosting a reception in honor of Dario Donatelli (TPR'81), who is retiring in January after 28 years at the university. Donatelli, who has served the Tartans as their head cross country and track and field coach, will be honored from 3:30 – 5:30 p.m., Tuesday, Jan. 6 in the Tartan Pavilion. Faculty and staff are welcome and are asked to R.S.V.P. to Lynne Clark (lc227@cmu.edu). Donatelli completed his 27th season as the head women's track and field coach and 15th at the helm of the men's track and field program in 2014. This past cross country season marked his 22nd coaching the women's team and 13th for the men. During his tenure, Carnegie Mellon has won seven conference titles (four in cross country, three in track and field). He and his staffs have earned conference Coach of the Year honors 13 times and have coached 11 All-America athletes in cross country and 30 All-America athletes in track and field. Read more about Donatelli.
After 20 years at the university, Kyle Tomer, associate director of Client Services for Facilities Management Services, has announced her retirement, effective Jan. 2, 2015. "Kyle's legacy within FMS and across campus will last years and years," said Don Coffelt, head of FMS. Coffelt praised Tomer for her "consummate skills as a collaborator and communicator." Succeeding Tomer will be Shannon Wetzel.
The Society for Judgment and Decision Making has selected Alex Imas as the 2014 winner of its Hillel Einhorn New Investigator Award. The award is presented each year to honor the best paper by a young researcher. Imas, assistant professor of social and decision sciences in the Dietrich College, won for his paper "The Realization Effect: Risk-Taking After Realized Versus Paper Losses." This is the second award Imas has received for "The Realization Effect;" last month he won the Distinguished CESifo Affiliate Award, which is given annually to a young economist for displaying scientific originality, policy relevance and quality in behavioral economics. Learn more.
Human-Computer Interaction Institute (HCII) Associate Professor Jason Hong has been awarded the HCII Career Development Fellowship for his research accomplishments and contributions to both the HCII and the university. Founded in 2012 by a $1 million gift from an anonymous donor, the HCII Faculty Career Development Fellowship provides its recipient with financial resources that can be used at his or her discretion for things like supporting graduate students or academic year funding. In Hong's case, he plans to use the money to help advance his research group's work on urban analytics — using large amounts of geotagged social media to understand the dynamics of cities. "Jason is a world leader in usable security and privacy. There are very few people who take such a human-centered approach to understanding individuals' online behaviors and use it to develop better technical systems," said HCII Director and Associate Professor Anind Dey. Hong succeeds Associate Professor of HCII and Design John Zimmerman, who held the fellowship since its inception.
Kathryn Roeder has received Penn State University's Outstanding Science Alumni Award. One of four 2014 recipients, Roeder is being honored for the work she has done in statistical genetics and the genetic basis of complex disease. Her research team has published extensively on methods for gene mapping and the genetics of autism. The Board of Directors of Penn State's Eberly College of Science Alumni Society established the award to recognize alumni who have a record of significant professional achievements in their field and who are outstanding role models for students. Roeder is professor of statistics and computational biology at CMU. Read more.
Raj Rajkumar, the George Westinghouse Professor of Electrical and Computer Engineering and Robotics and co-director of the General Motors-Carnegie Mellon Autonomous Driving Collaborative Research Lab, has received a $50,000 gift from QualComm Inc. to support his research on evasive maneuvering for autonomous vehicles. Rajkumar has been working for more than a decade to help modernize the auto industry and make driving safe and more economical for the consumer.
An article co-authored by Roberta Klatzky, the Charles J. Queenan Jr. Professor of Psychology, was featured as a "spotlight" in Computer, the flagship publication of the IEEE Computer Society. The report describes how "surface haptics," the real-time control of the lateral forces acting between a fingertip and a touch surface, could eventually allow touch screens to be used without relying on visual feedback. J. Edward Colgate, a professor of mechanical engineering at Northwestern University, co-authored the spotlight. The source article by Ware et al. will be published in IEEE Transactions on Haptics.
Kiron Skinner and Bruce Bueno de Mesquita co-wrote an opinion piece for The National Interest Magazine on the security challenges facing the U.S. and strategies the government could use to resolve them peacefully. Skinner is director of the Center for International Relations and Politics and associate professor of social and decision sciences. Bueno de Mesquita is a professor of politics at New York University. Read "Red, White and Peaceful: Advancing U.S. Security through Peaceful Means."
Mechanical Engineering Professor Philip LeDuc was the lead author of an article published in "Science Translational Medicine" that focused on how biomedical engineers can improve global health. He says biomedical engineers can address issues surrounding disease as well as water quality, sustainable and safe food production, and new, cleaner sources of energy. Learn more.
Tuomas Sandholm, professor of computer science, and his Ph.D. student, John Dickerson, along with the Pittsburgh Supercomputing Center, won the HPCwire Reader's Choice Award for Best Data-Intensive Application/Use for their work with PSC's Blacklight supercomputer to optimize living-donor kidney exchanges. They investigated how to optimize current kidney exchanges using distributional knowledge of the future state of the kidney exchange pool, and how to incorporate human expert value judgment into a concrete, numeric optimization objective using data. Their algorithm matches living kidney donors with medically compatible transplant candidates, enabling more paired-donor transplants. In such transplants, each donor-recipient pair includes a potential donor who is not medically compatible with his or her original intended recipient, but is compatible with another recipient who likewise has an incompatible donor.
Electrical and Computer Engineering Associate Professor Xin Li, Professor Shawn Blanton, Assistant Professor Pulkit Grover and Professor Don Thomas received the Best Paper Award at the 2014 International Symposium on Integrated Circuits Conference. Their paper, titled "Ultra-Low-Power Biomedical Circuit Design and Optimization: Catching The Don't Cares," proposes a new design methodology for ultra-low-power biomedical circuits. By collaborating with the Medical School at the University of Pittsburgh, they demonstrated the proposed technique for a brain computer interface (BCI) system for clinical applications.
Drama students Alex Stevens, Hannah Dubrow, Sarah Hupcey, David Arterberry and Will Gossett joined six-time Emmy Award-winning lighting designer Bob Dickinson as interns for his work on the Kennedy Center Honors. The program, hosted by comedian Stephen Colbert, was held on Dec. 7 and will be broadcast nationally on CBS on Dec. 30. Dickinson, who was granted an honorary Doctorate of Fine Arts from Carnegie Mellon in 2005, has designed lighting for nationally televised awards ceremonies and musicals, such as NBC's "Sound of Music" and "Peter Pan." He has long been involved with School of Drama students through the fall television project in which he often participates as a teacher and mentor. Learn more.