April 07, 2014
Radio Club
By Kelly Solman ksolman(through)andrew.cmu.edu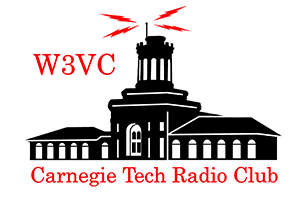 Carnegie Tech Radio Club is celebrating 100 years of fostering amateur radio enthusiasts on CMU's Pittsburgh campus and promoting the hobby in the surrounding community.

For some, amateur radio is an opportunity to tinker with electronics. Others have used it to talk with astronauts in space or to make friends in other parts of the world. Often, amateur radio operators - known as "hams" - help in disaster situations when other communications systems have failed, as in 9/11 and Hurricane Katrina.

Known by its current call sign, W3VC, the Carnegie Tech Radio Club on CMU's Pittsburgh campus has over 30 active members today. The club has been a longstanding part of Buggy at Spring Carnival, assisting with course safety by relaying important information around the course during practice rolls and on race days.

The club owns and operates two radio transmitters. It also provides visual and digital live weather information and hosts monthly licensing test sessions for students and community members who want to obtain or upgrade licenses.

A similar club for hams recently was formed on the West Coast, which is a hotbed of radio activity that includes new research into mobile technology, connected embedded systems and smart communities.

This Wireless Innovators Club, with the call sign W6CMU, supports Carnegie Mellon Silicon Valley students, faculty and affiliates in their experiments with radio as they develop novel uses combining wireless technology with computers and sensors.

Ham radio operators, like members of the Carnegie Tech Radio Club and Wireless Innovators, have had impact extending far beyond the field. Alex Hills, a distinguished service professor in the departments of Electrical and Computer Engineering and Engineering and Public Policy, has said that what he learned as a ham radio operator led him to conceive and create CMU's Wireless Andrew network, the first Wi-Fi network anywhere.

In celebration of the club's 100th anniversary and its continued commitment to promoting amateur radio, the Carnegie Tech Radio Club in Pittsburgh will host a Centennial Celebration from 5-8 p.m., Thursday, April 10, in the Singleton Room, Roberts Engineering Hall.

All past and current members of the club are encouraged to attend.
The Carnegie Tech Radio Club is seen here in an early photo. Today's Radio Club members volunteer at Spring Carnival.