April 07, 2014
Q&A: Deborah Stine Primes the Pump for the Scott Institute
By Heidi Opdyke opdyke(through)andrew.cmu.edu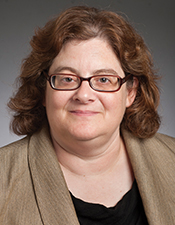 Deborah Stine joined Carnegie Mellon in the fall of 2012 as a professor of the practice in engineering and public policy (EPP) and associate director for policy outreach for the Wilton E. Scott Institute for Energy Innovation. The Piper recently caught up with Stine to discuss her dual role.
What is the Scott Institute?
The Scott Institute is a virtual umbrella for the many centers related to energy at the university. We integrate information on major issues from research and partners across the university to create a centralized message about CMU's energy activities to those outside the university.  
What is your role with the Scott Institute?
My job is to create a story and make a relationship between energy-related research and the challenges faced by decision makers in government, universities and foundations. In addition, the institute works in partnership with other organizations on energy activities at a local, regional and national level.
My initial activities were to create policymaker guides on shale gas and the environment and another on managing variable energy resources such as wind and solar power to increase the contribution of these resources to the nation's electricity supply.
Policymakers focus on broad challenges such as how best to respond to new technology such as hydraulic fracturing to produce gas from shale. So you need something that's integrated and easy to understand but that's still based on scientific and technical knowledge.
CMU faculty and graduate students help develop the guides. The guides currently under development focus on the energy technologies developed at CMU and transportation.
Once the guides are ready, the Scott Institute hosts an event in D.C. We share CMU research with as many key players as possible by talking to agencies, congressional and White House staff and other interested parties. States are major players, and we also talk to the National Governors Association, National Conference of State Legislatures, nongovernmental organizations and trade associations, depending on the issue.
I also look for ways to encourage implementation or next steps based on the recommendations from CMU researchers.
In some cases, an individual research paper can provide "news you can use" for consumers. For those papers, we have produced some YouTube videos.
Who is going to D.C. for these discussions?
I bring senior and junior faculty and a graduate student. People in D.C. don't understand the relationship between research and the support of graduate students. It's important for them to know they're not just funding a professor - maybe not even funding a professor - but the next generation of great ideas.
What drew you to CMU?
I was in D.C. for nearly 30 years and spent three years prior to CMU as executive director of the President's Council of Advisers on Science and Technology (PCAST) for the Obama Administration.
I've known some of CMU's Engineering and Public Policy people for a long time. Ed Rubin, was on my first National Academy of Sciences committee and worked on a climate change study. I also knew Granger Morgan and Baruch Fischhoff and other CMU faculty involved with PCAST studies on education and information technology policy.
CMU produced so much good research that really did not have the visibility in D.C. that I thought it should given its importance to public policy.
You talked a little about your PCAST work. What did you learn that is applicable to your CMU role?
I learned what it takes to get a policy in place and that the policymaking process takes a long time. I also have a good understanding of who you need to get buy-in from to move forward with an idea.
I worked in the Congressional Research Service, so I understand policymaking from a congressional perspective. The members of Congress who chair the energy committees have a big influence. The chair of the U.S. Senate Committee on Energy and Natural Resources is Mary Landrieu (D-La.). She's from an oil and gas state, which changes the politics from someone who's from Oregon as was the previous chair - even though both are Democrats.
What are some of the classes that you teach?
I try to interface my activities for the Scott Institute in class. I taught my first shale gas policy class in fall 2013. Course materials included teaching policy analysis and system analysis techniques, and I brought in speakers from CMU and outside the university.
I am currently teaching environmental politics and policy, and I also teach classes on innovation as well as science and technology policy that focus more on how decisions are made.
A project-based course I developed is on new technology commercialization with a focus on non-market factors such as policies that encourage or inhibit a product entering the marketplace. The students are looking at four CMU inventions: an autonomous car, a smart traffic light, edible electronics and a small robotic boat to monitor water quality.
Overall, my goal is to teach engineers how to analyze public policy as neutrally as possible based on scientific and technical information.
When should faculty members reach out to you?
I'd be interested in hearing from faculty members producing energy-related papers that help the public make better decisions. It really is important to the Scott Institute to connect people with CMU for its great energy research.
Figuring out what's happening can be challenging, because it's constantly changing and people are focused on their work. But publicizing that work will create more impact for the research activities, and eventually we hope, provide more funding for research at CMU.
What changes do you expect with President Emeritus Jared L. Cohon becoming Scott Institute director July 1?
I was thrilled that Jerry would be working on this, and Andy Gellman - who has been doing a great job - will stay on as co-director.
Jerry is the initial brain behind the Scott Institute. I met with Jerry when I first came to CMU, and he helped link me with local experts working on energy issues, particularly shale gas, where he has done a great deal of work including co-chairing the Pitt Institute of Politics roundtable on the topic and as chair of the board of directors for the Center for Sustainable Shale Development. He also is on the board of the Health Effects Institute, which provides him with a national view of energy and environmental topics. These connections helped when I began writing the shale and environment policymaker guide.
With his academic background in environmental engineering and the volunteer work he's done focused on enhancing public policy, he's somebody who really understands the relationship between CMU's energy-research activities and public policy.
I've been here about a year and a half and have been developing different mechanisms to enhance CMU's visibility and outreach. We're at the stage now where we need to determine what is the best strategy moving forward. In policy analysis, there are four criteria: Is it effective? Is it economically efficient? Is it equitable? And is it responsive to the needs of policymakers? During this next stage, these criteria can help the Scott Institute leadership decide what are the best next steps for the institute's outreach activities.
Online:
cmu.edu/energy
Stine recently participated in a Canadian Energy Tour. Follow her account at
http://cmu-energy.blogspot.com
.