April 07, 2014
People Make the Times
Pileggi Threads History of College of Engineering
By Bruce Gerson bg02(through)andrew.cmu.edu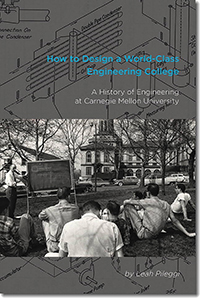 Children's book author, personal essayist and blogger Leah Pileggi never intended to write a history book.
But while interviewing retired engineering professors for what she thought would be a series of articles, she began to see "a common thread"; a bigger picture developed and she's weaved a new genre into her literary repertoire.
"As I was talking to them, I realized they were part of a larger story," said Pileggi, a professional assistant for the Electrical and Computer Engineering Department. "I went to Pradeep [Khosla, then dean of the College of Engineering] and said I could do some articles, but it feels like there's more of a story here. It felt like a book to me. And Pradeep said go for it."
"How to Design a World-Class Engineering College: A History of Engineering at Carnegie Mellon University" was published by Carnegie Mellon University Press late last fall after 18 months of writing and research.
Pileggi, who called the information she found in University Archives crucial and her interviews with emeriti professors Steven Fenves, Angel Jordan and Wil Rouleau most instrumental, said the 99-page, light and easy-to-read paperback is not your typical engineering history book.
"It's a narrative. It's not a technical book or a series of lists," said Pileggi, who studied creative writing at Chatham University. "My goal was to write non-boring, nonfiction - to make it interesting for people going to the bookstore and asking if they had anything about the basic history. It's one thread with a few key people along the way who really championed the cause."
Of course, the story of a small technical school that evolves to become a world-renowned college of engineering begins with Andrew Carnegie, who felt the key to success was choosing the right people at the right time. And his first choice was Arthur A. Hamerschlag.
"He was the first everything, president, dean and instructor. He hired people and he worked with the architects," Pileggi said. "If it hadn't been for him the school wouldn't even be here. He gave his heart and soul to this place. He died
at a young age (55)."
Hamerschlag laid the groundwork for the early Carnegie Technical Schools - the School of Science and Technology was said to be the "guts of the operation" - and in 1912 led the transformation to university status as the Carnegie Institute of Technology.
Following Hamerschlag, Pileggi traces the contributions of President Thomas Baker and President Robert Doherty, an electrical engineer who brought the Carnegie Plan of Professional Education - a problem-solving, hands-on, learn-by-doing approach - to the university curriculum.
Doherty modeled the curriculum from his days at General Electric, where he helped to create GE's Advanced Engineering Courses, which taught students to apply their engineering knowledge and collaborate on team projects to solve real-world problems.
The Carnegie Plan also encouraged students to take both technical and liberal arts courses, to be socially responsible and to be productive members of the community.
"The capstone classes in engineering is the epitome of the Carnegie Plan," Pileggi said. "Students use their knowledge to build and create things."
Other key milestones in the College of Engineering's history include the first female student, Julia Randall, in the 1940s; the emergence of computing courses for freshman engineers in the 1950s; and the university merger with the Mellon Institute of Research in 1967.
"After the merger, the dean of engineering became a much more focused position," Pileggi said. "It moved from the president being in charge of engineering to the dean being in charge."
Engineering Dean Herb Toor, a "Toor de Force" following the merger, launched an effort to recruit more women and minority students and faculty into the school, and he hired Helen O'Bannon as assistant dean of engineering.
In 1976, under Toor's tenure as dean and Richard Cyert's term as university president, the interdisciplinary Engineering and Public Policy (EPP) Department was formed to study the effects of engineering on society. Granger Morgan became the first head of the department, and he recruited Indira Nair to become associate head.
Many other interdisciplinary firsts and influential professors and administrators followed, including the Engineering Design Research Center, the Data Storage Systems Center, the Information Networking Institute and the Department of Biomedical Engineering. New programs were established in Silicon Valley, Portugal, China and Rwanda.
Engineering deans following Toor who brought distinction to the college were Angel Jordan (1979-83), James Williams (1983-88), Paul Christiano (1989-91), Stephen Director (1991-96), John L. Anderson (1996-2004), Pradeep Khosla (2004-12) and James H. Garrett Jr. (2013-present).
"Some histories of academe can be dry and uninviting, but Pileggi's approach is personal," said CMU Press Editor Cynthia Lamb. "She encompasses the entire history of the college, all the while adeptly bringing in the various qualities and disparate backgrounds of those key personalities - the deans and individual department heads, not to mention Carnegie Mellon presidents at various stages - who worked diligently and methodically to create the institution."
Lamb said the book will appeal to past and current faculty, staff and students "because it is easy and enjoyable to read, all the while offering an overall understanding of the complex and multi-faceted field of engineering, and its relevance to all of our lives."
Jim Garrett Jr. (E'82, '83, '86), dean and the Thomas Lord Professor of Civil and Environmental Engineering, is one of those current faculty members who have liked the book.
"I enjoyed hearing how our SWE (Society of Women Engineers) Chapter, now very large and having much impact on our campus, got started," Garrett said. "I also enjoyed reading the details of how EPP came to be; I did not know it was almost named EPA (Engineering and Public Affairs). That was around the time I was an undergraduate at CMU. 
"Learning more about Arthur Hamerschlag and the many roles he played in the early days of Carnegie Tech was very interesting, too."
The book is available at the University Store.
There will be a reception to celebrate the history of the College of Engineering for engineering alumni, faculty and staff from 3:30 - 5 p.m., Friday, April 11 in the Tung Aug Lab on the first floor of Porter Hall.
University Archives a Treasure Chest
Carnegie Mellon University Archives has thousands of items from the university's past, but it is always on the hunt for memorabilia with historical value, particularly old university photos, athletic game programs and academic publications.
If you have such materials and are willing to donate them to help preserve CMU's history, Gabrielle Michalek would love to hear from you.
Michalek, head of Archives and Digital Library Initiatives, requests materials be brought to the University Archives' Hunt Library office at 4909 Frew St. The archive is open from 9 a.m. to 5 p.m.