April 24, 2014
News Briefs
Vote for Your Staff Council Reps
The Staff Council divisional elections for the 2014-2016 term are underway. You can select up to two candidates to serve on council. The voting period runs through 5 p.m., Friday, May 2.
Please go to http://www.cmu.edu/staff-council/nominations-elections/candidates/index.html to cast your vote. You may view the candidates' biographies and photos using the link on the voting page as well.

If you have any questions or concerns, please contact the Elections Committee at staff-council@andrew.cmu.edu.
Discounted Tickets Available To See "Orphee"
Pittsburgh Opera has announced a discounted ticket offer for CMU alumni, students, faculty and staff to see "Orphee," a contemporary opera that appeals to a wide variety of audience members, especially young people. Interested buyers can see all seats available as Cheap Seats for all four performances of Orphee on the dates of April 26 and 29, and May 2 and 4.

This ticket offer is one way the Pittsburgh Opera continues a relationship with Carnegie Mellon, according to alumna Deborah Kelly, who also has served as a volunteer at CMU for 17 years and was project manager for the 2012 School of Music Centennial. The Opera's General Director Christopher Hahn worked with Kelly on the School of Music Centennial. 

Additionally, Pittsburgh Opera provides opportunities for CMU students and alumni to serve as resident artists and work in areas such as composition, lighting and stage management.

Go to www.culturaldistrict.org/cmu to select your seats. All Cheap Seats are held at the Benedum Box Office for pickup starting two hours before the selected performance. For more information, contact Randy Adams at the Pittsburgh Opera at radams@pittsburghopera.org.
DEA National Take Back Day Is Saturday

The Carnegie Mellon University Police Department (CMUPD) will participate in the Drug Enforcement Administration's (DEA's) National Take Back Initiative from 10 a.m. – 2 p.m., Saturday, April 26.  The purpose is to promote and facilitate the safe disposal of unused or expired controlled, non-controlled and over the counter medications. The collection site will be at the CMU Police Station at 300 S. Craig Street (entrance on the Filmore Street side of the building).

All medications will be collected in pill, gel, cream, patch and liquid form.  Liquid products and creams will be collected in their containers. This program is totally anonymous. There will be no requests for identification nor will any questions be asked of the participants. Participants may remove any personal information from bottles or packaging prior to submittal.

Illegal substances such as marijuana and methamphetamines are not part of this initiative.  Syringes will not be collected due to the potential hazard posed by blood-borne pathogens.

The CMUPD thanks you in advance for your support of this initiative.  Learn more.
Planning for Veterans Day 2014
A new working group is forming to create a campus conversation and professional development opportunity on Veterans Day 2014. All veteran students, staff, and faculty as well as interested campus community members are invited to take part in this exciting venture. 
The first meeting will be held from noon - 1 p.m., April 29 in the Class of '87 Room in the Cohon University Center.  Dessert will be provided. If you would like to be a part of this working group or have questions, please contact Jamie Brandon, jbrandon@andrew.cmu.edu, or Shernell Smith, mssmith@andrew.cmu.edu.
Students Win Better Buildings Competition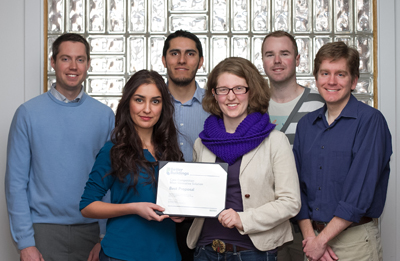 For the third year in a row, a team of Carnegie Mellon students took top honors at the U.S. Department of Energy's Better Buildings Case Competition last month in Washington, D.C.  Team Everpower won two "Best Proposal" awards for solutions to cases that address real-world energy problems that businesses and other organizations encounter.

Team Everpower competed in the "Picking up PACE: Taking Commercial PACE Financing to Scale" contest that focused on designing a state-level program and business plan for Property Assessed Clean Energy (PACE) financing, a means of connecting loans to a building rather than an individual. The team's solution emphasized using a diffusion model to slowly scale up the program over time and marketing the energy-saving benefits of energy-efficiency projects, such as productivity improvements and health benefits.

The second competition, "A Side of Savings: Energy Efficiency in the Restaurant Franchise Model," involved giving incentives to franchise fast-food restaurants to invest in energy efficiency to meet a corporate goal. The team recommended an opt-in competition that used social norms and a cash prize to encourage energy efficiency via both technology investment and behavior change.

Members of the Carnegie Mellon team pictured above are (left to right): Matthew Plunkett, an MBA student in the Tepper School of Business; Matineh Eybpoosh, a doctoral student in civil and environmental engineering; Rubén Morón, a master's degree student in the School of Architecture; Casey Canfield, a doctoral student in engineering and public policy; Vedran Lešic, a visiting Fulbright scholar in engineering and public policy; and Nathaniel Horner, a doctoral student in engineering and public policy. Not pictured is Julian Lamy, a doctoral student in engineering and public policy.
Save the Date: Staff Picnic, May 21

This year's Staff Picnic will be held from 11:30 a.m. - 1:30 p.m. in Rangos Hall and Wiegand Gym of the Jared L. Cohon University Center. The picnic is hosted by President Subra Suresh and Provost and Executive Vice President Mark Kamlet in recognition of staff contributions to the university. The event is free. Picnic-goers must present a valid Carnegie Mellon Staff ID. Transportation will be provided for off-campus staff.  Please stay tuned for more details.
Staff Council Offers Tickets to Hershey Park
Staff Council is offerring discount tickets to Hershey Park this summer. Online tickets sales will start May 9. Purchases must be made via Hershey's website with a CMU participant code. The link will be available closer to May 9. If you purchase tickets before July 6, you will receive an extra savings on the regular 1-day pass and tickets can be used ALL summer long.

Purchases made before July 6
Regular 1-day pass (ages 9-54) - $39.95
Regular 1-day pass (ages 9-54) - $46.95 (rate for purchases beginning July 7)
Jr/Sr 1-day pass (ages 3-8; 55-69) - $34.95
Senior+ 1-day pass (ages 70+) - $22.95
Regular 2-day pass (ages 9-54) - $78.20
Jr/Sr 2-day pass (ages 3-8; 55-69) - $57.50
The gate rate for regular passes is $60.80 and the Jr/Sr rate is $38.30. Each ticket is subject to a $.75 processing fee. If you have any questions, please contact Sharon Cavlovich at sharonw@cmu.edu or Nicole Stenger at nstenger@cs.cmu.edu. For more information on Hershey Park, visit http://www.hersheypark.com/.
Carnegie Mellon's Employee Picnic at Kennywood Park will be held Saturday, June 14. Ticket sales will begin June 2. Stay tuned for more information regarding the Kennywood picnic.
Girls of Steel Compete in FIRST Championship
The robot-development skills of the Girls of Steel, a team of high-school-age girls from the Pittsburgh area, are being tested this week at the FIRST Robotics Competition Championship in St. Louis, Mo. Several team members, however, already have put those skills to practical use in helping to build a robot for Autodesk, a leader in 3D design software.

Joining with technical staff members of Carnegie Mellon's Robotics Institute, six Girls of Steel worked on a tight schedule late last year to produce the "Autodesk ReCap Robot." The wheeled robot employs Autodesk's ReCap Pro software, which takes laser scanner data captured from interior spaces and automatically assembles the scans into 3D point clouds. The ReCap Robot debuted at Autodesk University 2013, the largest trade show for design and engineering professionals, with more than 9,000 attendees in Las Vegas.

Chuck Whittaker, a Field Robotics Center specialist, and Srinivasan Vijayarangan, senior research programmer, shouldered the bulk of the design and construction. The robot is built atop an electric wheelchair base, a popular platform for indoor mobile robots, and includes a laser scanner that looks for obstacles in its path, while a second, spinning laser scanner atop the robot gathers data from the surrounding environment that the software turns into 3D models. The robot also has two large flat-panel monitors to display videos.
Last Call: Student Forum Seeks Future Leaders
Aspire to be a future global leader? Looking to build an international network of like-minded young leaders? Enjoy solving global problems?

The Science and Technology Leadership Association Forum 2014 is seeking 50 select students from universities around the world to participate in a highly intense, action-oriented leadership conference to debate global issues in health and bioethics. The forum will be held Aug. 15-24 at Stanford University.

To participate you must apply online at http://bit.ly/stela2014_apply by 11:59 p.m., April 30. An online information session will be held at http://bit.ly/stela2014_info from 6 - 7 p.m., Thursday, April 24.

For more information visit www.stelaforum.org or write to info@stelaforum.org.
DHTI Requests Proposals
The Disruptive Health Technology Institute (DHTI) has announced its 2014 Request for Proposals, kicking off its second round of funding opportunities. DHTI is seeking proposals from CMU faculty directed at addressing pressing issues in health care and improving community health and wellness.
 
Awards are intended to support research that identifies disruptive health care innovations, which can be clinically tested and rapidly delivered to a clinical setting or practice in the field. Technical focus areas have been identified in which it is believed innovation is likely to lead to rapid gains in health care quality and affordability. Areas are: Medical Diagnostics, Transforming Care Delivery, Chronic Disease Management, Computational Health Care, Re-Engineering the Health Care System, and Medical Robotics.

DHTI specifically seeks proposals in the technical focus areas listed, but is open to any proposals that the faculty deems relevant, provided they meet the criteria for leading to measurable, short-term impact on health care quality and affordability.

The deadline for receipt of proposals is May 8. Please visit www.dhti.cmu.edu/dhti for all information, templates and submission instructions. You may also contact Charlotte Emig at cemig@cmu.edu to answer questions or to obtain guidance.
Take Information Security 101
The Information Security Office (ISO) has released Security 101, an online course designed to raise awareness about Carnegie Mellon's information security policies and guidelines, data classification, roles and responsibilities,  information security risks, and techniques for safeguarding institutional data and information systems. The course is designed to be completed at your own pace and convenience. The entire course will take approximately an hour to complete.

You can access the course at https://www.cmu.edu/blackboard.  Once you login with your Andrew ID and password, you will find Security 101 listed under My Courses. If you have any questions about using Blackboard or Security 101  itself, send email to advisor@andrew.cmu.edu.
Last Call: Nominations Open for Student Organization Awards
The Office of Student Activities is presenting the second annual Student Organization Award Recognition (SOAR) program to acknowledge officers, members and advisers of student government-recognized student organizations. During a reception at 5 p.m., Wednesday, May 7 in the University Center's Danforth Lounge, Student Activities will present awards and recognition for outstanding achievements in the following categories:
Outstanding Student Organization
;
Outstanding Student Organization Program
;
Outstanding Student Organization Leader; and

Outstanding Student Organization Adviser.
For award descriptions and how to submit a nomination please visit: www.cmu.edu/studentactivities/info/soar/index.html. All nominations are due by noon, Monday, April 28.
Meditation Sessions Thursdays
Ramakrishna Vedanta Ashrama Pittsburgh (vedanta-pitt.org), in collaboration with CMU's Indian Graduate Student Association, is conducting weekly meditation sessions from 6:30-7:30 p.m., Thursdays in Porter Hall 226B. RSVP would be helpful at http://tinyurl.com/bf4ptst.