April 17, 2014
Personal Mention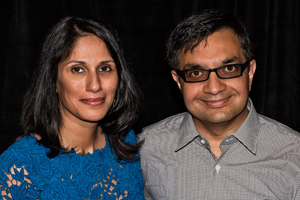 Carnegie Mellon has received a $1 million gift from alumna Gunjan Kedia (TPR '94) and her husband, Sridhar R. Tayur, the Ford Distinguished Research Chair and professor of operations management at the Tepper School of Business, in support of the David A. Tepper Quadrangle. Announced last fall, the Tepper Quad on the Morewood parking lot site, will include a new home for the Tepper School while integrating programs, curricula and research from across the university's world-class schools and colleges. "Our 20-plus years of association with the Tepper School and Carnegie Mellon have been rewarding, both professionally and personally. We are excited to contribute toward and to be a part of the new Tepper Quadrangle, and we look forward to many more decades of being engaged with the university," Kedia and Tayur said. Kedia earned her MBA, with distinction, at Carnegie Mellon's Tepper School in 1994 and is currently executive vice president in State Street Corporation's Investment Services division. Read more.


The Guatemalan government will bestow its highest honor, the National Order of the Sovereign Congress, on native son Luis von Ahn, associate professor of computer science. The award recognizes von Ahn for his work on CAPTCHAs, reCAPTCHAs and Duolingo.com, for his entrepreneurial business career and for enhancing Guatemala's reputation.

Margaret Richards (CS'08) and Peter Friedman (CS'10) have won an honorable mention in the Science, Play and Research Kit (SPARK) Competition for their "Hexpods." The competition, sponsored by the Gordon and Betty Moore Foundation and Society for Science & the Public, challenged entrants to create the equivalent of a new chemistry set for the 21st century. Hexpods is a kit-based, technology-enhanced learning framework designed to foster curiosity and passion for the sciences in children of all ages. Richards is a senior software systems engineer for the Eberly Center for Teaching Excellence at Carnegie Mellon and a graduate student in the university's Human-Computer Interaction program, while Friedman is a distributed-systems engineer at Argonne National Laboratory.