September 19, 2013
New Tartans: President Suresh Welcomes His First Class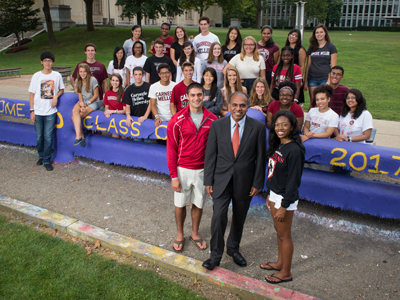 Calling himself a "freshman," Carnegie Mellon President Subra Suresh congratulated the Class of 2017 and told them that he'll be learning right along with them.

"I'm starting with you, and I hope to learn with you," he told more than 1,400 first-year students and their families during his welcome in the Baker Hall tent at the start of Orientation Week on the Pittsburgh campus.
President Suresh began his talk by telling the Class of 2017 a little bit about themselves. One of the most selective — a record-high 18,879 students applied for admission — and diverse classes in CMU history, 44 percent of this year's class is female, 17 percent come from more than 40 countries and 15 percent are underrepresented minority students.
"Seventeen percent of you had a perfect 4.0 grade point average in your high school. Twenty-two percent of you received a perfect math score on your SAT exam. About 100 of you had a perfect Critical Reading SAT score," he said.
"But it's not just because of these reasons that you are here," Suresh noted. "To prove that point, let me give you another statistic; 125 applicants who had a perfect SAT score in math and a perfect SAT score in reading were not admitted to Carnegie Mellon. So let's keep in mind, it's not just about grades."
CMU once admitted students based on academics alone, but today, in addition to a strong academic standing, the university seeks well-rounded students with broad, non-academic interests and achievements. Students with diverse interests are more likely to become leaders, individuals the university aspires to produce.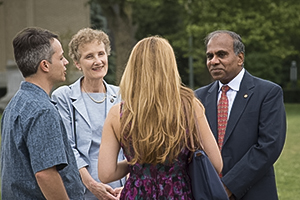 Suresh went on to give the freshmen a sneak preview of what they can expect at Carnegie Mellon. "Nobody can completely capture the culture of CMU in a few words. But there are a few words that resonate with the culture of Carnegie Mellon: focus, crossing interdisciplinary boundaries, creativity, entrepreneurship and hard work."
Suresh said they could expect CMU to nurture and broaden their focus by giving them enormous opportunities to work across disciplines and create something far bigger than the sum of its parts.
He added that entrepreneurship and hard work are deeply ingrained in the fabric of CMU, and he encouraged them to meet and interact with faculty and other students across campus so that they can fully appreciate that firsthand.
Suresh said CMU's interdisciplinary, creative, entrepreneurial and hardworking culture puts the university at a distinct advantage to make an impact in the world.
"If you look at all the grand challenges that face the world today, they are not only technology challenges, but also human challenges. CMU is uniquely positioned to bridge that gulf between technology on the one hand and humanity on the other, to solve these problems. There is no other institution that has 
the rich history and accomplished record to do this."
President Suresh closed with a prediction for the parents, based on the university's track record of successful alumni, including Nobel Prize winners and Academy and Tony award recipients."There is good probability that your son or daughter will someday be added to these lists. Whatever they do, we know that they will be successful," he said.
Top Photo:
During Orientation Week, President Subra Suresh stopped by the Fence for a photograph with members of the Class of 2017. Standing beside him are Neil Carlton and Vanessa Kalu.
Above:
President Suresh and his wife, Mary, greeted students and their parents after his welcome address.
— by Kelly Solman, ksolman@andrew.cmu.edu