September 19, 2013
Riot Grrrl Comes to CMU's Miller Gallery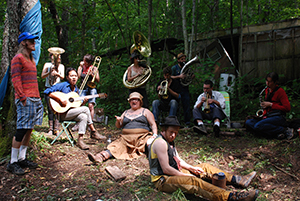 The early '90s pioneering punk feminist movement Riot Grrrl inspired many people around the world to pursue socially and politically progressive careers as artists, activists, authors and educators.
That movement comes to CMU this fall, when the Miller Gallery presents "Alien She," an exhibition of the movement's lasting impact, before it goes on tour nationally.
The exhibit focuses on seven contemporary artists working in a wide range of disciplines, including visual art, music, documentary film, new media, writing and performance, and provides a view into the passion and diversity of the original Riot Grrrl movement.
The exhibition opens Friday, Sept. 20, with a reception, "Revolution and Reception," from 6 - 8 p.m. The reception will be preceded by a 5 p.m. tour led by the curators and many of the artists. The exhibition and opening events are free and open to the public.
Riot Grrrl formed in reaction to violent sexism, racism and homophobia in the punk music scene and in the culture at large. Emphasizing female and youth empowerment, collaborative organization, creative resistance and DIY ethics, Riot Grrrl helped a new generation to become active feminists who created their own culture and communities to reflect their values and experiences.
The movement spread, with chapters opening in at least 29 states and 21 countries, and with many new chapters forming in recent years.
In a curatorial statement, exhibition curators Astria Suparak of CMU's Miller Gallery and Ceci Moss of Yerba Buena Center for the Arts in San Francisco observe that Riot Grrrl's influence on contemporary global culture is increasingly evident — from the Russian collective Pussy Riot's protest against corrupt government-church relations to the popular teen website "Rookie," and the launch of Girls Rock Camps and Ladyfest music and arts festivals around the world.
"Riot Grrrl fostered community, action and creation," Suparak said. "This exhibition provides a view into the passion and diversity of the original Riot Grrrl movement and highlights how these ideas have broadened, evolved and mutated in the work of contemporary artists."
The exhibiting artists are Ginger Brooks Takahashi (North Braddock, Pittsburgh), Tammy Rae Carland (Oakland, Calif.), Miranda July (Los Angeles), Faythe Levine (Milwaukee), Allyson Mitchell (Toronto), L.J. Roberts (Brooklyn) and Stephanie Syjuco (San Francisco).
The Miller Gallery, located in the Purnell Center for the Arts, is open to the public from noon to 6 p.m., Tuesday through Sunday.


Above:
From the series "Land Projects" by Faythe Levine, photograph, 2012-
ongoing. This project documents various off-the-grid, alternative and intentional communities in the U.S.
— by Pam Wigley, pwigley@andrew.cmu.edu